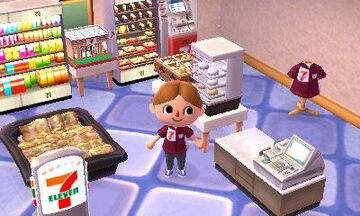 The 7-Eleven Set is a Distributed Item furniture series in the Japanese version of Animal Crossing: New Leaf and Animal Crossing: Happy Home Designer. The set contains eleven items released in three waves: the first wave featured the first five items and was released between December 1, 2012 and January 3, 2013; the second wave featured items six through ten and was released from March 1 to May 9, 2013; and a third wave with an additional 6 items was released only to Animal Crossing: Happy Home Designer.
The first five items waves were released again from June 1 to July 6, 2015 on Animal Crossing: New Leaf.
In Animal Crossing: Happy Home Designer, all three waves were released from July 30 to September 30, 2015 alongside Monster Hunter items.
Each item is obtained by visiting a Japanese 7-Eleven during the appropriate period, connecting to their Wi-Fi, and visiting the Post Office and asking about a present. Each item can only be obtained once per account.
As of the Welcome amiibo update, several pieces of the set can be purchased for 3 MEOW Coupons via Filly's RV.
New Leaf
The 7-Eleven set is not customizable.
#
Item
Image
Sell Price
Available From
Feng Shui
HHA Theme(s)
Size
Dates
1
24-Hour-Shop Sign
711
DLC

& Filly's RV

C

o

l

o

r

f

u

l

/


Gray

-
December 1–6, 2012

June 1-8,2015

2
24-hour-shop model
711
DLC

& Filly's RV

C

o

l

o

r

f

u

l

/


Brown

Toy Shop
December 7–13, 2012

June 8-15, 2015

3
24-hour-shop counter
711
DLC

& Filly's RV

White

/


White

-
December 14–20, 2012

June 15-22, 2015

4
Buffet server
711
DLC

& Filly's RV

Brown

/


Gray

Harmonious
December 21–27, 2012

June 22-29, 2015

5
Steamed-bun case
711
DLC

& Filly's RV

???/


White

Harmonious
December 28, 2012–January 3, 2013

June 29-July 6, 2015

6
24-hour-shop Uniform
711
DLC

& Filly's RV

Purple

/
???
Official
March 1–14, 2013
7
Soft-drink display
711
DLC

& Filly's RV

C

o

l

o

r

f

u

l

/


White

-
March 15–28, 2013
8
Barbecue bed
711
DLC

& Filly's RV

Brown

/
Black
-
March 29–April 11, 2013
9
Sandwich display
711
DLC

C

o

l

o

r

f

u

l

/


White

-
April 12–25, 2013
10
24-hour-shop ABM[n 1]
in-store Bellpoint[n 2]
711
DLC

Red

/


White

-
April 26–May 9, 2013
11
Clerk's shirt
-
DLC
-
-
[n 3]
Happy Home Designer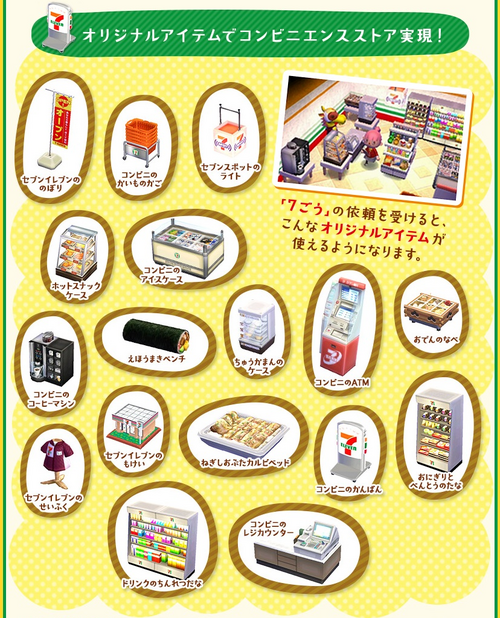 Notes