Arcane: League of Legends - The Loop
Play Sound
"We're friends, so I won't gnaw on your legs, even though I'm starving."
― Picture quote, Wild World

"We found it, we found it, we found the fossils hey!"
― Alfonso, with Yū, Dōbutsu no Mori

Alfonso (アルベルト, Aruberuto?, Albert) is a lazy alligator villager in the Animal Crossing series. He also appeared in Dōbutsu no Mori as a major character and Yū's best friend. His catchphrase, "it'sa me" is a reference to the famous Nintendo character, Mario. Furthermore, Alfonso and Mario are both Italian names. Alfonso wears the Big Bro's Tee (until New Horizons), which is also a reference to Mario. His name may be a reference to alligator, which starts the same way as his name. He has the play hobby.
Appearance

Alfonso's design is based on Nintendo's famous mascot Mario from the Super Mario Bros. series. Not only does he mimic Mario's famous "it'sa me" quote as his initial phrase, but he also wears the Big Bro's Tee, which features the "M" emblem featured on Mario's cap, although the rest of the shirt is red, however, his shirt was changed in New Horizons to the Simple Parka. Alfonso's external appearance is a subtle reference to Yoshi, Mario's faithful dinosaur companion. He is a burnt-amber orange with darker circles on his face. Both his cheeks and belly are white and his eyes are similarly formed, although his eyelids are a light cyan blue.
Personality
Below is a brief description of the lazy personality. For more information, click here.
As a lazy villager, Alfonso will be friendly and easy to get along with due to his laid back lifestyle. Like all lazy villagers, he has a love of food and relaxing. He will enjoy partaking in the usual hobbies, usually for relaxing reasons or for food, like when fishing. Alfonso will get along well with other villagers, but may offend or confuse jock villagers, who have a lifestyle of exercise and fitness, which conflicts with the lazy lifestyle of relaxing and food. He will get along with other lazy villagers with whom he will talk about food, comics, or superheroes. He will also get along well with normal, peppy, smug and sisterly villagers, and occasionally cranky villagers, but may from time to time annoy snooty villagers, who disagree with the lazy lifestyle.
House
In all the Animal Crossing games, except for New Leaf and New Horizons, his house is decorated with a few items from the Exotic Series and his walls are covered with the imperial wallpaper. In Animal Crossing he has four mini rhythmoids, two house plants, a toilet and a white boom box. His stereo plays Imperial K.K. and he owns a basement floor. In Animal Forest e+ his stereo instead plays Forest Life.
In Wild World, he has three mini rhythmoids, a men's toilet, a house plant and a retro stereo which plays Forest Life and a charcoal floor. In City Folk his house is nearly the same as Wild World but the only difference is a missing rhythmoid. Oddly, in the Animal Crossing Movie his house features many of the items from The Lovely Series which is a very girly set.
In New Leaf, Alfonso's house has become significantly more bright and very playroom like. Although there is no particular furniture set in his home, it has 2 items from the Minimalist Set, the Minimalist Bed and the Minimalist Dresser. It also has 2 Mini Rythmoids and a Men's Toilet. If you go into his house with clothing items or furniture, he is more likely to ask you to trade.
In New Horizons, Alfonso's house is orange with a green common door and a green tile roof. The interior is designed to resemble a children's room, with a yellow playroom wall and green honeycomb tile. He has a colorful wooden-block bed and stereo. He also has natural writing desk and a natural writing chair. Additionally, he has a spring train set, a yellow throwback rocket, a blue toy box, a standing toilet, and a throwback dino screen. A writing poster hangs on the wall.
Pocket Camp
Alfonso was added to Pocket Camp on the October 15, 2017 update.
Alfonso's preferred theme is natural. His profile reads:
❝ Alfonso loves to dream. Chances are, if he's not eating, he's probably trying to sneak in a nap. ❞
Campsite Invitation Requirements
Friendship Level: 7
| Furniture/Item | Required Materials | Price (Bells) | Craft Time |
| --- | --- | --- | --- |
| Grass Standee | 30 preserves, 3 friend powder | 1120 | 5 hours |
| Pastel-Dot Rug | 30 cotton | 1330 | 3 hours |
| Kiddie Chair | 30 steel | 870 | 7 hours |
| Kiddie Dresser | 90 wood, 90 steel | 2470 | 8 hours |
| Tree Standee | 120 wood, 3 cute essence | 1950 | 8 hours |
Friendship Rewards
At level 7 friendship, he will reward the player with a Big Bro's tee and sparkle stones (x1).
At level 9, he will reward the player with sparkle stones (x1).
At level 15, he will request that the player crafts a train set.
At level 20, he will reward the player with Alfonso's pic and sparkle stones (x1).
At level 25, he will reward the player with sparkle stones (x1).
At level 30, he will reward the player with sparkle stones (x1).
At level 35, he will reward the player with sparkle stones (x1).
At level 40, he will reward the player with sparkle stones (x1).
At level 45, he will reward the player with sparkle stones (x1).
At level 50, he will reward the player with sparkle stones (x1).
Role in Dōbutsu no Mori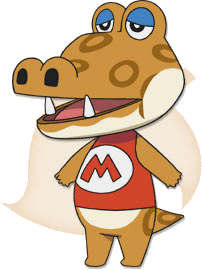 Alfonso was a major character in Dōbutsu no Mori, along with Rosie and Margie. He caught bugs and dug up fossils with Yu, a human character in the movie. Alfonso is first seen when Ai delivers the five hundred pies when working for Tom Nook.
He was voiced by Takatoshi Kaneko.
e-Card
e-Card [1]

Letter

Back

#270 Alfonso

Gender
Male
Type
Alligator
Star sign
Gemini
Clothes
Big bro's shirt
Petphrase
It's a me
Password
o#zhECOdBLw9wm
8WBmGZKbN2Oyyq
Profile
Alfonso has an odd hobby: dreaming. That crazy croc spends more time in bed than he does anywhere else. His one ambition is to spend all his time in bed, asleep. When people ask him why, he always say "I can dream, can't I?"
amiibo Card
amiibo Card[2]

Back

#153 Alfonso

| | |
| --- | --- |
| Type | Alligator |
| Star sign | Gemini |
| Birthday | 6/9 |
| Roll value | 5 |
| Hand sign | Rock |
| Request | A starry-sky cake dream |
Quotes
Picture
"We're friends, so I won't gnaw on your legs, even though I'm starving."
― Wild World

"Slow and steady wins the race."
― New Leaf, New Horizons


Trivia
Alfonso's birthday lands on the same day that New Leaf was released in North America.
Alfonso has the same birthday as Cyd. They both have a birthday on June 9th.
In other languages
Alfonso
| Language | Name |
| --- | --- |
| Japanese | アルベルト Aruberuto |
| French | Alphonse |
| Spanish | Kaimán |
| German | Markus |
| Italian | Alfonso |
| Dutch | Alfonso |
| Russian | Альфонсо Alfonso |
| Chinese | 阿泥 Āní |
| Korean | 알베르트 Albereuteu (Albert) |