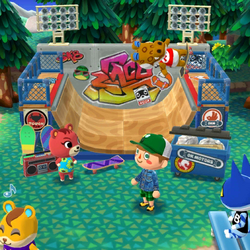 Amenities (オブジェ, Obuje?, Object) are constructions that can be placed at the campsite in Pocket Camp. Similar to public works projects in New Leaf, they are large, outdoor buildings. However, where the public works projects of New Leaf serve a decorative purpose, amenities are constructions that villagers can interact with.
The Half-Pipe, Picnic Set, Tree Swing and Street Set can only be unlocked after creating the upgraded versions of the original tents, at level 3. After the third upgrade of any of the tents, those amenities can be created (in this case, unless a level 3 natural tent is created, a Picnic Set cannot be created). Alongside this, even better amenities can be created, only able to be created after the fifth upgrade of the latter version (with a level 5 Picnic Set, a Tree House can be created). The current known 3rd level amenity is the Tree House, which comes from the creation of the level 5 Picnic Set and level 3 Natural Tent, the Rock Stage, from creation of the level 5 Street Set and level 3 Cool Tent, and the Merry-go-Round, from creation of the level 5 Tree Swing and level 3 Cute Tent. The rest are to be discovered. (Upon inspection in the shop, the 3rd level amenities cannot be seen until the previous level amenities are bought).
Upgrading amenities increases a villager's maximum friendship, so a natural tent will increase the base max friendship level of 7 to 10 for all natural villagers.
Upgrading also gives friendship points to all villagers who are at the unveiling party. If the player has 5 or more villagers currently visiting the camp, it will choose 5 of them at random. If there are fewer than 5, it will fill in the other spots with random villagers that are not currently visiting the camp, but are capable of visiting. Each of the 5 chosen villagers will receive 5 friendship points at the unveiling party, but each villager that shares a type with the amenity (I.E. Apollo and the Street Set are both cool type) will get a bonus 5 friendship points, totaling 10 friendship points at the unveiling party.
Name
Image
Requirements and materials
Crafting time
Reward for crafting
Generic
basic tent

Available from start
N/A
Max. Friendship
Lv.: 7
Cool
cool tent



3,000 Bells
30 cotton
10 cool essence
Lv. 1: 12 hours
Lv. 2: Instant
Lv. 3: 12 hours
Max. Friendship
Lv.: 10

street set



3,000 Bells
30 steel
30 wood
20 cool essence
Lv. 1: 48 hours
Lv. 2: Instant
Lv. 3: Instant
Lv. 4: Instant
Lv. 5: 48 hours
Max. Friendship
Lv.: 15

rock stage



5,000 Bells
50 steel
50 wood
30 cool essence
20 sporty essence
Lv. 1: 72 hours
Lv. 2: Instant
Lv. 3: Instant
Lv. 4: Instant
Lv. 5: 72 hours
Max. Friendship
Lv.: 45

Cute
cute tent



3,000 Bells
30 cotton
10 cute essence
Lv. 1: 12 hours
Lv. 2: Instant
Lv. 3: 12 hours
Max. Friendship
Lv.: 10

tree swing



3,000 Bells
60 wood
20 cute essence
Lv. 1: 48 hours
Lv. 2: Instant
Lv. 3: Instant
Lv. 4: Instant
Lv. 5: 48 hours
Max. Friendship
Lv.: 15

merry-go-round



5,000 Bells
50 steel
50 wood
30 cute essence
20 cool essence
Lv. 1: 72 hours
Lv. 2: Instant
Lv. 3: Instant
Lv. 4: Instant
Lv. 5: 72 hours
Max. Friendship
Lv.: 45

Natural
natural tent



3,000 Bells
30 cotton
10 natural essence
Lv. 1: 12 hours
Lv. 2: Instant
Lv. 3: 12 hours
Max. Friendship
Lv.: 10

picnic set



3,000 Bells
30 cotton
30 paper
20 natural essence
Lv. 1: 48 hours
Lv. 2: Instant
Lv. 3: Instant
Lv. 4: Instant
Lv. 5: 48 hours
Max. Friendship
Lv.: 15

tree house



5,000 Bells
50 steel
50 wood
30 natural essence
20 cute essence
Lv. 1: 72 hours
Lv. 2: Instant
Lv. 3: Instant
Lv. 4: Instant
Lv. 5: 72 hours
Max. Friendship
Lv.: 45

Sporty
sporty tent



3,000 Bells
30 cotton
10 sporty essence
Lv. 1: 12 hours
Lv. 2: Instant
Lv. 3: 12 hours
Max. Friendship
Lv.: 10

half-pipe



3,000 Bells
30 steel
30 wood
20 sporty essence
Lv. 1: 48 hours
Lv. 2: Instant
Lv. 3: Instant
Lv. 4: Instant
Lv. 5: 48 hours
Max. Friendship
Lv.: 15

pool set



5,000 Bells
100 steel
30 sporty essence
20 natural essence
Lv. 1: 72 hours
Lv. 2: Instant
Lv. 3: Instant
Lv. 4: Instant
Lv. 5: 72 hours
Max. Friendship
Lv.: 45

Rustic
rustic tent



3,000 Bells
30 cotton
10 rustic essence
Lv. 1: 12 hours
Lv. 2: Instant
Lv. 3: 12 hours
Max. Friendship
Lv.: 10

canvas hammock



3,000 Bells
30 paper
30 wood
20 rustic essence
Lv. 1: 48 hours
Lv. 2: Instant
Lv. 3: Instant
Lv. 4: Instant
Lv. 5: 48 hours
Max. Friendship
Lv.: 15

hot-air balloon



5,000 Bells
100 paper
30 rustic essence
20 sporty essence
Lv. 1: 72 hours
Lv. 2: Instant
Lv. 3: Instant
Lv. 4: Instant
Lv. 5: 72 hours
Max. Friendship
Lv.: 45

Hip
mush tent



3,000 Bells
30 cotton
10 hip essence
Lv. 1: 12 hours
Lv. 2: Instant
Lv. 3: 12 hours
Max. Friendship
Lv.: 10

patchwork ghost sofa



3,000 Bells
60 wood
20 hip essence
Lv. 1: 48 hours
Lv. 2: Instant
Lv. 3: Instant
Lv. 4: Instant
Lv. 5: 48 hours
Max. Friendship
Lv.: 15

bouncy cake



5,000 Bells
100 paper
30 hip essence
20 rustic essence
Lv. 1: 72 hours
Lv. 2: Instant
Lv. 3: Instant
Lv. 4: Instant
Lv. 5: 72 hours
Max. Friendship
Lv.: 45

Harmonious
harmonious tent



3,000 Bells
30 cotton
10 harmonious essence
Lv. 1: 12 hours
Lv. 2: Instant
Lv. 3: 12 hours
Max. Friendship
Lv.: 10

exotic fountain



3,000 Bells
30 steel
30 wood
20 harmonious essence
Lv. 1: 48 hours
Lv. 2: Instant
Lv. 3: Instant
Lv. 4: Instant
Lv. 5: 48 hours
Max. Friendship
Lv.: 15

redd's shrine



5,000 Bells
50 steel
50 wood
30 harmonious essence
20 hip essence
Lv. 1: 72 hours
Lv. 2: Instant
Lv. 3: Instant
Lv. 4: Instant
Lv. 5: 72 hours
Max. Friendship
Lv.: 45

Elegant
elegant fountain



3,000 Bells
15 steel
15 wood
10 elegant essence
Lv. 1: 12 hours
Lv. 2: Instant
Lv. 3: 12 hours
Max. Friendship
Lv.: 10

noble carriage



3,000 Bells
60 steel
20 elegant essence
Lv. 1: 48 hours
Lv. 2: Instant
Lv. 3: Instant
Lv. 4: Instant
Lv. 5: 48 hours
Max. Friendship
Lv.: 15

regal castle



5,000 Bells
100 steel
30 elegant essence
20 harmonious essence
Lv. 1: 72 hours
Lv. 2: Instant
Lv. 3: Instant
Lv. 4: Instant
Lv. 5: 72 hours
Max. Friendship
Lv.: 45

Modern
modern tent



3,000 Bells
15 steel
15 wood
10 modern essence
Lv. 1: 12 hours
Lv. 2: Instant
Lv. 3: 12 hours
Max. Friendship
Lv.: 10

honeycomb library



3,000 Bells
60 steel
20 modern essence
Lv. 1: 48 hours
Lv. 2: Instant
Lv. 3: Instant
Lv. 4: Instant
Lv. 5: 48 hours
Max. Friendship
Lv.: 15

modernist house



5,000 Bells
100 steel
30 modern essence
20 elegant essence
Lv. 1: 72 hours
Lv. 2: Instant
Lv. 3: Instant
Lv. 4: Instant
Lv. 5: 72 hours
Max. Friendship
Lv.: 45

Historical
ancient temple



3,000 Bells
30 steel
10 historical essence
Lv. 1: 12 hours
Lv. 2: Instant
Lv. 3: 12 hours
Max. Friendship
Lv.: 10

locomotive station



3,000 Bells
30 steel
30 wood
20 historical essence
Lv. 1: 48 hours
Lv. 2: Instant
Lv. 3: Instant
Lv. 4: Instant
Lv. 5: 48 hours
Max. Friendship
Lv.: 15

clockwork tower



5,000 Bells
100 steel
30 historical essence
20 modern essence
Lv. 1: 72 hours
Lv. 2: Instant
Lv. 3: Instant
Lv. 4: Instant
Lv. 5: 72 hours
Max. Friendship
Lv.: 45

Civic
pipe park



3,000 Bells
15 steel
15 Wood
10 civic essence
Lv. 1: 12 hours
Lv. 2: Instant
Lv. 3: 12 hours
Max. Friendship
Lv.: 10

high-rise office building



3,000 Bells
60 steel
20 civic essence
Lv. 1: 48 hours
Lv. 2: Instant
Lv. 3: Instant
Lv. 4: Instant
Lv. 5: 48 hours
Max. Friendship
Lv.: 15

bronze twins fountain



5,000 Bells
50 steel
50 wood
30 civic essence
20 historical essence
Lv. 1: 72 hours
Lv. 2: Instant
Lv. 3: Instant
Lv. 4: Instant
Lv. 5: 72 hours
Max. Friendship
Lv.: 45

Limited Edition
snow park



Available during Winter Sports Event
1,000 Bells
Lv. 1: 100 snowflakes
Lv. 2: 150 snowflakes
2 hours
N/A
Hello Kitty tent

Available during Gyroidite Scavenger Hunt 12
8,600 Bells
500 Hello Kitty gyroidite
24 hours
N/A
Hello Kitty balloon

Available during Gyroidite Scavenger Hunt 12
300 Leaf Tickets
Instant craft
N/A
Jack's Creepy Castle

Available during Halloween Candy Hunt
9,600 Bells
400 Creepy Confection
24 hours
N/A