amiibo are a set of character figurines and cards that interact with the NFC readers in the Nintendo Switch's joycons, Wii U Gamepad, and touch screen of the New Nintendo 3DS. Nintendo released an external amiibo reader for the original Nintendo 3DS on September 25, alongside the North American launch of HHD.
Functionality
Welcome amiibo
In the New Leaf update, Welcome amiibo, released on November 2nd, 2016, amiibo support for both cards and figurines became available for the title. Additions include a variety of villagers who had not yet appeared in New Leaf, as well as new villagers from other Nintendo titles. These villagers will initially stay in RVs, but may move into the player's town as well.
With the Welcome amiibo there are a total of five series of amiibo cards, with a special sixth series released in collaboration with Sanrio and the Hello Kitty brand.
New Horizons
In New Horizons, the player may scan in amiibo at either the Nook Stop in the Resident Services building once the Campsite has been constructed, or at Harv's Island. All previously released amiibo are compatible with New Horizons, however the villagers Chai, Chelsea, Étoile, Marty, Rilla, and Toby, as well as all who do not appear in the game, have limited functionality compared to other amiibo.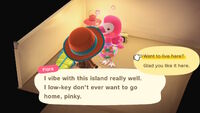 If opting to scan amiibo at the Nook Stop, the player may invite an amiibo's villager to the island's campsite. From here, the player has the option of speaking to the camper, who will request a DIY furniture item be crafted and delivered to them. Should the player not already have the recipe for the requested item, it will be given to them by the camper. Once the item has been delivered, the player may suggest the camper move to the island. The camper will decline the invitation both the first and second time the player performs this task, but will accept the invitation the third time it is offered.
If the player scans an amiibo at Harv's Island, that amiibo's character will appear and be able to be used in a photo shoot the same way regular island villagers may - unlike regular villagers, however, special characters are not able to have their clothing changed. Additionally, not all may appear in Photopia - only the characters who may already appear in the game can be used this way. Regardless of whether the character may be used for photo shoots, scanning the character's amiibo will unlock a poster of them to be purchased from the Nook Stop for 1,000 Bells.
Posters:
Animal Crossing amiibo
Model-based amiibo for Super Smash Bros.
Model-based amiibo for Happy Home Designer and amiibo Festival
Card-based amiibo for New Leaf and Happy Home Designer
Series 1
Series 2
Series 3
Series 4