| | |
| --- | --- |
| Animal Crossing: New Leaf • | Gallery |
Animal Crossing: New Leaf (とびだせ どうぶつの森 Tobidase Dōbutsu no Mori?, Animal Forest: Jump Out), known as Animal Forest: Pop Out (튀어나와요 동물의숲, Twieonawayo Dongmul-ui Sup) in South Korea, is a life simulation video game released in 2012 for the Nintendo 3DS. The player takes on the role of mayor of a new town, and with the help of the townsfolk and Isabelle, an eager secretary, it will be their job to make the town a better place to live.
Compared to previous installments, New Leaf's aesthetics are more realistic, with more human-proportioned characters and more realistic flora. New Leaf introduces the most new features since Animal Forest e+.
On November 2nd, 2016, an updated version of the game, Welcome amiibo, was released. This update can be applied to the original New Leaf through the Nintendo eShop. All newly published copies of New Leaf contain the Welcome amiibo update pre-installed, which is signified by a banner under the logo on the front cover of the case.
Announcement
The game was originally unveiled at E3 2010, though very little was shown. A trailer was shown featuring updated features, and few new features. Shortly after, there was news that the player could be the mayor of the town, with the goal being to make the town a better place to live. A non-playable demo was also available on the show floor at Nintendo's booth as an example of 3D effects.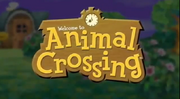 At E3 2011 during Nintendo's press conference, the Animal Crossing logo among others, appeared on-screen as a list of upcoming 3DS games. Additionally, a new trailer was released. The trailer showed off a new feature in the game: swimming and diving in the ocean. A player was shown changing not only his shirt, but also his shoes and pants. A male player was also shown coming out of what appeared to be his tent-house. Throughout the town, benches and a beehive were shown, with a villager and later a player sitting on the bench. Isabelle was also introduced as the 'eager secretary' that helps the player throughout the game.
New features
Town customization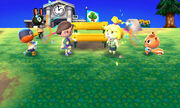 The town is now more customizable than ever before. The player has more power to choose which town to live in, by being given 4 random pre-set towns when starting the game. Once a town has been chosen, the player can determine the locations to build new buildings and features, set Town Ordinances and construct public works projects.
There are many projects available, including the return of the Police Station and the camp site that was last seen in Animal Crossing. It allows non-resident villagers to visit, who can then be encouraged to move in. Returning features include bridges or return of Animal Island. New features include benches for villagers and the player to sit on.
New buildings and locations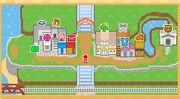 Re-Tail is a recycling store which buys items at 25% higher than Nook's old stores in previous games. Reese and Cyrus run it, with Cyrus allowing the player to add their own designs to furniture they bring in.
The Roost is now a separate building from the Museum. The player may also work behind the bar making coffee for other villagers as a part-time job.
The Town Tree, similar to the Wishing Well, is the centerpiece of each town. Most in-game festivals and events occur here.
Main Street is the main shopping district in the player's town, replacing the City. Many returning features can be found in the street, including Katrina's store, the Museum, and the town shop. New to New Leaf is Kicks store, owned by Kicks who first appeared in City Folk, including many other new buildings.
The island from the Nintendo Gamecube games makes a reappearance. Players can visit the island by going to the pier where Kapp'n will take them, as well as any extra players connecting over Wi-Fi. Tortimer now resides on the island, hosting multiplayer mini-games and awarding medals to the winner.
The Gardening Store is owned by Leif. He sells a variety of outdoors-related items, including flowers, watering cans, axes, and saplings. It becomes a part of Timmy and Tommy's Home Center once it reaches the T.I.Y upgrade, where it also begins to sell bush saplings and indoor plant items.
Nook's Homes is owned by Tom Nook and staffed by Lyle. The player can upgrade the appearance of their house and can expand and add rooms, rather than upgrade their house in a set order.
Club LOL is the new entertainment venue replacing The Marquee. Dr. Shrunk and K.K. Slider make appearances, with their role remaining the same as in previous installments. K.K Slider appears everyday apart from Saturdays as DJ K.K., performing either regular or 8-bit remixes of his songs.
The Happy Home Showcase is managed by Digby. It utilizes the StreetPass feature in the 3DS, by adding the homes owned by other players who have been within range of the player's 3DS into their outdoor lobby. If you have the Happy Home Designer game, you can link your progress into Animal Crossing: New Leaf Happy Home Showcase feature.
The Dream Suite is a new building managed by Luna. Players can visit the towns of other players using their dream codes. Wendell also appears in the dreams to give the player patterns made by the player who owns the town, but he will only appear if the player allows it.
Nookling Junction is the shop that is run by Timmy and Tommy and it functions like Nook's Cranny did in previous installments. It can be upgraded into the T.I.Y, then it is joined with the Gardening Store, along with Gracie's Fashions.
Gracie's Fashions is a store that can be unlocked by completing tasks from Gracie, a giraffe who appears in your plaza on certain days. It is later built in to the T.I.Y. Most of these fun features can be upgraded or are needed to be unlocked by doing certain actions or completing certain tasks.
Player customization
Player characters are taller than previous installments, allowing for customization of pants, shorts, and skirts purchased from the Able Sisters shop. Shoes and socks can also be purchased from the Kicks store in different colors and varieties.
Villagers
Villagers are now more diverse. Not only are there new characters, bringing the total up to 335, but also new hamster and deer species. Two new personalities have been introduced: smug and sisterly. Villagers that have moved out can also visit the Main Street.
Each personality of villagers now has their own pitch of Animalese, before the variants were limited to male, female, and cranky male. The pitch of normal and lazy villagers sound very similar to the generic male and female voices in previous games. Peppy villagers use the voice that was once reserved for the female villagers' voice in Wild World. Likewise, jock villagers sound like lazy villagers, but are a bit high-pitched. Snooty villagers use the voice that was once reserved for Joan. Cranky villagers sound like they've always been. Smug villagers sound like Lazy villagers, but slightly low-pitched. Sisterly villagers sound like Snooty villagers, but a bit higher-pitched.
Collectables
There are 72 bugs and fish in the game, up from 60 in City Folk. The player can sneak up on bugs with the net, a returning feature from the Nintendo GameCube games. It is now possible to store bugs and fish in closets and dressers.
New Leaf adds a new class of collectables to the series: deep-sea catches. These are obtained by donning a wetsuit and swimming in the ocean. Small shadows will move across the sea floor, and the player can dive down and grab creatures from these shadows.
Wi-Fi
With New Leaf comes the return of Wi-Fi play. Much like the previous installments, this allowed players to visit other player's towns, and have other players visit their own. Unlike the previous installments, the Wi-Fi for this game has not been shut down. This means that players may still play together if they so wish. Wi-fi is also necessary for using the Dream Suite.
Prologue Music
Release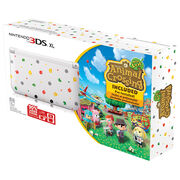 New Leaf was released in Japan on November 8th 2012, in South Korea on February 7th 2013 and in North America on June 9th 2013. It came out in Europe on June 14th 2013. Both Australia and New Zealand shared the same release date of June 15th 2013. New Leaf is also the first in the series available through the Nintendo eShop.
3DS XL bundle
A Nintendo 3DS XL promotional bundle featuring New Leaf was made available during the game's launch. It comes with New Leaf preinstalled onto the system. If preordered from certain retailers, plastic figures of Isabelle and the Town Hall were given as freebies.
Reception
New Leaf has received very positive reviews from critics. It has an average score of 88/100 on Metacritic, and thus rated as the 15th highest Nintendo 3DS game on Metacritic.
The game is the first 3DS title to sell over 3 million copies in Japan alone. As of December 31st, 2013, New Leaf has worldwide sales of 100 million copies, making it the 5th best-selling game on the Nintendo 3DS.
Welcome Amiibo
Main article: Welcome amiibo
On November 2nd, 2016, an update was released worldwide for New Leaf which introduces amiibo compatibility and various other features.
The update is available to download digitally via the Nintendo eShop or through selecting "Update data" on the title screen. It is also available as part of a physical bundle with the new Animal Crossing amiibo update pre-installed. You can use amiibo figures or cards. They also changed the name on the eShop to Animal Crossing: New Leaf: Welcome Amiibo.