No Man's Sky Update - The Loop
Play Sound
| | |
| --- | --- |
| | This page is currently under construction. Please help us expand this article by editing it. |
The Blue weevil beetle (ホウセキゾウムシ, Housekizoumushi) is a bug that first appeared in New Horizons.
Donation to the museum
In New Horizons
When either donating to the museum or selecting "Tell me more about this!", Blathers the curator will say (with abhorrence):
"Yes, yes. The blue weevil beetle does come in beautiful shades of blue and green. The colors are so bright, some say it looks like a living jewel. But I say it looks like a weevil...and weevil rhymes with EVIL. Draw your own conclusions from there. Hoot! I certainly have!
Capture quotes
"I caught a blue weevil beetle! It's the lesser of blue weevils!" —New Horizons
Additional information
Weevils are a type of beetle with characteristic elongated snouts. They are herbivorous and many are considered pests to farm crops. Unlike most insects, weevils use their snouts to drill into their food and then eat it from the inside out. There are over 400 families of weevils and classifying them can be very complicated.
The genus Eupholus from New Guinea feature some of the most vibrant and beautiful weevils. All species within this genus are bright blue and feed on yams leaves, which are toxic to other animals. Because of this, the weevils themselves are also toxic and their bright blue bodies serve as a warning to any would-be predators.
Encyclopedia information
New Horizons
Bug

Encyclopedia Information

"I caught a blue weevil beetle! It's the lesser of blue weevils!"

Current Active Hours
All day
Months active (north)
July to August
Months active (south)
January to February
Further information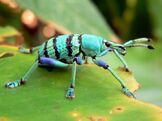 Eupholus schoenherrii is a member of the Eupholus genus of New Guinean weevils. The bright coloring is thought to serve as a warning to potential predators to indicate toxicity. The weevils feed on yam leaves which may be the reason for its coloring. The genus is known as one of the most colorful of the weevil species.
In other languages
Blue weevil beetle
| Language | Name |
| --- | --- |
| Japanese | ホウセキゾウムシ Hōsekizōmushi |
| French | Charançon bleu |
| Spanish | Gorgojo azul |
| German | Blaurüsselkäfer |
| Italian | Coleottero Schoenherr |
| Dutch | Blauwe snuitkever |
| Chinese | 宝石象鼻虫/寳石象鼻蟲 Bǎoshíxiàngbíchóng |
| Korean | 유포루스바구미 Yuporuseubagumi |
Bugs
| class="roundy" style="border: 2px solid #B42308 | class="roundy" style="border: 2px solid #d47b33 | | class="roundy" style="border: 2px solid #63AF00 | | | | | |
| --- | --- | --- | --- | --- | --- | --- | --- | --- |