"...Happy Valentine's Day."
― Brewster, City Folk

"The perfect temperature to draw out the taste...is 175.38 degrees...Here you are."
― Brewster, New Leaf

Brewster (マスター, Masutā?, Master) is a character who works in The Roost all hours of the day in the lower floor of the museum or in his own shop. He is a quiet, reserved Pigeon with an interest in coffee. His name is a portmanteau of 'rooster' and 'brew'. In City Folk, he also has an interest in collecting gyroids.
He sells a cup of coffee per day worth 200 Bells. He prefers the player to drink the coffee as soon as it is given to them, and will be shocked if the player responds by letting it cool. In New Leaf, this dislike will be swayed if the player purchases a lot of coffee at The Roost.
In Wild World, he will admit he owns sugar, but only enough for himself. However, if the player visits him often and does not say it has to cool, he will offer the player some sugar and be shocked if they refuse it. He will also offer Pigeon milk after the player has bought coffee for about seven days.
In New Leaf, he now runs his own coffee shop, called the Roost, once it has been built via public works project.
History
After talking to him over the course of a few weeks, he will tell the player his story, which suggests he used to own a coffee shop in the City before moving to the town to open up a small business in the museum, after meeting Blathers. In New Leaf, Blathers is again shown to be his friend as he is the one who suggested The Roost in the first place.
Brewster shows a noticeable interest in gyroids. In each game, gyroids are visible on the shelves within the cafe. In New Leaf he has attempted creating his own gyroids, something influenced by his original interest in gyroids from a time when a customer showed him a gyroid long ago. In City Folk he offered storage of gyroids, though this is not present in New Leaf.
Role
In Wild World
Brewster's role in Wild World remains the same throughout the series. He will serve the player a cup of coffee a day for 200 Bells and be present when other special visitors and villagers are in The Roost. He will also be present when K.K. Slider is performing. After buying coffee for a while, he will offer the player special drinks which may include Pigeon milk. He will also ask the player if they have a favorite blend, the player can only choose "the usual". He will then tell the player the exact temperature, 176 degrees. When talked to, he will say, "How are you doing?"
In City Folk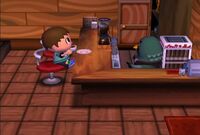 In City Folk, once the player becomes friends with him after drinking seven cups of coffee without letting them cool, he will offer to store the player's gyroids if the player is holding one while speaking to him. He will store one of each gyroid when spoken to by talking to him from across the bar (not on the stool). He may also offer a shot of pigeon milk like he did in Wild World. On Valentine's Day, he will offer the player hot chocolate instead of coffee, and will say "Happy Valentine's Day!" instead of the usual "Thanks". If the player takes a picture during one of K. K.'s performance and talks to Brewster afterward he'll say, "No pictures during the performance, please.... it bugs the talent."
In New Leaf
See also The Roost and Coffee Preferences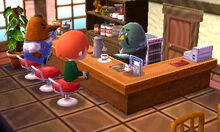 In New Leaf he runs the Roost once it has been built as a Public Works Project. Unfortunately, he does not offer to store the player's Gyroids in Animal Crossing: New Leaf. Instead, he will offer the player a take-out option after the player has drank three coffees. If the player has drank six coffees he will offer the player a part time job making coffees for villagers and special characters. He gives a gift to the player if they complete eight successful orders, and these gifts consist of various Café Series furniture.
After the player has visited the Roost many times, they are able to request what kind of coffee they would like when they sit down to have coffee, rather than having a takeout coffee. For the first three times, he may ask what kind of coffee, how much sugar, or how much milk the player would like. The fourth time, the player can choose to either have their usual, or change what they would like. 
In Animal Crossing: The Movie
Brewster has a small role in Dōbutsu no Mori. He first appears when Ai enters The Roost to deliver a package for Apollo and only has lines after Sally (Margie) moves.
He was voiced by Takaya Hashi.
In Animal Crossing Pocket Camp
Brewster appears in the in game event Brewster's Sweet Harvest.
In Super Smash Bros. Brawl
Brewster appears occasionally in the background of Smashville and as a trophy in Super Smash Bros. Brawl.
amiibo Card
amiibo Card[1]

Back

#302 Brewster

| | |
| --- | --- |
| Type | Special |
| Star sign | Libra |
| Birthday | 10/15 |
| Roll value | 4 |
| Hand sign | Rock |
| Request | I'll leave it up to you! |
Trivia
Along with Sable, Brewster is the only special character in the Animal Crossing series to be able to befriend.
In Wild World, certain compliments will cause Brewster to be shocked.
Brewster often says "coo" in his dialogue, which the player may also replicate in conversations with him.
Brewster has the voice of a cranky villager.
In New Leaf, if the player makes a perfect cup of coffee for a villager while working at The Roost, they may say that the player may have even surpassed Brewster, which shocks him.
When given a coffee, if the player replies with "It's gotta cool," they will then have the option to say "It's too hot." The player can continue to say this, but Brewster will always say the same thing.
The perfect temperature of coffee he suggests in New Leaf can change.
Brewster shares his birthday with Hippeux. Both of them have a birthday on October 15th.
As shown in Happy Home Designer, Brewster's favorite song is K.K. Swing.
Brewster sometimes responds to comments said by sisterly villagers. At least within New Leaf, in the instance where a sisterly villager comments about her perfect coffee (specifically by the player giving her the perfect coffee), he will respond with the shocked emotion; likewise, he will make a brief comment whenever a sisterly villager comments about how Brewster is able to hear everything said in The Roost.
Community content is available under
CC-BY-SA
unless otherwise noted.