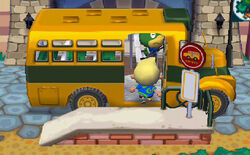 The bus is a third form of transport in the Animal Crossing series, found only in City Folk.
The bus is a yellow school-themed vehicle and replaces the train and taxi for the introduction sequence when starting a new player. Like previous games, this form of transport is driven by Kapp'n. When a new player is created, Rover will meet the player on this bus and enable them to determine name, gender, town name (if applicable) and their appearance.
After the introduction the bus can be ridden to the City and back. It is free to ride the bus.
Design
Inside, there are three rows of green padded bench seating, with a figurine of Kapp'n on the dashboard (similar to the one in the taxi), and an advert poster with Lyle on it, on a partition wall behind Kapp'n.
Trivia
One minor error with the bus is with its engine. When Kapp'n pulls the bus into the bus stop, he leaves the engine running. However, when the bus departs, he starts the engine anyway, even though it was actually never turned off.
A model of the bus was distributed by Nintendo as part of Teacher Appreciation Week.
The steering wheel is on the left, and the entrance is on the right, as in buses in countries that drive on the right side of the road. This game, however, is made in Japan, which drives on the left. This is the same for the Japanese version as well as every other country in which the game was released.
Gallery
Community content is available under
CC-BY-SA
unless otherwise noted.