The title of this article is conjectural. An official name for the article's subject has not been found.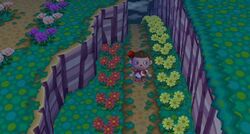 A canyon is a fan-named area of a town, where the cliff nearly touches the edge of the town, creating a long path, only a few tiles wide, between two cliffs. Canyons always run north to south, and are always accessible from the south. Occasionally a ramp may be found at the north end of the canyon, allowing the player to run from one end to the other.
Community content is available under
CC-BY-SA
unless otherwise noted.