"I caught the crab! Rock, paper, scissors, GAME!" —Animal Forest e+
Crabs (カニ, Kani?) are beach-going creatures only found in Animal Forest e+. They are worth 150 Bells despite their rarity. When the player enters the acre, they cannot be seen, but will suddenly dig themselves out of sand when approached. Once active, crabs scuttle sideways and away from the player.
Occasionally, they burrow back into the sand but will appear again in the same place. However, if they travel too far from land, they bury themselves permanently and cannot be unearthed again. In the museum, they appear at the bottom left near the Coconut Tree.
It is slightly more common than the Hermit Crab, which shares its habitat, and both are easier to find on the island at night.
Capture quotes
"力ニを つかまえた!じゃんけん グー!" —Animal Forest e+
Further information
Hemigrapsus sanguineus, the Japanese shore crab or Asian shore crab, is a species of crab from East Asia. They are known as kani in Japanese. It has been introduced to several other shores, and is now an invasive species in North America and Europe.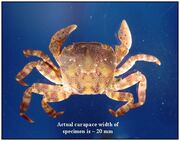 Trivia
Crabs in real life are types of crustaceans. In Animal Forest e+, crabs are categorized as "bugs".