Fire Emblem Warriors: Three Hopes - The Loop
Play Sound
DIY recipes are a crafting mechanic in New Horizons. Recipes can be crafted at a DIY workbench using gathered materials and/or furniture. It can be accessed through the DIY Recipes app on the NookPhone. DIY recipes can be sold to Timmy and Tommy for 200
. At Nook's Cranny (and in the Resident Services tent), a few recipes are available for purchase, including the flimsy tools (Axe, Shovel, Fishing Rod, Net, and Watering Can), the slingshot, ladder, and vaulting pole.
Every day, 1 message in a bottle will wash up on the shore of the player's island, with a letter and a DIY recipe inside. If they do not pick up the bottle one day, two may spawn on the next. The bottle only contains DIY recipes otherwise obtainable from either all island residents or island residents of certain personalities. If the player goes to another island with a different season, the seasonal recipes change (e.g., If the player's island season is Summer, and they go to a Winter island, the seasonal recipes change from Summer recipes to Winter recipes).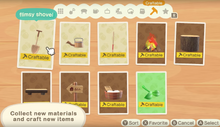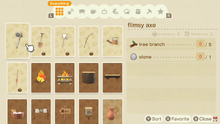 DIY recipes
Due to this page's length, it has been broken down into smaller pages.
Story DIYs
These DIYs may only be constructed once during the main story. These DIYs have cards that can only be accessed via hacking and placing them can have unintended side effects such as a bridge or incline that can't be paid off if the player doesn't pay the full amount as well as possible corruption.
Villager Personality DIYs
A villager's personality dictates what DIY recipes they can hand out while crafting in their home or visiting at the campsite. There are also some DIY recipes that can be handed out by any villager, specifically flower crowns and flower wreaths. [1] The chance a villager will give out a recipe specific to their personality is 95%, and the chance they'll give out a recipe obtainable from any villager is 5%. [2]
All of these DIY recipes are also obtainable from messages in a bottle.
Recipes from cranky villagers
Recipe Name
Image
Materials Needed [1]
Size [1]
Category
Item Sell Price [1]
Armor shoes
4x iron nugget

Equipment
3,000
Bamboo flooring
15x bamboo piece
N/A
Wallpaper, rugs and flooring
2,400
Bamboo hat
10x clump of weeds

Equipment
200
Bamboo partition
7x bamboo piece
6x stone

Housewares
2,020
Bamboo wall
15x bamboo piece
N/A
Wallpaper, rugs and flooring
2,400
Barrel
5x wood
2x iron nugget

Housewares
2,100
Bonfire
1x campfire
10x wood

Housewares
1,230
Bonsai shelf
1x cherry-blossom bonsai
1x

pine bonsai tree


8x wood

Housewares
8,460
Clothesline
10x tree branch

Housewares
100
Dark bamboo rug
6x bamboo piece

Wallpaper, rugs and flooring
960
Deer scare
3x bamboo piece
8x stone
3x clump of weeds

Housewares
1,740
Fruit basket
1x apple
1x pear
1x cherry
1x orange
1x peach

Miscellaneous
1,000
Fruit wreath
2x apple
1x pear
3x cherry
3x orange
1x peach

Wall-mounted
2,000
Gong
6x iron nugget

5x wood

Housewares
5,100
Infused-water dispenser
2x apple
2x pear
2x cherry
2x orange
2x peach
2x coconut

Miscellaneous
3,000
Iron armor
8x iron nugget

Equipment
6,000
Iron hanger stand
3x iron nugget

Housewares
2,250
Ironwood DIY workbench
12x wood
6x iron nugget
1x mini DIY workbench

Housewares
8,520
Ironwood table
12x wood
6x iron nugget

Housewares
5,940
Jail bars
5x iron nugget

Housewares
3,750
Kettle bathtub
8x iron nugget
2x wood
1x campfire

Housewares
6,270
Knight's helmet
5x iron nugget

Equipment
3,750
Lily record player
5x white lilies
3x iron nugget
3x wood

Housewares
3,010
Log dining table
15x hardwood

Housewares
1,800
Modeling clay
2x clay

Miscellaneous
400
Pile of zen cushions
3x zen cushion

Housewares
750
Pot
5x clay

Miscellaneous
1,000
Raccoon figurine
6x clay

Housewares
1,200
Scarecrow
5x tree branch
5x clump of weeds

Housewares
130
Sleigh
8x wood

Housewares
960
Standard umbrella stand
3x iron nugget

Housewares
2,250
Tea table
12x hardwood

Housewares
1,440
Tiki torch
5x tree branch
5x wood

Housewares
650
Wild-wood wall
15x wood
N/A
Wallpaper, rugs and flooring
1,800

Wooden-plank sign

5x hardwood

Wall-mounted
600
Recipes from jock villagers
Recipe Name
Image
Materials Needed [1]
Size [1]
Category
Item Sell Price [1]
Bamboo drum
3x bamboo piece
2x softwood

Miscellaneous
720
Bamboo stopblock
3x bamboo piece

Housewares
480
Bamboo wall decoration
1x bamboo piece

Wall-mounted
160
Barbell
10x iron nugget

Housewares
7,500
Beekeeper's hive
3x wasp nest
5x wood

Housewares
2,400
Doghouse
10x wood
7x hardwood

Housewares
2,040
Firewood
8x wood

Miscellaneous
960
Fossil doorplate
1x fossil
2x stone

Wall-mounted
500

Honeycomb flooring

5x wasp nest
N/A
Wallpaper, rugs and flooring
3,000

Honeycomb wall

6x wasp nest
N/A
Wallpaper, rugs and flooring
3,600
Iron frame
20x iron nugget

Housewares
15,000

Jungle flooring

10x clump of weeds
10x clay
N/A
Wallpaper, rugs and flooring
2,200

Jungle wall

15x clump of weeds
3x wood
3x hardwood
3x softwood
N/A
Wallpaper, rugs and flooring
1,380

Kettlebell

5x iron nugget

Miscellaneous
3,750
Leaf
5x clump of weeds

Equipment
100

Log pack

3x wood
5x hardwood

Equipment
960
Mountain standee
4x wood
5x softwood

Housewares
1,080
Oil-barrel bathtub
1x oil barrel
1x campfire
2x stone

Housewares
655
Pear bed
10x pear
6x softwood

Housewares
2,720
Pear dress
8x pear

Equipment
1,600
Pear hat
5x pear

Equipment
1,000
Pear rug
6x pear

Wallpaper, rugs and flooring
1,200

Pear umbrella

7x pear

Equipment
1,400
Pear wall
20x pear
N/A
Wallpaper, rugs and flooring
4,000
Pear wardrobe
10x pear
5x wood

Housewares
2,600
Pitfall seed
4x clump of weeds
6x tree branch

Other
140
Plain wooden shop sign
6x wood

Housewares
720

Sandy-beach flooring

1x sea snail
1x venus comb
1x sand dollar
1x coral
1x giant clam
1x cowrie
N/A
Wallpaper, rugs and flooring
4,120
Simple DIY workbench
5x hardwood
1x iron nugget

Housewares
1,350

Stacked-wood wall

15x hardwood
N/A
Wallpaper, rugs and flooring
1,800
Tree standee
5x wood
8x softwood

Housewares
1,560
Trophy case
24x hardwood
3x gold nugget
6x iron nugget

Housewares
33,690
Tulip surprise box
5x red tulips
3x softwood

Housewares
760
Wild log bench
8x hardwood

Housewares
960
Recipes from lazy villagers
Recipe Name
Image
Materials Needed [1]
Size [1]
Category
Item Sell Price [1]
Angled signpost
2x hardwood
3x softwood

Housewares
600

Bone doorplate

3x softwood

Wall-mounted
360

Boomerang

3x hardwood

Wall-mounted
360
Cardboard bed
4x cardboard box

Housewares
240

Cardboard chair

1x cardboard box

Housewares
60
Clackercart
2x hardwood
6x softwood

Housewares
960

Deer decoration

8x softwood

Wall-mounted
960
Garden rock
15x stone

Housewares
2,250
Golden arowana model
3x gold nugget

Miscellaneous
30,000
Golden dung beetle
3x gold nugget

Miscellaneous
30,000
Large cardboard boxes
5x cardboard box

Housewares
300

Log wall-mounted clock

2x hardwood
1x iron nugget

Wall-mounted
990
Matryoshka
5x softwood

Miscellaneous
600
Medium cardboard boxes
4x cardboard box

Housewares
240
Mossy garden rock
15xstone
15x clump of weeds

Housewares
2,550
Music stand
8x hardwood

Housewares
960
Orange dress
8x orange

Equipment
1,600
Orange end table
10x orange
4x wood

Housewares
2,480

Orange hat

5x orange

Equipment
1,000
Orange rug
6x orange

Wallpaper, rugs and flooring
1,200

Orange umbrella

7x orange

Equipment
1,400
Orange wall-mounted clock
10x orange
2x wood

Wall-mounted
2,240
Orange wall
20x orange
N/A
Wallpaper, rugs and flooring
4,000
Sauna heater
6x stone
3x iron nugget
3x wood

Housewares
3,510
Shell arch
3x sea snail
3x venus comb
3x sand dollar
3x coral
3x giant clam
3x cowrie

Housewares
12,360
Shell fountain
5x giant clam
3x stone

Housewares
9,450

Signpost

2x hardwood
3x softwood

Housewares
600

Stack of books

5x book

Miscellaneous
725
Stone table
8x stone

Housewares
1,200
Water pump
2x iron nugget
6x clay

Housewares
2,700

Windflower fan

3x red windflowers
2x iron nugget

Miscellaneous
1,740
Wooden bookshelf
5x book
10x wood

Housewares
1,925
Wooden chest
16x wood

Housewares
1,920
Wooden simple bed
18x wood

Housewares
2,160
Zen-style stone
30x stone

Housewares
4,500
Recipes from smug villagers
Recipe Name
Image
Materials Needed [1]
Size [1]
Category
Item Sell Price [1]
Acoustic guitar
8x softwood
3x iron nugget

Housewares
3,210

Basement flooring

10x stone
N/A
Wallpaper, rugs and flooring
1,500

Chocolate herringbone wall

15x softwood
N/A
Wallpaper, rugs and flooring
1,800

Crest doorplate

4x iron nugget

Wall-mounted
3,000
Decoy duck
4x softwood

Miscellaneous
480
Document stack
1x scattered papers

Miscellaneous
400
Gold armor
8x gold nugget

Equipment
80,000
Gold-armor shoes
4x gold nugget

Equipment
40,000
Gold helmet
5x gold nugget

Equipment
50,000
Golden candlestick
2x gold nugget

Miscellaneous
20,000
Golden casket
8x gold nugget

Housewares
80,000
Golden flooring
4x gold nugget
N/A
Wallpaper, rugs and flooring
40,000
Golden gears
1x gold nugget
3x iron nugget

Wall-mounted
11,125
Golden wall
4x gold nugget
N/A
Wallpaper, rugs and flooring
40,000

Gold-screen wall

2x gold nugget
1x screen wall
N/A
Wallpaper, rugs and flooring
20,750

Iron wall rack

3x iron nugget
1x clay

Wall-mounted
2,450
Ironwood bed
20x wood
10x iron nugget

Housewares
9,900
Ironwood cart
6x wood
4x iron nugget

Housewares
3,720
Ironwood chair
3x wood
2x iron nugget

Housewares
1,860
Ironwood clock
2x wood
2x iron nugget

Wall-mounted
1,740
Log stakes
3x wood

Housewares
360
Rose bed
10x red roses
5x wood

Housewares
1,400
Scattered papers
1x document stack

Housewares
400

Steel flooring

7x iron nugget
N/A
Wallpaper, rugs and flooring
5,250

Steel-frame wall

8x iron nugget
N/A
Wallpaper, rugs and flooring
6,000
Stone lion-dog
24x stone

Housewares
3,600

Stone wall

10x stone
N/A
Wallpaper, rugs and flooring
1,500

Straw umbrella hat

10x clump of weeds

Equipment
200
Tall lantern
18x stone

Housewares
2,700

Ukulele

5x hardwood

Miscellaneous
600
Wooden bucket
3x wood
1x iron nugget

Housewares
1,110
Wooden double bed
30x wood

Housewares
3,600
Wooden low table
10x wood

Housewares
1,200

Wooden-knot wall

15x hardwood
N/A
Wallpaper, rugs and flooring
1,800
Recipes from normal villagers
Recipe Name
Image
Materials Needed [1]
Size [1]
Category
Item Sell Price [1]
Bamboo bench
8x bamboo piece

Housewares
1,280
Bamboo floor lamp
8x bamboo piece

Housewares
1,280
Bamboo sphere
3x bamboo piece

Miscellaneous
480

Classic-library wall

10x book
N/A
Wallpaper, rugs and flooring
1,450
Cutting board
2x hardwood
1x iron nugget

Miscellaneous
990

Floral swag

10x clump of weeds

Wall-mounted
200
Grass skirt
7x clump of weeds

Equipment
140
Grass standee
2x wood
2x softwood


Housewares
480
Hedge standee
2x wood
3x softwood

Housewares
600
Knitted-grass backpack
20x clump of weeds

Equipment
400
Log bench
5x hardwood

Housewares
600
Log chair
8x hardwood

Housewares
960
Log decorative shelves
2x log bench
3x hardwood

Housewares
1,560
Log extra-long sofa
2x log chair

Housewares
1,920

Natural garden table

9x hardwood
3x iron nugget

Housewares
3,330

Natural square table

4x hardwood
2x iron nugget

Housewares
1,980
Pansy table
5x yellow pansies
3x hardwood

Housewares
760
Peach chair
10x peach
5x wood

Housewares
2,600
Peach dress
8x peach

Equipment
1,600

Peach hat

5x peach

Equipment
1,000
Peach rug
6x peach

Wallpaper, rugs and flooring
1,200
Peach surprise box
10x peach
4x softwood

Miscellaneous
2,480

Peach umbrella

7x peach

Equipment
1,400
Peach wall
20x peach
N/A
Wallpaper, rugs and flooring
4,000
Rocking horse
5x softwood

Housewares
600
Tiny library
3x book

5x wood

Housewares
1,035

Traditional straw coat

8x clump of weeds

Equipment
160

Terrarium

12x clump of weeds
2x iron nugget

Miscellaneous
1,740
Western-style stone
30x stone

Housewares
4,500
Wooden-block bed
1x wooden-block toy
17x softwood

Housewares
2,400
Wooden-block chest
1x wooden-block toy
12x softwood

Housewares
1,800

Wooden-mosaic wall

15x wood
N/A
Wallpaper, rugs and flooring
1,800

Wooden toolbox

4x softwood
2x iron nugget

Miscellaneous
1,980

Woodland wall

15x clump of weeds
9x softwood
N/A
Wallpaper, rugs and flooring
1,380
Recipes from peppy villagers
Recipe Name
Image
Materials Needed [1]
Size [1]
Category
Item Sell Price [1]

Backyard lawn

30x clump of weeds
N/A
Wallpaper, rugs and flooring
600
Birdhouse
2x wood
5x softwood

Housewares
840

Cabin wall

15x hardwood
N/A
Wallpaper, rugs and flooring
1,800
Cardboard sofa
2x cardboard box

Housewares
120
Cardboard table
4x cardboard box

Housewares
240
Cherry dress
8x cherry

Equipment
1,600
Cherry hat
5x cherry

Equipment
1,000
Cherry lamp
10x cherry
2x clay

Wall-mounted
2,400
Cherry rug
6x cherry

Wallpaper, rugs and flooring
1,200
Cherry speakers
10x cherry

2x iron nugget

Miscellaneous
3,500
Cherry umbrella
7x cherry

Equipment
1,400
Cherry wall
20x cherry
N/A
Wallpaper, rugs and flooring
4,000
Garden wagon
3x white hyacinths
3x red cosmos
3x yellow roses
8x wood
2x iron nugget

Housewares
3,180
Giant teddy bear
1x

Papa bear


1x Mama bear
1x Baby bear

Housewares
6,300
Green grass skirt
7x clump of weeds

Equipment
140

Hanging terrarium

12x clump of weeds
4x iron nugget

Wall-mounted
3,240
Leaf mask
10x clump of weeds

Equipment
200
Log bed
30x hardwood

Housewares
3,600
Log garden lounge
12x hardwood

Housewares
1,440
Log round table
15x hardwood

Housewares
1,800
Log stool
4x hardwood

Housewares
480
Magazine rack
2x magazine
4x wood

Miscellaneous
690

Manga-library wall

10x magazine
N/A
Wallpaper, rugs and flooring
1,050
Mum cushion
3x yellow mums
10x clump of weeds

Housewares
440

Natural garden chair

6x hardwood
2x iron nugget

Housewares
2,220
Paw-print doorplate
3x wood

Wall-mounted
360
Shell bed
5x giant clam
3x clay
4x stone

Housewares
10,200

Shell rug

3x giant clam

Wallpaper, rugs and flooring
5,400
Shell table
7x sand dollar
3x clay

Housewares
2,280
Small cardboard boxes
2x cardboard box

Housewares
120

Stacked magazines

6x magazine

Miscellaneous
630
Wooden-block stool
1x wooden-block toy
2x softwood

Housewares
600

Wooden-block wall clock

1x wooden-block toy
2x softwood
1x iron nugget

Wall-mounted
1,350
Wooden full-length mirror
5x wood
1x iron nugget

Housewares
1,350
Wooden stool
4x wood

Housewares
480
Recipes from sisterly villagers
Recipe Name
Image
Materials Needed [1]
Size [1]
Category
Item Sell Price [1]
Apple chair
10x apple
4x wood

Housewares
2,480
Apple dress
8x apple

Equipment
1,600
Apple hat
5x apple

Equipment
1,000
Apple rug
6x apple

Wallpaper, rugs and flooring
1,200
Apple umbrella
7x apple

Equipment
1,400
Apple wall
20x apple
N/A
Wallpaper, rugs and flooring
4,000
Birdcage
8x wood

Housewares
960

Brown herringbone wall

15x softwood
N/A
Wallpaper, rugs and flooring
1,800

Dark wooden-mosaic wall

15x wood
N/A
Wallpaper, rugs and flooring
1,800
DIY workbench
5x wood
5x hardwood
5x softwood
3x iron nugget
1x mini DIY workbench

Housewares
6,630
Flower stand
1x red roses
2x pink roses
2x orange roses
2x white lilies
1x yellow lilies
4x purple windflowers

Housewares
2,880

Hyacinth lamp

5x purple hyacinths
3x clay

Miscellaneous
3,000
Iron closet
12x iron nugget

Housewares
9,000

Iron doorplate

2x iron nugget

Wall-mounted
1,500
Iron garden bench
8x iron nugget

Housewares
6,000
Iron garden chair
3x iron nugget

Housewares
2,250
Iron garden table
5x iron nugget

Housewares
3,750

Iron shelf

14x iron nugget

Housewares
10,500
Iron worktable
10x iron nugget

Housewares
7,500
Juicy-apple TV
10x apple
2x iron nugget

Housewares
3,500

Key holder

3x wood
1x iron nugget

Wall-mounted
1,110
Leaf umbrella
15x clump of weeds

Equipment
300
Shell lamp
2x giant clam
3x clay

Miscellaneous
4,200
Shell partition
4x venus comb
4x conch

Housewares
8,000
Shell speaker
3x conch
2x iron nugget

Miscellaneous
5,700
Shell stool
5x cowrie

Housewares
600
Street piano
1x upright piano
1x painting set

Housewares
26,755

Tree branch wreath

10x tree branch

Wall-mounted
100
Wooden-block bench
1x wooden-block toy
4x softwood

Housewares
840
Wooden-block table
1x wooden-block toy
8x softwood

Housewares
1,320
Wooden mini table
6x wood

Housewares
720
Wooden table
15x wood

Housewares
1,800
Wooden table mirror
3x wood
1x iron nugget

Miscellaneous
1,110
Wooden waste bin
4x wood

Housewares
480
Recipes from snooty villagers
Recipe Name
Image
Materials Needed [1]
Size [1]
Category
Item Sell Price [1]
Aroma pot
3x clay

Miscellaneous
600
Bamboo basket
7x bamboo piece

Housewares
1,120
Bamboo candleholder
3x bamboo piece
2x clay

Miscellaneous
880
Bamboo lunch box
4x bamboo piece

Miscellaneous
640
Bamboo shelf
15x bamboo piece

Housewares
2,400
Bamboo speaker
3x bamboo piece
1x iron nugget

Housewares
1,230
Bamboo stool
5x bamboo piece

Housewares
800
Birdbath
6x stone

Housewares
900
Butter churn
4x wood
2x iron nugget

Housewares
1,980
Classic pitcher
4x clay

Miscellaneous
800
Coconut juice
1x coconut

Miscellaneous
500
Coconut wall planter
1x coconut
5x clump of weeds

Wall-mounted
600
Cosmos shower
5x pink cosmos
3x iron nugget

Housewares
3,050
Flat garden rock
20x stone

Housewares
3,000
Garden bench
12x wood
4x iron nugget

Housewares
4,440
Gold bars
3x gold nugget

Miscellaneous
30,000
Golden dishes
1x gold nugget

Miscellaneous
10,000
Golden seat
5x gold nugget

Housewares
50,000
Golden toilet
6x gold nugget

Housewares
60,000
Ironwood cupboard
12x wood
6x iron nugget
1x ironwood dresser

Housewares
9,780
Ironwood dresser
7x wood
4x iron nugget

Housewares
3,840
Ironwood low table
6x wood
4x iron nugget

Housewares
3,720
Lucky gold cat

2x gold nugget
1x Lucky cat

Miscellaneous
21,675

Modern wood wall

5x wood
5x softwood
5x hardwood
N/A
Wallpaper, rugs and flooring
1,800

Money flooring

1x bag of 50,000 bells
N/A
Wallpaper, rugs and flooring
25,000
Palm-tree lamp
4x coconut
4x wood
4x clay

Housewares
3,280
Pond stone
10x stone

Housewares
1,500

Rustic-stone wall

5x stone
5x clay
N/A
Wallpaper, rugs and flooring
1,750
Tall garden rock
60x stone

Housewares
9,000

Timber doorplate

2x wood
1x pink roses

Wall-mounted
400

Unglazed dish set

3x clay

Miscellaneous
600
Wooden chair
6x wood

Housewares
720
Wooden end table
8x wood

Housewares
960
Recipes from any villagers
Recipe Name
Image
Materials Needed [1]
Size [1]
Category
Item Sell Price [1]
Blue rose crown
6x blue roses

Equipment
12,000
Blue rose wreath
10x blue roses

Wall-mounted
20,000

Chic cosmos wreath

10x black cosmos

Wall-mounted
4,800
Chic mum crown
3x purple mums
3x pink mums

Equipment
960
Chic rose crown
3x purple roses
3x black roses

Equipment
2,880
Chic tulip crown
2x purple tulips
2x pink tulips
1x orange tulips

Equipment
1,440
Chic windflower wreath
10x purple windflowers

Wall-mounted
4,800
Cool hyacinth crown
4x blue hyacinths
2x pink hyacinths
2x orange hyacinths

Equipment
1,280
Cool hyacinth wreath
3x orange hyacinths
3x blue hyacinths
3x pink hyacinths

Wall-mounted
1,440
Cool pansy crown
3x orange pansies
3x blue pansies

Equipment
960
Cool pansy wreath
10x purple pansies

Wall-mounted
4,800
Cool windflower crown
3x blue windflowers
3x pink windflowers

Equipment
960

Cool windflower wreath

3x blue windflowers
3x pink windflowers
3x white windflowers

Wall-mounted
1,200
Cosmos crown
2x red cosmos
2x yellow cosmos
3x white cosmos

Equipment
480
Cosmos wreath
3x yellow cosmos
3x white cosmos
3x red cosmos

Wall-mounted
720
Cute lily crown
2x pink lilies
2x orange lilies
2x white lilies

Equipment
800
Cute rose crown
3x pink roses
3x orange roses

Equipment
960
Dark cosmos crown
7x black cosmos

Equipment
3,360
Dark lily crown
6x black lilies

Equipment
960

Dark lily wreath

10x black lilies

Wall-mounted
1,600
Dark rose wreath
3x black roses
6x purple roses

Wall-mounted
4,320
Dark tulip crown
5x black tulips

Equipment
800

Dark tulip wreath

10x black tulips

Wall-mounted
1,600
Fancy lily wreath
3x orange lilies
3x pink lilies
3x yellow lilies

Wall-mounted
1,200

Fancy mum wreath

3x pink mums
3x purple mums
3x red mums

Wall-mounted
1,200

Fancy rose wreath

3x orange roses
3x pink roses
3x yellow roses

Wall-mounted
1,200
Gold rose crown
6x gold roses

Equipment
12,000

Gold rose wreath

10x gold roses

Wall-mounted
20,000
Hyacinth crown
4x red hyacinths
2x yellow hyacinths
2x white hyacinths

Equipment
640

Hyacinth wreath

3x white hyacinths
3x red hyacinths
3x yellow hyacinths

Wall-mounted
720

Lily crown

2x red lilies
2x yellow lilies
2x white lilies

Equipment
480

Lily wreath

3x white lilies
3x red lilies
3x yellow lilies

Wall-mounted
720

Lovely cosmos crown

4x pink cosmos
3x orange cosmos

Equipment
1,120

Mum crown

2x red mums
2x yellow mums
2x white mums

Equipment
480

Mum wreath

3x white mums
3x yellow mums
3x red mums

Wall-mounted
720

Natural mum wreath

10x green mums

Wall-mounted
4,800

Pansy crown

2x red pansies
2x yellow pansies
2x white pansies

Equipment
480

Pansy wreath

3x yellow pansies
3x white pansies
3x red pansies

Wall-mounted
720

Pretty cosmos wreath

3x orange cosmos
3x pink cosmos
3x red cosmos

Wall-mounted
1,200

Pretty tulip wreath

3x orange tulips
3x pink tulips
3x purple tulips

Wall-mounted
2,400

Purple hyacinth crown

6x purple hyacinths

Equipment
2,880

Purple hyacinth wreath

10x purple hyacinths

Wall-mounted
4,800

Purple pansy crown

6x purple pansies

Equipment
2,880

Purple windflower crown

6x purple windflowers

Equipment
2,880

Rose crown

2x red roses
2x yellow roses
2x white roses

Equipment
480

Rose wreath

3x red roses
3x white roses
3x yellow roses

Wall-mounted
720

Simple mum crown

6x green mums

Equipment
2,880

Snazzy pansy wreath

3x orange pansies
3x blue pansies
3x