Fire Emblem Warriors: Three Hopes - The Loop
Play Sound
"I better not catch you making goo-goo eyes at my wife, or I'll make you see in the fourth dimension!"
― Cyrus, New Leaf

Cyrus (カイゾー, Kaizō?) is an alpaca who appears in New Leaf. He works at Re-Tail with Reese, his wife and his business partner. He is the upholsterer and is in charge of altering furniture, but his services are not accessible right from the start. He is first seen sleeping, and any attempts to wake him up will result in scolding from Reese. Cyrus remains asleep until certain conditions are met, but he is always asleep while the train station gate is open and/or there are other players in town.
Appearance
Cyrus is an alpaca with blue-colored fur, black eyes, and tan skin. His "hairstyle" is similar to the regent wig item (similar to that of a Pompadour), and he wears a blue apron with red stitches with a pink heart on the left side. He has 3 freckles on each of his cheeks, has buck teeth, and his hooves are black.
In New Leaf
Cyrus works at Re-Tail with Reese. However, he will always be asleep until four specific in-game conditions are met. Once he's awake, he'll provide a new service to the player where they can customize specific furniture items.
In amiibo Festival
Cyrus is a playable character in amiibo Festival, available when the Cyrus amiibo is scanned on the Wii U. Sometimes when the player playing as Cyrus lands on an event square in the Amiibo Festival Board Game mode, a random event specifically related to Cyrus may appear.
Cyrus has 6 unlockable costumes for the game, unlocked through leveling up the Cyrus amiibo:
Re-Tail work apron (Level 1)
Heart logo sweatshirt with red pants (Level 2)
Blue sweater with the design (Level 3)
Re-Tail logo jacket (Level 4)
Light blue jacket (Level 5)
White tuxedo/groom (Level 6)
In Pocket Camp
Cyrus, alongside Reese, crafts items for the player in exchange for bells or leaf tickets. When a craft is ordered, a pop-up appears onscreen with Cyrus's face stating, "crafting request initiated!"
In New Horizons
He appears again in New Horizons as a part of the Wedding Season event, along with Reese. If you choose, you may take wedding themed photos with Cyrus and Reese in exchange for Heart Crystals which can be used to buy wedding-themed furniture from Cyrus.
Cyrus comes back as a permanent fixture in the 2.0 update, where he can now customize items ala his role in New Leaf. He can be found along with Reese on Harv's island after donating 100,000 bells to Lloid in his respective "co-op" space.
Personality
Cyrus is a talented builder who likes reworking furniture. He is fairly aggressive in his speech and warns male characters about interacting with his wife, showing his jealous streak. He uses the catchphrase "squirt", implying that he sees the player as a child. Cyrus is also very proud of his abilities, striking a pose when asked to rework furniture. He can be rather humorous, though.
Services
Cyrus will awaken and provide his services only with the gate closed and no visitors. To use his service, four conditions must be met:
100,000 Bells worth of items have been sold to Reese.
100 pieces of furniture have been cataloged (found at the Nookling Stores).
50 pieces of clothing cataloged (from the Able Sisters).
The player has played for seven days.
Customizing furniture
Cyrus is a talented craftsman with an array of refurnishing skills and crafting. He can re-customize most furniture items the player brings to him, but only certain furniture such as chairs, sofas, and TVs are acceptable customized furniture. Cyrus can change a furniture's color, pattern, or fabric design, giving suggestions to the player for customization. For the fabric design (If it's available for that item), Cyrus will ask if you want to use a clothing pattern (which he will take and not return, as he needs the material for the pattern), custom design, or some of his suggestions. If available, the player can use ore to crystallize certain furniture items.
Once a customization has begun, it will take 30 minutes before Cyrus is finished with the customization of the piece of furniture. He can accept unlimited requests per day. Bear in mind that he will not take requests if the store closing time is exceeded.
However, he will not wake up until the player has met each of the four criteria listed above.
Shrinking fossils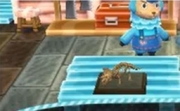 Cyrus also has the ability to turn any fossil into a miniature provided the player has a complete collection of that fossil set. Fossil models are a new type of furniture available in New Leaf. They are miniaturized versions of the full fossil sets. While they are not real fossils, regular fossils can be used to make them. These models-sized creatures take up significantly less space than their museum counterparts. Cyrus will offer to make fossil models if the player speaks to him with the completed set in their pocket. Each model costs ten percent of the original set's price to create. Once they are finished, you will be able to display them in your home without having any mass-space losses.
Music
At a cost of 3,000 Bells, he can take any of K.K. Slider's songs and turn it into a special music box housed inside a giant-clam shell (from the beach).
New Horizons
Cyrus returns along with Reese for the Wedding Season event in June on Harv's Island. After receiving the Heart Crystals from Reese for the photos, the player can trade him the crystals for limited wedding items, such as the wedding bench, the wedding decoration, and other wedding-based items. At a certain amount of days of taking anniversary pictures, all approved by Reese, Cyrus gives the player two DIY recipes: the Wedding Fence and the wedding wand, which requires a wedding flower stand and 3x star fragments.
Once the player fulfills the requirements to unlock a plaza in Harv's Island, they can donate 100k bells to build a permanent co-op for Cyrus' customization service. Unlike the customization kits which can only customize a limited amount of items, Cyrus can customize any item with other color selections, including items that can be purchased with Nook Miles. As well, unlike in New Leaf, Cyrus' customizations are immediate, meaning the player can collect them right after choosing.
The number of items that can be customized by Cyrus per day is unlimited.
Quotes
New Horizons
Should the player attempt to invite Cyrus to the campsite by scanning his 
, he will have the following to say:
"Yello! This is Cyrus. Well, hey there, Player. What can I do ya for?
Your campsite? Wow, that sounds like that'd be just the thing.
Sorry. Can't. I got my hands full right at the moment. Thanks for the invite though! You take care."
amiibo Card
amiibo Card[1]

Back

#210 Cyrus

| | |
| --- | --- |
| Type | Special |
| Star sign | Aquarius |
| Birthday | 1/26 |
| Roll value | 1 |
| Hand sign | Paper |
| Request | I'll leave it up to you! |
Trivia
In other languages
Cyrus
| Language | Name |
| --- | --- |
| Japanese | カイゾー Kaizō |
| French | Serge |
| Spanish | Al |
| German | Björn |
| Italian | Merino |
| Russian | Сайрус Sayrus |
| Chinese | 健兆 jiànzhào |
| Korean | 리포 Lipo |
References