Dōbutsu no Mori
(
劇場版 どうぶつの森
Gekijōban Dōbutsu no Mori
?
), also known and translated as
Animal Crossing: The Movie
in English, is a Japanese anime movie based off of the
Animal Crossing series
. It was released about a year after
Wild World
, which the movie is based on. It was directed by Jōji Shimura and was released on DVD.
Plot
The Animal Crossing film starts with a girl named Ai travelling by cab, driven by Kapp'n, to a far-away town called Animal Village. On the way, Ai is established as an enthusiastic and independent young girl, keen to experience a life on her own. After being dropped off outside of the Town Hall, she is greeted by Pelly and Mayor Tortimer, who heckles her over the winter vote for mayor (and does not take it too well when she does not understand his question). She is given a map and is directed to "Nook's Cranny" - after finding her way there, she is quickly sent out on a bicycle to deliver lots of items by Mr. Nook, the excuse being that she ought to greet the members of the town. Sent out with a pile of goods, Ai delivers a maid outfit to Rosie. Rosie dances in joy much to Ai's surprise. Rosie asks of her arrival, with TV drama-esque questions. Ai soon finds herself delivering a box of 500 pies to Alfonso, but the meeting is abruptly interrupted when a boy named Yū can be seen chasing after a Peacock Butterfly. When Alfonso sees this, he rushes inside to get his own net to join in the the chase. Afterwards, Ai delivers to Whitney, who appears somewhat cold-hearted (much like snooty villagers) and asks her to place the delivery in her house for her. It is not until she starts walking away she then realizes that Ai is new. After an introduction Ai leaves Whitney and goes to the Able Sisters' shop, where she is greeted by Mabel. While making the delivery, she notices the clothes (a bunny shirt and cherry shirt) when Margie walks in and begins conversation between the two sisters. Ai leaves them to talk and before long Tom Nook is waving at Ai after a hard day's work. Ai leaves for her house via the beach path and is halted when a Spider makes an unceremonious appearance on her forehead having dropped from the fruit tree above. Yū then appears, catches the spider, and notes that himself and Alfonso were competing against each other to catch one first(much like the bug competitions in the game). After having been hit by a net, Ai stands puzzled and disgusted as Yū offers her a gift, which is then revealed to be a Cockroach. The scene ends as Ai screams in horror.
On the second day, Ai is sent to do more deliveries, heading to Apollo's house (when a Common Butterfly flies past). Yū interrupts, chasing a dragonfly, and in his clumsiness knocks Ai into Apollo's flowerbed, crushing many of his blue roses. This causes Mr. Resetti to appear - about to give a lecture on town rules. He lets her off as it was an accident, and directs her to the The Roost to find Apollo. After finishing her deliveries, Ai heads home and says hello to Margie. They quickly get along - Ai learns that it is Margie's dream to become a designer. Margie refers to a person's talent as a "cherry pie" and subsequently shakes a cherry tree, giving some of its fruit to Ai. On this day, we are also introduced to Hopper and Champ, who feature throughout the film as minor characters.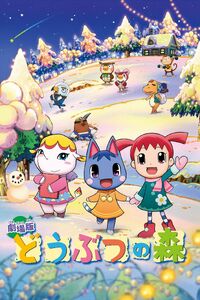 In her search for the mysterious Apollo, Ai decides to search for the Roost that Resetti had mentioned earlier. She walks into the Museum and, puzzled, finds the fossil exhibit, which causes her to scream. Blathers and Celeste run inside to find the cause of her alarm, and attempt to reassure her. Ai notices that the fossils have information and finds one fossil stand empty. Blathers starts mentioning facts about the empty fossil, which is for a Seismosaur container and explains that it is his dream to see it filled. Celeste pulls her aside and directs her to the cafe, while Blathers continues to talk, oblivious to the fact that he is alone.
Ai then finds herself into the Roost, and meets two villagers (Cesar and Cyrano) arguing about music over a table. After inquiring if either of them is Apollo, they burst out laughing. They claim that Apollo has been very grumpy recently, but the conversation is interrupted when Apollo himself walks into the Roost. When Ai enters his presence, Apollo sadly mourns about a current event; someone had recklessly destroyed his flowers. Ai then confesses and apologizes for killing his flowers. Apollo, with few words spoken, leaves the Roost, and Ai believes that the eagle is mad at her. Later on, Ai discovers a note-in-a-bottle on the beach saying: Plant a conifer on the snow festival and something miraculous will happen. On the next day Ai, Margie and Rosie are shown at the beach, as well as Whitney in her summer dress.
After some time, Yū and Alfonso, apparently no longer in to bug-catching, start a fossil search and eventually Ai, Margie, and Rosie lead them to a cave. In the final room, a grand skeleton of a Seismosaurus, the dinosaur missing from the museum, is revealed. As Yū tries to climb up, the rocks begin to crumble and the group scatter from the cave. A few days later, a festival begins where K.K. Slider performs K.K. Bossa upon Margie's request. Soon after, Rosie tells Ai that Margie moved away in order to fulfill her dream of becoming a designer. Ai goes to the Roost for coffee to help while away her troubles and begins to cry. Whitney, knowing of Margie's departure, consoles Ai to believe in herself. Ai leaves the Roost and finds Wendell by her house, who invites himself in and eats something. Later on Ai discovers a secret note-in-a-bottle saying: Plant a conifer on the snow festival and something miraculous will happen. After she receives many more letters like the first, she plants what she is supposed to plant on the Winter Festival.
Gulliver arrives in his broken ship and requests that the villagers find his missing pieces. Ai, Rosie, Yū, and Alfonso go to the same cave they visited in the summer, where they find Margie, who had come for a visit. Yū retrieves the missing piece, which they return to the alien. However, Champ has also found the same piece, which confuses Gulliver. The piece Ai found turns out to be a whole separate alien, which thanks Ai before returning home. Afterwards, Ai asks Apollo if he's still mad at her for ruining his blue roses. But in turns out Apollo was not mad at Ai at all. It is soon discovered that the trees that Ai planted turn out to be in the shape of a star.
Cast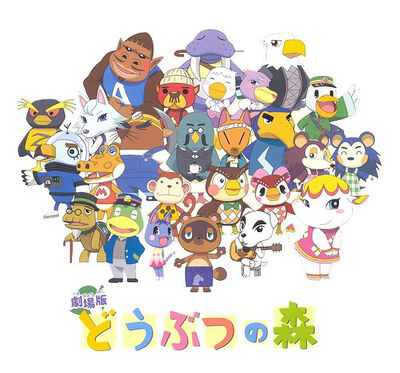 Main Characters
| Character | Japanese Name | Actor/Actress |
| --- | --- | --- |
| Ai | " | Yui Horie |
| Alfonso | Albert | Takatoshi Koneko |
| Margie | Sally | Fumiko Orikasa |
| Rosie | Bouquet | Misato Fukuen |
| Yū | " | Yū Kobayashi |
Supporting Characters
Minor Characters
Background Characters
Trivia
During the credits sequence, a present attached to a balloon appears in every scene.
The maid outfit Rosie wears is actually a waitress outfit in Wild World.
Phyllis appears to be friendlier in the movie.
K.K. Slider refers to The Roost as "Pigeon's Roost".
Interestingly, despite the maximum villager limit in Wild World being eight, there are nine animal villagers in Animal Village.
The movie is based on Animal Crossing: Wild World.
Gallery
Community content is available under
CC-BY-SA
unless otherwise noted.