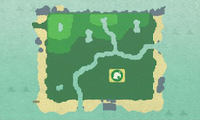 The deserted island is the main setting of Animal Crossing: New Horizons, replacing the town in previous games. Unlike the town, it begins as a pristine, uninhabited island surrounded on all sides by the sea. The player travels to the Deserted Island with Tom Nook, Timmy and Tommy, and two villagers (always guaranteed to be one Sisterly and one Jock) as part of the Nook Inc. Deserted Island Getaway Package, and over time, it is developed into a thriving community.
Development
Initially, the Deserted Island features only two structures, erected in advance by Nook Inc.: the airport, and the Resident Services tent. After the player and two villagers who purchased the Getaway Package arrive, they are given tents to set up at sites of their choosing within a section of the island bounded by a river. There is also a pier on either the eastern or western coast of the island, but depending on the island's layout it may not be accessible until the player acquires the vaulting pole. After a while, the player will unlock the DIY recipes for the vaulting pole and the ladder to be able to cross rivers and climb cliffs which will allow the player to access more items and crafting materials such as fossils and flowers. The player will also be able to place bridges and ramps to access the rest of the island without the need of a vaulting pole or a ladder.
Eventually, the island can be expanded with a museum, the Nook's Cranny shop, the Able Sisters shop, an upgraded Resident Services building, a campsite, and up to eight additional housing plots for a total of ten villager houses. More shops will be added over time, per Nintendo Interview.
Community content is available under
CC-BY-SA
unless otherwise noted.