Dump
Service
Item disposal
Provides
Clothing, furniture, items
Hours
All day
Appearances
AF, AF+, AC, AFe+
Regional names
Vertedero
Décharge
쓰레기장
The dump refers to an area in the Animal Crossing series where players can drop unwanted items, excluding fish and bugs, for disposal. In Wild World and City Folk this feature was moved indoors, and is newly referred to as the recycling bin.
After being cleared several random items are generated, which can be picked up by the player at no charge.
In the GCN games the dump is a large enclosed space found outside, typically in one of the northern acres. The dump is automatically emptied at 6am every Monday and Thursday. After emptying 2 or 3 items are randomly generated, which may include clothing, stationary, furniture or umbrellas.
The dump provides a way for the player to dispose of trash and other unwanted items without affecting their Perfect Town rating.
Wild World & City Folk
The dump was replaced by the recycling bin in
Wild World
and
City Folk
.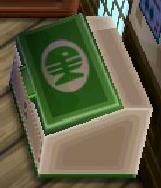 The recycling bin is found inside the
Town Hall
, on the right side. Like the dump in previous games, the bin is emptied at 6am every Monday and Thursday, at which point several new items will generate. Some items include furniture that
neighbors
have thrown away after remodeling their
house
.
Pitfall seeds
may also appear in the recycling bin.
As with the dump, trash tossed into the bin offers a means for players to dispose of trash without negatively affecting the town rating. In Wild World, the bin holds the standard fifteen items, like the player's bag, while in City Folk, it only holds twelve.
New Leaf
Although the dump and recycling bin did not occur in New Leaf, a trash can can be built through public works projects. This trash can however instantly disposes of items permanently as soon as they are thrown in. It does not generate free items like in previous games.
The recycling shop, Re-Tail, shares similarities with the dump feature, letting players place furniture and other items for free. These items can then be bought by villagers. Trash can be disposed by talking to Reese, at a cost of 80 Bells.
The fence public work project can substitute as a miniature dump, as players are able to place items within its boundary. However it does not empty or generate random items like the feature from GCN games.