"It is filled with my utmost gratitude for your efforts."
― Farley, Animal Crossing
Farley
is a character in
Animal Crossing series
that only appears in
Animal Crossing
and
Animal Forest e+
. Farley lives in the
fountain
and comes out to give the player a
golden axe
once the
player
has a perfect town. Farley is most likely the person that speaks to the
player
when they speak with the bell shrine/fountain. Farley's species is unknown, but widely speculated to be of troll/gnome origin.
Like Franklin, Farley never made an appearance in Animal Forest nor Animal Forest+. Instead, he was added to the North American release.
e-Card
e-Card

Letter

Back

#197 Farley

Gender
Male
Type
Special
Star sign
Virgo
Clothes
N/A
Petphrase
N/A
Password
niszTrbHxPr@Qi
vDMZZeJcQq&emB
Profile
Farley is shrouded in mystery. No one seems to know where this character comes from or even what sort of creature it is, but one thing is for sure: you will only meet Farley if your town is a great place to be.
Trivia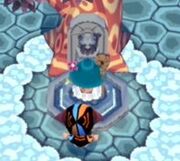 Due to their similar roles, it is possible Farley was replaced by Serena in City Folk. Both appear in the fountain, and both give the player a better axe.
In the Prima Animal Crossing Guide, Farley is never mentioned, despite the clear label in the front: "All 236 animals revealed." What's stranger is a picture of Farley is shown in place of a snowman, yet no info on Farley is featured.
The statue in the Wishing Well is of Farley, which might be where he resides. Thus, there are theories that he talks to the player through the statue.
Along with Joan, Luna, and the player (in the Happy Home Showcase or in a Dream Town) Farley is the only character to have his own unique voice. His voice is very odd, and sounds like the more common male voice, but slowed down.
His Japanese name, いずみじいや, when translated literally means "Fountain Maintainer".
Community content is available under
CC-BY-SA
unless otherwise noted.