This article is about fences in New Horizons. For the Public Works Project in New Leaf, see Public Works Projects.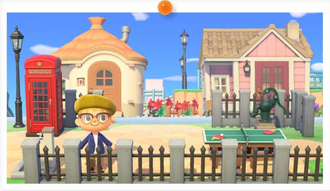 Fences
are a type of outdoor placeable item in
Animal Crossing: New Horizons
. They are obtained from the
Nook Stop
where the DIY Recipes are sold for 1,000
Nook Miles
each. Only 2 recipes are available at a time, rotating into new options each day. After placing down
3 new house sites
and filling each with furniture,
Tom Nook
will present the player with 50 simple wooden fence pieces and inform them that the recipes are now available.
Placing fences
A stack of fences can be equipped similar to a tool from the inventory. Once held, fences are built out in front of the player and are oriented perpendicular to the direction the player is facing. When placed adjacent to one another (not counting diagonals), fences automatically connect to create a continuous fence. When two fences oriented in different directions are placed adjacent, the connection will form a corner.
Types of fences
Community content is available under
CC-BY-SA
unless otherwise noted.