Fire Emblem Warriors: Three Hopes - The Loop
Play Sound

This article requires clean-up to meet the quality standards of the Animal Crossing Wiki.
Feng Shui (風水/风水) is an old Chinese practice where furniture and items are arranged in a certain way to increase the flow of positive energy throughout a house. This supposedly brings good health and fortune to the members of the household.
Main article: Wikipedia:Feng Shui
In the Animal Crossing series, the guidelines for Feng Shui are fairly easy. Furniture must have certain properties to contribute to Feng Shui, and it must be positioned properly in the room. There are a few lucky items that contribute to Feng Shui without requiring specific placement, but for the most part, location is key.
In New Horizons, the effect of Feng Shui was changed so that furniture items placed according the principles of Feng Shui no longer have an effect on the player's luck with finding Bells or items; they only add Feng Shui bonus points to the player's Happy Home Academy score. These bonus points are calculated from all rooms in the house, not just the main room.
It is yet to be determined whether the Lucky Items in New Horizons affect the player's luck.
Prior to New Horizons, Feng Shui only applied to the main room of the player's house. Items placed in other rooms did not affect the player's luck.
Principles of Feng Shui
Objects
Every object has two colors associated with them - the colors that take up the majority of the item. For items that have only one major color, the "two" colors are the same (see examples). However, the only colors that contribute to Feng Shui are red, green, and yellow. Customized items also have Feng Shui! If you do not have an item of a certain color, customizing your furniture to a certain color could help.
Examples
Red Armchair: This is pretty much all red. Its two colors are Red/Red.
Mushroom Table: This is red and white. Its two colors are Red/White. White does not contribute to Feng Shui, so for our discussion here, the mushroom table is simply Red.
Watermelon Table: This has green skin and red flesh. Its two colors are Red/Green (order doesn't matter).
Position
In organizing the room, use the following charts to determine where to place the items:
First, the only tiles in the room that have an impact on Feng Shui are the two tiles closest to the right/east, bottom/south, and left/west walls. In Animal Crossing the top/north wall is used as well, for orange-colored furniture. For the first room, the player has (4x4), that covers the whole room. Once the house is upgraded, however, there will be non-Feng Shui tiles in the center and top/north parts of the room.
Each tile that has Feng Shui has two colors associated with it. The west wall's tiles are Yellow/Yellow, the south wall's tiles are Green/Green, and the east wall's tiles are Red/Red. In the corners where they overlap, the tiles have one of each color. The diagrams above illustrate this.
Putting yellow items in the west part of the rooms will increase the amount of money that the player can find. High amounts of Feng Shui will increase the player's chances of getting more Bells from a Money Rock (or the maximum amount of ores if that occurs).
Putting red items in the east part of the rooms will increase the number of items that the player can find.
Putting green items in the south part of the rooms will increase the player's overall luck (money and items).
In Animal Crossing (Gamecube), putting orange items in the north part of the rooms will increase overall luck (money and items).
Placement
In Feng Shui (both real and in-game), placement is everything. The key is to match the color of the item to the color of the tile as best as possible. If an item has only one color, it will only match once; if an item has two colors, then it should be placed so that it matches twice. Let's use the items we described above.
Examples
Red Armchair: Red/Red. This is best placed on the east side, at least three tiles from the bottom, so that it sits in a Red/Red tile. Since two colors match, it gets two Feng Shui points. If the player were to place it in a Red/Green tile, only one color would match, and it would get only one Feng Shui point.
Mushroom Table: Red. This only has one color. It can be placed in any tile that has red in it, and will always only get one Feng Shui point, even if the tile is Red/Red (since it has only one color match).
Watermelon Table: Red/Green. This is best placed in the southeast corner, where the tiles are also Red/Green. Since two colors match, it gets two Feng Shui points. If the player places it in either a Green/Green, Red/Red, or Yellow/Green tile, it would get only one Feng Shui point.
Note: Tables and items on them that are in a Feng Shui tile both count for points. Getting good tables is part of the strategy. Items on the walls are also evaluated.
Maximum Feng Shui points
A player can attain a total of 184 points: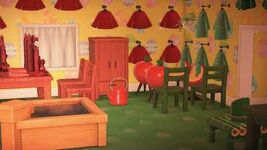 Lucky items
Some items are considered lucky and add one point for being anywhere in the room. A few items, such as the Lucky Gold Cat, have both Feng Shui colors and lucky statues. The Lucky Gold Cat, Bug Trophy, Fish Trophy and Flower Trophy are Yellow/Yellow, so if the player places them on Yellow/Yellow tiles, they will count for three points each! The list of lucky items are as follows:
Angler Trophy (AC:GC)
Arwing
Autumn Metal (AC:GC)
Big Festive Tree (x2)
Birthday Cake
Bug Trophy (x3)
Dracaena (x2)
Festive Tree (AC:GC)
Fish Trophy (x3)
Flower Trophy (x3)
G Logo (AC:GC)
Garden Gnome (x2)
Hinaningyo (AC:GC)
House Model (AC:GC)
Manor Model (AC:GC)
Ivory Piano
Jack-in-the-box
Lefty Lucky Cat
Lovely Phone
Lucky Black Cat
Lucky Gold Cat (x3)
Lucky Cat
Lucky Frog
Luigi Trophy (AC:GC)
Mailbox (AC:GC)
Mario Trophy (AC:GC)
Master Sword
Music Box (x2)
Piggy Bank
Post Model (AC:GC)
Raccoon Figurine
Samurai Suit (x2)
Spring Metal (AC:GC)
Tanabata Palm (AC:GC)
Tissue (AC:GC)
Treasure Chest (x3)
Triforce
Washer/Dryer (x2)
Feng Shui Color Guide
Yellow Items
Alarm Clock (x2)
Basic Yellow Bed
Blue Bed
Blue Table
Bow
Bug Trophy (x3)
Cancer Table (x2)
Candle
Cash Register
Cement Mixer (x2)
Classic Sofa (x2)
Clothes Closet (x2)
Diver Dan
Elephant Slide
Fish Trophy (x3)
Flower Trophy (x3)
Flying Saucer
Gold Econo-Chair (x2)
Hi-Fi Stereo
Jasmine Bonsai
Judge's Bell
Jukebox
Kayak (x2)
Lucky Gold Cat (x3)
Lunar Lander
Mama Bear (x2)
Mountain Bike
Mummy's Casket
Odd Clock (x2)
Oil Drum (x2)
Picnic Table (x2)
Pineapple Bed (x2)
Phonograph
Portrait
Pyramid
Samurai Suit
Screen (x2)
Snowman TV
Sphinx
Sprinkler (x2)
Starman
Steam Roller
Striped Cone
Sword
Tea Vase (x2)
Triple Banana
Red items
Apple TV (x2)
Barbecue (x2)
Basic Red Bed
Bonfire
Campfire
Candy Machine
Clear Model
Daffodil
Dharma (x2)
Doghouse
Dolly (x2)
Dreamcatcher
Executive Toy
Extinguisher (x2)
Fire Hydrant
Garden Gnome
Gas Pump (x2)
Glass-top Table
Gerbera
Giant Dharma (x2)
Handcart (x2)
Haz-Mat Barrel (x2)
Iron Frame (x2)
Jackhammer
Kart (x2)
Lantern
Lawn Mower (x2)
Life Ring
Maple Bonsai
Metal Guitar (x2)
Metronome (x2)
Mini-Dharma (x2)
Miniature Car (x2)
Mush Bed (x2)
Mush Stand
Mush Table
Mush TV
Orange Cone (x2)
Pagoda
Quince Bonsai
Red Armchair (x2)
Red Boom Box
Red Clock
Red Corner
Red Drum (x2)
Red Sofa (x2)
Red Vase
Rocket
Sandbag (x2)
Saw Horse
Sleigh
Snowboard (x2)
Stool (x2)
Stove
Tiki Torch
Traffic Cone (x2)
Trash Bin
Vacuum Cleaner
White Golf Bag
Green Items
Aloe
Azalea Bonsai
Baby Panda
Basic Green Bed
Big Festive Tree
Billiard Table
Bird Bath (x2)
Cactus
Caladium
Clothesline Pole
Coconut Palm
Corn Plant
Deer Scare
Desert Cactus (x2)
Dracaena
Fan (x2)
Fan Palm
Festive Tree
Froggy Chair (x2)
Grapefruit Table
Green Bed
Green Bench (x2)
Green Chair (x2)
Green Counter (x2)
Green Desk (x2)
Green Dresser
Green Drum (x2)
Green Golf Bag
Green Lamp
Green Lava Lamp (x2)
Green Pantry (x2)
Green Table (x2)
Green Wardrobe (x2)
Hawthorn Bonsai
Holly Bonsai
Hospital Bed
Iris Chair
Iris Table
Jade Econo-Chair (x2)
Lady Palm
Lily-Pad Table (x2)
Lime Chair (x2)
Mahjong Table
Mugho Bonsai
Museum Model
Pachira
Pear Dresser
Pear Wardrobe
Pine Bonsai
Pipe
Ponderosa Bonsai
Pothos
Ranch Armchair
Ranch Couch
Ranch Tea Table
Retro Fridge
Robo-Lamp
Round Cactus
Rubber Tree
Ship Cannon
Sleeping Bag (x2)
Snake Plant
Rock Guitar
Table Lamp
Tall Cactus
Tennis Table (x2)
Train Set (x2)
Washer/Dryer
Weeping Fig
Red/Yellow Items (all worth 1 point)
Apple Clock
Music Box
Super Mushroom
Throne
Red/Green Items
Bromeliaceae
Mansion Model
One-Story Model
Poinsettia
Tulip Chair
Tulip Table
Two-Story Model
Watermelon Chair
Watermelon Table
Yellow/Green Items
Daffodil Chair
Daffodil Table
Glow Clock
Lemon Table
Melon Chair
Sunflower
Tea Set
Treasure Chest
Orange items
Spooky Wardrobe
Spooky Dresser
Shogi Board
Screen
Ruby Econo-chair
Orange Chair
Maple Bonsai
Jack-o'-Lantern
Spooky Bed
Spooky Chair
Spooky Bookcase
Spooky Sofa
Spooky Table
Spooky Clock
Spooky Lamp
Spooky Vanity
Gerbera
Mario Bros
Super Mario Bros
Bunny O. Balloon
Merge Sign
Wet Roadway Sign
Detour Sign
Men at Work Sign
Flagman Sign
Cement Mixer
Oil Drum
Green items
Green Wardrobe
Green Dresser
Froggy Chair
Lilly-pad Table
Ranch Couch
Ranch Armchair
Jade Econo-chair
Tall Cactus
Round Cactus
Train Set
Caladium
Lady Palm
Green Bed
Green Bench
Green Chair
Green Pantry
Green Counter
Green Lamp
Green Table
Aloe
Bromeliaceae
Coconut Palm
Snake Plant
Rubber Tree
Pothos
Fan Palm
Lime Chair
Weeping Fig
Corn Plant
Croton
Pachira
Cactus
Deer Scare
Pine Bonsai
Mugho Bonsai
Ponderosa Bonsai
Azalea Bonsai
Jasmine Bonsai
Hawthrone Bonsai
Holly Bonsai
Green Drum
Green Desk
Frog
Chalk Board
Green Balloon
Market Model
Tree Model
Weed Model
Grass Model
Bird Bath
Green Pipe
Koopa Shell
Desert Cactus
Sleeping Bag
Yellow items
Classic Sofa
Gold Econo-chair
Lemon Table
Exotic Lamp
Blue Table
Striped Cone
Barricade
Fence
Plastic Fence
Fence and Sign
Melon Chair
Robotic Flagman
Warning Sign
Sunflower
Pinball
Yellow Balloon
Seam Roller
Super Mushroom
Kayak
Sprinkler
Tent Model
Pansy Model Y.
Cosmos Model Y.
Tulip Model Y.
Red items
Jingle Wardrobe
Jingle Dresser
Lovely Dresser
Red Sofa
Red Armchair
Lovely Lamp
Ranch Bed
Birdcage
Blue Dresser
Cabin Bed
Grapefruit Table
Plum Bonsai
Giant Dharma
Dharma
Mini-dharma
Quince Bonsai
Traffic Cone
Orange Cone
Red Drum
Iron Frame
Watermelon Chair
Watermelon Table
Detour Arrow
Cabin Table
Goldfish
Crawfish
Red Snapper
Clu Clu Land
Donkey Kong
Donkey Kong 3
Red Boom Box
Jingle Lamp
Jingle Chair
Jingle Shelves
Jingle Sofa
Jingle Bed
Jingle Clock
Jingle Table
Jingle Piano
Post Box
Red Balloon
Tailor Model
Miniature Car
Fireplace
Haz-mat barrel
Barbecue
Hamster Cage
Red Corner
Tulip Model R.
Latern
Lawn Mower
Noisemaker
Trivia
The Flower Trophy is considered a lucky item, but is only in Wild World. The replacement item for New Leaf may be the Gold HHA Trophy, but there is no current evidence to support this theory.