Fire Emblem Warriors: Three Hopes - The Loop
Play Sound
If you plan on editing this page please use this link to prevent any formatting issues.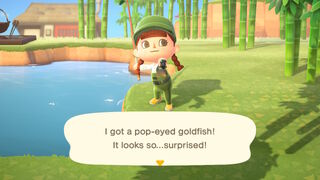 In New Horizons, the total number of fish is 80, up from 72 in New Leaf. New fish include the mahi-mahi, ranchu goldfish, snapping turtle, tilapia, betta, golden trout, rainbowfish, sturgeon, anchovy, suckerfish, and the barreleye. Dropped fish include barbel steed, eel, and the rainbow trout.
River (Mouth): Fish with the River (Mouth) location can be found in the area where the ocean meets the river on your island's shoreline.
River (Clifftop): Fish with the River (Clifftop) location can be found in rivers on elevated cliff areas of an island.
To view by month, go to the monthly fish list for New Horizons.
Name
Image
Price
Location
Shadow size
Time
Jan
Feb
Mar
Apr
May
Jun
Jul
Aug
Sep
Oct
Nov
Dec
Bitterling
900
River
1
All day
✓
✓
✓
-
-
-
-
-
-
-
✓
✓
Pale chub
200
River
1
9am - 4pm
✓
✓
✓
✓
✓
✓
✓
✓
✓
✓
✓
✓
Crucian carp
160
River
2
All day
✓
✓
✓
✓
✓
✓
✓
✓
✓
✓
✓
✓
Dace
240
River
3
4pm - 9am
✓
✓
✓
✓
✓
✓
✓
✓
✓
✓
✓
✓
Carp
300
Pond
4
All day
✓
✓
✓
✓
✓
✓
✓
✓
✓
✓
✓
✓
Koi
4,000
Pond
4
4pm - 9am
✓
✓
✓
✓
✓
✓
✓
✓
✓
✓
✓
✓
Goldfish
1,300
Pond
1
All day
✓
✓
✓
✓
✓
✓
✓
✓
✓
✓
✓
✓
Pop-eyed goldfish
1,300
Pond
1
9am - 4pm
✓
✓
✓
✓
✓
✓
✓
✓
✓
✓
✓
✓
Ranchu goldfish
4,500
Pond
2
9am - 4pm
✓
✓
✓
✓
✓
✓
✓
✓
✓
✓
✓
✓
Killifish
300
Pond
1
All day
-
-
-
✓
✓
✓
✓
✓
-
-
-
-
Crawfish
200
Pond
2
All day
-
-
-
✓
✓
✓
✓
✓
✓
-
-
-
Soft-shelled turtle
3,750
River
4
4pm - 9am
-
-
-
-
-
-
-
✓
✓
-
-
-
Snapping Turtle
5,000
River
4
9pm - 4am
-
-
-
✓
✓
✓
✓
✓
✓
✓
-
-
Tadpole
100
Pond
1
All day
-
-
✓
✓
✓
✓
✓
-
-
-
-
-
Frog
120
Pond
2
All day
-
-
-
-
✓
✓
✓
✓
-
-
-
-
Freshwater goby
400
River
2
4pm - 9am
✓
✓
✓
✓
✓
✓
✓
✓
✓
✓
✓
✓
Loach
400
River
2
All day
-
-
✓
✓
✓
-
-
-
-
-
-
-
Catfish
800
Pond
4
4pm - 9am
-
-
-
-
✓
✓
✓
✓
✓
✓
-
-
Giant snakehead
5,500
Pond
4
9am - 4pm
-
-
-
-
-
✓
✓
✓
-
-
-
-
Bluegill
180
River
2
9am - 4pm
✓
✓
✓
✓
✓
✓
✓
✓
✓
✓
✓
✓
Yellow perch
300
River
3
All day
✓
✓
✓
-
-
-
-
-
-
✓
✓
✓
Black bass
400
River
4
All day
✓
✓
✓
✓
✓
✓
✓
✓
✓
✓
✓
✓
Tilapia
800
River
3
All day
-
-
-
-
-
✓
✓
✓
✓
✓
-
-
Pike
1,800
River
5
All day
-
-
-
-
-
-
-
-
✓
✓
✓
✓
Pond smelt
400
River
2
All day
✓
✓
-
-
-
-
-
-
-
-
-
✓
Sweetfish
900
River
3
All day
-
-
-
-
-
-
✓
✓
✓
-
-
-
Cherry salmon
1,000
River (Clifftop)
3
4pm - 9am
-
-
✓
✓
✓
✓
-
-
✓
✓
✓
-
Char
3,800
River (Clifftop) Pond
3
4pm - 9am (Mar-Jun)

All day (Sep-Nov)

-
-
✓
✓
✓
✓
-
-
✓
✓
✓
-
Golden trout
15,000
River (Clifftop)
3
4pm - 9am
-
-
✓
✓
✓
-
-
-
✓
✓
✓
-
Stringfish
15,000
River (Clifftop)
5
4pm - 9am
✓
✓
✓
-
-
-
-
-
-
-
-
✓
Salmon
700
River (Mouth)
4
All day
-
-
-
-
-
-
-
-
✓
-
-
-
King salmon
1,800
River (Mouth)
5
All day
-
-
-
-
-
-
-
-
✓
-
-
-
Mitten crab
2,000
River
2
4pm - 9am
-
-
-
-
-
-
-
-
✓
✓
✓
-
Guppy
1,300
River
1
9am - 4pm
-
-
-
✓
✓
✓
✓
✓
✓
✓
✓
-
Nibble fish
1,500
River
1
9am - 4pm
-
-
-
-
✓
✓
✓
✓
✓
-
-
-
Angelfish
3,000
River
2
4pm - 9am
-
-
-
-
✓
✓
✓
✓
✓
✓
-
-
Betta
2,500
River
2
9am - 4pm
-
-
-
-
✓
✓
✓
✓
✓
✓
-
-
Neon tetra
500
River
1
9am - 4pm
-
-
-
✓
✓
✓
✓
✓
✓
✓
✓
-
Rainbowfish
800
River
1
9am - 4pm
-
-
-
-
✓
✓
✓
✓
✓
✓
-
-
Piranha
2,500
River
2
9am - 4pm & 9pm - 4am
-
-
-
-
-
✓
✓
✓
✓
-
-
-
Arowana
10,000
River
4
4pm - 9am
-
-
-
-
-
✓
✓
✓
✓
-
-
-
Dorado
15,000
River
5
4am - 9pm
-
-
-
-
-
✓
✓
✓
✓
-
-
-
Gar
6,000
Pond
5
4pm - 9am
-
-
-
-
-
✓
✓
✓
✓
-
-
-
Arapaima
10,000
River
6
4pm - 9am
-
-
-
-
-
✓
✓
✓
✓
-
-
-
Saddled bichir
4,000
River
4
9pm - 4am
-
-
-
-
-
✓
✓
✓
✓
-
-
-
Sturgeon
10,000
River (Mouth)
6
All day
✓
✓
✓
-
-
-
-
-
✓
✓
✓
✓
Sea butterfly
1,000
Sea
1
All day
✓
✓
✓
-
-
-
-
-
-
-
-
✓
Sea horse
1,100
Sea
1
All day
-
-
-
✓
✓
✓
✓
✓
✓
✓
✓
-
Clown fish
650
Sea
1
All day
-
-
-
✓
✓
✓
✓
✓
✓
-
-
-
Surgeonfish
1,000
Sea
2
All day
-
-
-
✓
✓
✓
✓
✓
✓
-
-
-
Butterfly fish
1,000
Sea
2
All day
-
-
-
✓
✓
✓
✓
✓
✓
-
-
-
Napoleonfish
10,000
Sea
6
4am - 9pm
-
-
-
-
-
-
✓
✓
-
-
-
-
Zebra turkeyfish
500
Sea
3
All day
-
-
-
✓
✓
✓
✓
✓
✓
✓
✓
-
Blowfish
5,000
Sea
3
9pm - 4am
✓
✓
-
-
-
-
-
-
-
-
✓
✓
Puffer fish
250
Sea
3
All day
-
-
-
-
-
-
✓
✓
✓
-
-
-
Anchovy
200
Sea
2
4am - 9pm
✓
✓
✓
✓
✓
✓
✓
✓
✓
✓
✓
✓
Horse mackerel
150
Sea
2
All day
✓
✓
✓
✓
✓
✓
✓
✓
✓
✓
✓
✓
Barred knifejaw
5,000
Sea
3
All day
-
-
✓
✓
✓
✓
✓
✓
✓
✓
✓
-
Sea bass
400
Sea
5
All day
✓
✓
✓
✓
✓
✓
✓
✓
✓
✓
✓
✓
Red snapper
3,000
Sea
4
All day
✓
✓
✓
✓
✓
✓
✓
✓
✓
✓
✓
✓
Dab
300
Sea
3
All day
✓
✓
✓
✓
-
-
-
-
-
✓
✓
✓
Olive flounder
800
Sea
5
All day
✓
✓
✓
✓
✓
✓
✓
✓
✓
✓
✓
✓
Squid
500
Sea
3
All day
✓
✓
✓
✓
✓
✓
✓
✓
-
-
-
✓
Moray eel
2,000
Sea
Narrow
All day
-
-
-
-
-
-
-
✓
✓
✓
-
-
Ribbon eel
600
Sea
Narrow
All day
-
-
-
-
-
✓
✓
✓
✓
✓
-
-
Tuna
7,000
Pier
6
All day
✓
✓
✓
✓
-
-
-
-
-
-
✓
✓
Blue marlin
10,000
Pier
6
All day
✓
✓
✓
✓
-
-
✓
✓
✓
-
✓
✓
Giant trevally
4,500
Pier
5
All day
-
-
-
-
✓
✓
✓
✓
✓
✓
-
-
Mahi-mahi
6,000
Pier
5
All day
-
-
-
-
✓
✓
✓
✓
✓
✓
-
-
Ocean sunfish
4,000
Sea
6 (Fin)
4am - 9pm
-
-
-
-
-
-
✓
✓
✓
-
-
-
Ray
3,000
Sea
5
4am - 9pm
-
-
-
-
-
-
-
✓
✓
✓
✓
-
Saw shark
12,000
Sea
6 (Fin)
4pm - 9am
-
-
-
-
-
✓
✓
✓
✓
-
-
-
Hammerhead shark
8,000
Sea
6 (Fin)
4pm - 9am
-
-
-
-
-
✓
✓
✓
✓
-
-
-
Great white shark
15,000
Sea
6 (Fin)
4pm - 9am
-
-
-
-
-
✓
✓
✓
✓
-
-
-
Whale shark
13,000
Sea
6 (Fin)
All day
-
-
-
-
-
✓
✓
✓
✓
-
-
-
Suckerfish
1,500
Sea
6 (Fin)
All day
-
-
-
-
-
✓
✓
✓
✓
-
-
-
Football fish
2,500
Sea
4
4pm - 9am
✓
✓
✓
-
-
-
-
-
-
-
✓
✓
Oarfish
9,000
Sea
6
All day
✓
✓
✓
✓
✓
-
-
-
-
-
-
✓
Barreleye
15,000
Sea
2
9pm - 4am
✓
✓
✓
✓
✓
✓
✓
✓
✓
✓
✓
✓
Coelacanth
15,000
Sea (Rain)
6
All day
✓
✓
✓
✓
✓
✓
✓
✓
✓
✓
✓
✓
Name
Image
Price
Location
Shadow size
Time
Jan
Feb
Mar
Apr
May
Jun
Jul
Aug
Sep
Oct
Nov
Dec
Bitterling
900
River
1
All day
-
-
-
-
✓
✓
✓
✓
✓
-
-
-
Pale chub
200
River
1
9am - 4pm
✓
✓
✓
✓
✓
✓
✓
✓
✓
✓
✓
✓
Crucian carp
160
River
2
All day
✓
✓
✓
✓
✓
✓
✓
✓
✓
✓
✓
✓
Dace
240
River
3
4pm - 9am
✓
✓
✓
✓
✓
✓
✓
✓
✓
✓
✓
✓
Carp
300
Pond
4
All day
✓
✓
✓
✓
✓
✓
✓
✓
✓
✓
✓
✓
Koi
4,000
Pond
4
4pm - 9am
✓
✓
✓
✓
✓
✓
✓
✓
✓
✓
✓
✓
Goldfish
1,300
Pond
1
All day
✓
✓
✓
✓
✓
✓
✓
✓
✓
✓
✓
✓
Pop-eyed goldfish
1,300
Pond
1
9am - 4pm
✓
✓
✓
✓
✓
✓
✓
✓
✓
✓
✓
✓
Ranchu goldfish
4,500
Pond
2
9am - 4pm
✓
✓
✓
✓
✓
✓
✓
✓
✓
✓
✓
✓
Killifish
300
Pond
1
All day
✓
✓
-
-
-
-
-
-
-
✓
✓
✓
Crawfish
200
Pond
2
All day
✓
✓
✓
-
-
-
-
-
-
✓
✓
✓
Soft-shelled turtle
3,750
River
4
4pm - 9am
-
✓
✓
-
-
-
-
-
-
-
-
-
Snapping turtle
5,000
River
5
9pm - 4am
✓
✓
✓
✓
-
-
-
-
-
✓
✓
✓
Tadpole
100
Pond
1
All day
✓
-
-
-
-
-
-
-
✓
✓
✓
✓
Frog
120
Pond
2
All day
✓
✓
-
-
-
-
-
-
-
-
✓
✓
Freshwater goby
400
River
2
4pm - 9am
✓
✓
✓
✓
✓
✓
✓
✓
✓
✓
✓
✓
Loach
400
River
2
All day
-
-
-
-
-
-
-
-
✓
✓
✓
-
Catfish
800
Pond
4
4pm - 9am
✓
✓
✓
✓
-
-
-
-
-
-
✓
✓
Giant snakehead
5,500
Pond
5
9am - 4pm
✓
✓
-
-
-
-
-
-
-
-
-
✓
Bluegill
180
River
2
9am - 4pm
✓
✓
✓
✓
✓
✓
✓
✓
✓
✓
✓
✓
Yellow perch
300
River
3
All day
-
-
-
✓
✓
✓
✓
✓
✓
-
-
-
Black bass
400
River
4
All day
✓
✓
✓
✓
✓
✓
✓
✓
✓
✓
✓
✓
Tilapia
800
River
3
All day
✓
✓
✓
✓
-
-
-
-
-
-
-
✓
Pike
1,800
River
5
All day
-
-
✓
✓
✓
✓
-
-
-
-
-
-
Pond smelt
500
River
2
All day
-
-
-
-
-
✓
✓
✓
-
-
-
-
Sweetfish
900
River
3
All day
✓
✓
✓
-
-
-
-
-
-
-
-
-
Cherry salmon
1,000
River (Clifftop)
3
All day
-
-
✓
✓
✓
-
-
-
✓
✓
✓
✓
Char
3,800
River (Clifftop) Pond
3
4pm - 9am (Sep-Dec)

All day (Mar-May)

-
-
✓
✓
✓
-
-
-
✓
✓
✓
✓
Golden trout
15,000
River (Clifftop)
3
4pm - 9am
-
-
✓
✓
✓
-
-
-
✓
✓
✓
-
Stringfish
15,000
River (Clifftop)
5
4pm - 9am
-
-
-
-
-
✓
✓
✓
✓
-
-
-
Salmon
700
River (Mouth)
4
All day
-
-
✓
-
-
-
-
-
-
-
-
-
King salmon
1,800
River (Mouth)
6
All day
-
-
✓
-
-
-
-
-
-
-
-
-
Mitten crab
2,000
River
2
4pm - 9am
-
-
✓
✓
✓
-
-
-
-
-
-
-
Guppy
1,300
River
1
9am - 4pm
✓
✓
✓
✓
✓
-
-
-
-
✓
✓
✓
Nibble fish
1,500
River
1
9am - 4pm
✓
✓
✓
-
-
-
-
-
-
-
✓
✓
Angelfish
3,000
River
2
4pm - 9am
✓
✓
✓
✓
-
-
-
-
-
-
✓
✓
Betta
2,500
River
2
9am - 4pm
✓
✓
✓
✓
-
-
-
-
-
-
✓
✓
Neon tetra
500
River
1
9am - 4pm
✓
✓
✓
✓
✓
-
-
-
-
✓
✓
✓
Rainbowfish
800
River
1
9am - 4pm
✓
✓
✓
✓
-
-
-
-
-
-
✓
✓
Piranha
2,500
River
2
9am - 4pm & 9pm - 4am
✓
✓
✓
-
-
-
-
-
-
-
-
✓
Arowana
10,000
River
4
4pm - 9am
✓
✓
✓
-
-
-
-
-
-
-
-
✓
Dorado
15,000
River
5
4am - 9pm
✓
✓
✓
-
-
-
-
-
-
-
-
✓
Gar
6,000
Pond
6
4pm - 9am
✓
✓
✓
-
-
-
-
-
-
-
-
✓
Arapaima
10,000
River
6
4pm - 9am
✓
✓
✓
-
-
-
-
-
-
-
-
✓
Saddled bichir
4,000
River
4
9pm - 4am
✓
✓
✓
-
-
-
-
-
-
-
-
✓
Sturgeon
10,000
River (Mouth)
6
All day
-
-
✓
✓
✓
✓
✓
✓
✓
-
-
-
Sea butterfly
1000
Sea
1
All day
-
-
-
-
-
✓
✓
✓
✓
-
-
-
Sea horse
1,100
Sea
1
All day
✓
✓
✓
✓
✓
-
-
-
-
✓
✓
✓
Clown fish
650
Sea
1
All day
✓
✓
✓
-
-
-
-
-
-
✓
✓
✓
Surgeonfish
1,000
Sea
2
All day
✓
✓
✓
-
-
-
-
-
-
✓
✓
✓
Butterfly fish
1,000
Sea
2
All day
✓
✓
✓
-
-
-
-
-
-
✓
✓
✓
Napoleonfish
10,000
Sea
6
4am - 9pm
✓
✓
-
-
-
-
-
-
-
-
-
-
Zebra turkeyfish
500
Sea
3
All day
✓
✓
✓
✓
✓
-
-
-
-
✓
✓
✓
Blowfish
5,000
Sea
3
9pm - 4am
-
-
-
-
✓
✓
✓
✓
-
-
-
-
Puffer fish
250
Sea
3
All day
✓
✓
✓
-
-
-
-
-
-
-
-
-
Anchovy
200
Sea
2
4am - 9pm
✓
✓
✓
✓
✓
✓
✓
✓
✓
✓
✓
✓
Horse mackerel
150
Sea
2
All day
✓
✓
✓
✓
✓
✓
✓
✓
✓
✓
✓
✓
Barred knifejaw
5,000
Sea
3
All day
✓
✓
✓
✓
✓
-
-
-
✓
✓
✓
✓
Sea bass
400
Sea
5
All day
✓
✓
✓
✓
✓
✓
✓
✓
✓
✓
✓
✓
Red snapper
3,000
Sea
4
All day
✓
✓
✓
✓
✓
✓
✓
✓
✓
✓
✓
✓
Dab
300
Sea
3
All day
-
-
-
✓
✓
✓
✓
✓
✓
✓
-
-
Olive flounder
800
Sea
5
All day
✓
✓
✓
✓
✓
✓
✓
✓
✓
✓
✓
✓
Squid
500
Sea
3
All day
✓
✓
-
-
-
✓
✓
✓
✓
✓
✓
✓
Moray eel
2,000
Sea
8
All day
-
✓
✓
✓
-
-
-
-
-
-
-
-
Ribbon eel
600
Sea
8
All day
✓
✓
✓
✓
-
-
-
-
-
-
-
✓
Tuna
7,000
Pier
6
All day
-
-
-
-
✓
✓
✓
✓
✓
✓
-
-
Blue marlin
10,000
Pier
6
All day
✓
✓
✓
-
✓
✓
✓
✓
✓
✓
-
-
Giant trevally
4,500
Pier
5
All day
✓
✓
✓
✓
-
-
-
-
-
-
✓
✓
Mahi-mahi
6,000
Pier
5
All day
✓
✓
✓
✓
-
-
-
-
-
-
✓
✓
Ocean sunfish
4,000
Sea
7
4am - 9pm
✓
✓
✓
-
-
-
-
-
-
-
-
-
Ray
3,000
Sea
5
4am - 9pm
-
✓
✓
✓
✓
-
-
-
-
-
-
-
Saw shark
12,000
Sea
7
4pm - 9am
✓
✓
✓
-
-
-
-
-
-
-
-
✓
Hammerhead shark
8,000
Sea
7
4pm - 9am
✓
✓
✓
-
-
-
-
-
-
-
-
✓
Great white shark
15,000
Sea
7
4pm - 9am
✓
✓
✓
-
-
-
-
-
-
-
-
✓
Whale shark
13,000
Sea
7
All day
✓
✓
✓
-
-
-
-
-
-
-
-
✓
Suckerfish
1,500
Sea
7
All day
✓
✓
✓
-
-
-
-
-
-
-
-
✓
Football fish
2,500
Sea
4
4pm - 9am
-
-
-
-
✓
✓
✓
✓
✓
-
-
-
Oarfish
9,000
Sea
6
All day
-
-
-
-
-
✓
✓
✓
✓
✓
✓
-
Barreleye
15,000
Sea
2
9pm - 4am
✓
✓
✓
✓
✓
✓
✓
✓
✓
✓
✓
✓
Coelacanth
15,000
Sea (Rain)
6
All day
✓
✓
✓
✓
✓
✓
✓
✓
✓
✓
✓
✓