Arcane: League of Legends - The Loop
Play Sound
This page is currently under construction. Please help us expand this article by editing it.
The giant water bug, Lethocerus americanus, is a bug that appears in New Horizons. It can be found on the water's surface and caught with a net during the spring, summer, and fall from late evening until mid-morning.
Capture quotes
"I caught a giant water bug! It should've stayed in the water!" —New Horizons
Donation to the museum
In New Horizons
When either donating to the museum or selecting "Tell me more about this!", Blathers the curator will say (with abhorrence):
"How to put this gently? Ah yes... BEWARE the giant water bug. I tell you, this vicious predator has been known to attack fish, bugs, frogs, and even snakes! SNAKES! Truth be told, no one is safe! Its nickname is "the toe-biter," for goodness sakes! Now, one final fact before I faint... The gruesome bug uses its nose...to inject its prey...with digestive juices."
The giant water bug can be found in the water on the leftmost side of the bug exhibit.
Encyclopedia information
New Horizons
Bug

Encyclopedia Information

"I caught a giant water bug! It should've stayed in the water!"

Current Active Hours
7pm to 8am
Months active (north)
Apr. to Sept.
Months active (south)
Oct. to Mar.
Further information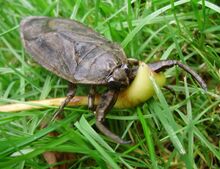 Main article: Lethocerus americanus on Wikipedia
Lethocerus is a genus of large water bugs in the family Belostomatidae, They are widely distributed with the North American species Lethocerus americanus native to southern Canada and the United States (north of 35°N; other Lethocerus species are found southwards). It typically has a length around 5–6 cm (2.0–2.4 in). The Japanese species is Lethocerus deyrollei, and has a very similar lifestyle and habitat.
Commonly found in ponds, marshes, and on the edges of lakes and slow-moving streams, and creeks, adults and larvae feed on other insects, small crustaceans (crabs/crayfish), tadpoles, snails, and small fish. The adult swims with the aid of its hind legs. A pair of front fore limbs are used for capturing and latching onto its intended prey, which it then injects with digestive toxins through a somewhat retractable proboscis much like that of a mosquito. L. americanus tends to let its prey digest for 10–15 minutes before eating. Multiple L. americanus bugs have been seen to hunt and then share the same prey animal. Under water, the adult breathes air that it traps under its wings using two snorkel-like tubes that extend from the rear of its abdomen.
In other languages
Giant water bug
| Language | Name |
| --- | --- |
| Japanese | タガメ Tagame |
| French | Punaise d'eau géante |
| Spanish | Chinche acuática gigante |
| German | Riesenwanze |
| Italian | Cimice d'acqua gigante |
| Dutch | Reuzenwaterwants |
| Russian | Водяной клоп-гигант Vodyanoy klop-gigant |
| Chinese | 田鳖/田鱉 Tiánbiē |
| Korean | 물장군 Muljanggun |