Leaf glitch
Early on in
Pocket Camp'
s release, a player character may improperly show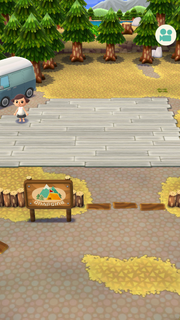 up as Leaf, a girl character with default clothing, in the friends list of other players or around the campsite. When attempting to visit someone who appears as Leaf, their campsite will be empty.
Music glitch
Occasionally, the music in the campsite and the adjacent garden site will stop playing without warning. Crossing over to the other adjacent area or leaving to another location entirely will prompt music to play again. Quitting and restarting the game will do the same.
Community content is available under
CC-BY-SA
unless otherwise noted.