GracieGrace is a high-end furniture store in City Folk and New Leaf, owned by Gracie, the giraffe fashionista. It is located in the city in City Folk, where it is run by the estranged Able sister, Labelle, and in T&T Emporium in New Leaf, where Gracie herself runs it, as Labelle works at the Able Sisters.
All of the furniture that Gracie sells are many times more expensive than those in Tom Nook's store or the Nookling stores, with many items selling for over 200,000 Bells each. In addition to furniture, Gracie also sells clothing and accessories, which are not as expensive as the furniture. Villagers are often seen in GracieGrace, where they will complain about the high prices.
Furniture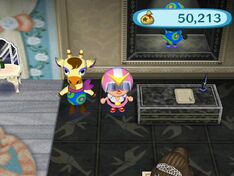 GracieGrace's furniture and clothes change seasonally, unlike Tom Nook's or the Able Sisters, which change daily.
Below is a chart showing which series are available during each season.
Sales
There is a sale at the end of every season. They are as follows:
Starts the 15th of the last month with 20% off.
Starts the 21st of the last month with 30% off.
Starts the 26th of the last month with 50% off.
In City Folk
During the sales period, items may disappear and be replaced with a "sold out" sign, much like at Tom Nook's Store. This suggests that some villagers have bought things, though this cannot be seen by the player. The player is also able to obtain a further 10% discount by presenting to Gracie a complete look. The discount is available for as long as the player is in the store.
In New Leaf
In New Leaf, items can still sell out, but various other items will appear like the wedding cake or furniture from the Card Series. Additionally, the clothing sections will be replaced with similar exclusives. These items are all new to New Leaf and can only be found during the end of season sales.
The wedding cake is a three-tier cake with bride and groom statuettes at the top. It is a season-end exclusive and costs 60,000 Bells. In the player's pockets, it appears as a slice of cake much like the birthday cake. But unlike the birthday cake, it cannot be eaten.
The Card Series consists of furniture made of traditional red and white playing cards.
Gallery
Trivia
All purchases made are gift-wrapped.
When talking to a villager, they will mostly complain about the high prices in the store.
Community content is available under
CC-BY-SA
unless otherwise noted.