This article requires clean-up to meet the quality standards of the Animal Crossing Wiki.
This page requires additional images.
Groundhog Day, also known as Mole Day, is an event in the Animal Crossing series. This holiday was left out of Wild World. However, it returns in City Folk and all games since.
Events
In Animal Crossing
Like the real holiday, the entire village will gather to see if the local mole will predict winter, else the long awaited spring. At 7:00 AM, villagers will congregate around the Wishing Well. The player can chat with the villagers while waiting until 8:00 AM, when Mr. Resetti makes a cameo appearance as "the mole". If the player talks to Tortimer after the ceremony (which finishes at 9:00 AM), he will give them one of many flower models in honor of the occasion.
In City Folk
During Mole Day in City Folk, Tortimer will be standing in front of the Town Hall. If the player speaks to him, he will give them a model of Mr. Resetti.
In New Leaf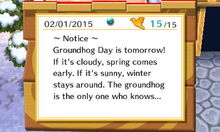 The event makes an appearance in New Leaf as well. Isabelle, the Mayor's secretary, can be found at the Plaza for the player to talk to. Once doing so, Isabelle will hand them a Resetti Model, the same item the player receives in City Folk. The only thing that differs from the previous game such as there being a billboard that one player can stick their face into, a hole for a player to make faces with Mr. Resetti by their side.
Dialogue in New Leaf
During Groundhog Day, the following dialogue is spoken by Isabelle:
"Oh, Mayor! Today's the day we try to guess when spring will arrive, It's "Groundhog Day!"
"That's why I've prepared a special little something to really celebrate "Groundhog Day!"
"It's a Resetti model! Please take it in celebration of our town's Groundhog Day!"
Trivia
Gallery
Click "Show" to view the gallery
Animal Forest
Animal Forest e+
City Folk
New Leaf
Community content is available under
CC-BY-SA
unless otherwise noted.