The Happy Home Academy (HHA) is a housing association run by Lyle in Nook's Homes, through the desk at the front of the store. It is unlocked when the player has upgraded from their starter tent to a house. The player will be sent a letter introducing the Academy.
The Happy Home Academy replaces the Happy Room Academy in previous games in the Animal Crossing series.
Role
The main role of the Happy Home Academy is to help the player design their home. The HHA inspects the player's house each day in the morning and then scores it depending on the furniture and their positions inside. When a milestone has been reached, the player will receive an item from Lyle as an award.
In New Horizons, the HHA evaluates and grades the player's house every Sunday, and mails out an item when reaching a certain milestone. These include plaques and banners in bronze, silver and gold.
HHA Rating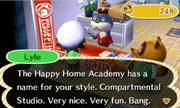 Each day, when the player has spoken to Lyle to reveal their current score, Lyle will give the player some advice on how to boost their rating. His advice involves removing clutter, properly positioning furniture, having no cockroaches, displaying furniture from a theme, series or set, and positioning furniture to benefit from Feng Shui.
Furniture Series
Main article: Furniture Series
Furniture Series are a collection of furniture and items based on a type of style and appearance. If the player collects items of furniture from the same series, the HHA Rating will increase. Each series has a matching wallpaper and flooring, which help increase the rating.
Having all 11 items from the same series will be worth 20,000 points. If either the matching wallpaper or flooring is with the 11 items, this is increased to 25,000 points. Finally, if all 11 items from a series are with the matching wallpaper and flooring, it will increase to 30,000 points.
Furniture Themes
Main article: Furniture Themes
Furniture Themes are similar to furniture series, except they do not always include practical items such as beds, dressers and other ordinary items of furniture. Each theme focuses on a particular style with novelty items, and will boost the HHA rating similar to using furniture from an entire series.
Seasonal Items
Seasonal items can boost an HHA score and are sold in T.I.Y. and T&T Emporium. If a Seasonal item, such as a Firework, is placed somewhere in the house during the corresponding Season or holiday (e.g. a Fireworks Show), then the player will receive a boost to their score.
Furniture Sets
Furniture Sets are smaller collections of furniture compared to a series and theme. Sets may not fill a room unless using more than one of each item, but can compliment each other and other sets, themes and series.
Feng Shui
Main article: Feng Shui
Feng Shui involves placing items of furniture by color, from any set, theme or series, in a room in specific positions. By placing items correctly the player can boost their rating and their luck. There are three types of luck:
Good Bell Luck: Yellow items that are placed against a room's west wall (on the left) will boost the chances of the player finding and collecting Bells.
Good Item Luck: Red items that are placed against a room's east wall (on the right) will help the player find items of furniture and clothing.
Good Luck Luck: Green items which are placed against a room's south wall will increase the player's overall luck, similar to speaking to Katrina and using any good luck items she has foretold.
Theme Challenges
Once the player has completely paid off their house, Lyle will visit the player's house the next day and offer the player the chance to participate in Theme Challenges. Theme Challenges involves both the items of furniture inside the house (excluding the basement), as well as the exterior of the house, which can be upgraded by talking to Tom Nook.
The challenge can be changed at any time by talking to Lyle in Nook's Homes.
Themes
There are eight themes the Happy Home Academy use. These are:
Antique
Fairy Tale
Harmonious
Quirky
Rustic
Sci-Fi
Trendy
Toy Shop
Prizes
When completing certain milestones and theme challenges, the player will be given the following prizes:
(Note that the exteriors, starting at the Golden Roof and up, are awarded after completing Theme Challenges, which are graded on a higher point scale than the normal HHA rating.)
| Image | Prize | Value | HHA Score | Info |
| --- | --- | --- | --- | --- |
| | HHA tee | 100 | 10,000 | Clothing |
| | HHA pennant | 1,800 | 20,000 | Wall Item |
| | HHA jacket | 100 | 30,000 | Clothing |
| | Silver HHA Plaque | 1,800 | 50,000 | Ornament |
| | Gold HHA Plaque | 1,800 | 70,000 | Ornament |
| | Silver HHA Trophy | 1,800 | 90,000 | Ornament |
| | Gold HHA Trophy | 1,800 | 100,000 | Ornament |
| | Gold House Model | 1,800 | 150,000 | Ornament |
| | Golden Roof | 5,200 | 300,000 | Exterior |
| - | Golden Exterior | 5,600 | 500,000 | Exterior |
| - | Arched Golden Door | 4,000 | 700,000 | Exterior |
| - | Golden Fence | 3,500 | 900,000 | Exterior |
| - | Golden Mailbox | 3,600 | 1,100,000 | Exterior |
Trivia
The basement of the player's home is never rated.
The Beautiful ordinance will prevent cockroaches from appearing.
If there are currently cockroaches in a player's home, the house model in the HH Showcase will not have cockroaches in it.
Gallery
Milestone letters
This section requires more images.
In other languages
Happy Home Academy (HHA)
| Language | Name |
| --- | --- |
| German | Akademie des schönen Hauses (AdsH) |
| Italian | Accademia delle Belle Case (ABC) |
| Korean | 해피홈 아카데미 (해피홈) |
List of locations
Animal Crossing series
Others

Animal Crossing: Happy Home Designer
Animal Crossing: Pocket Camp