Fire Emblem Warriors: Three Hopes - The Loop
Play Sound
This page requires additional images for the following reason:
No reason given. Remember to check if there needs to be images in this page.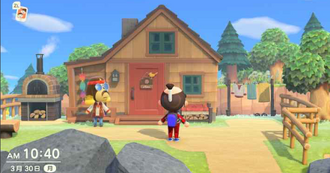 Harv's Island is the home of Harvey in New Horizons. After the Deserted Island gains its third resident, Harvey arrives to invite the player to travel to his island via Dodo Airlines. There, Harvey runs a free photography studio in his house that he calls Photopia and eventually opens a plaza of shops in the same style as the City in City Folk.
Photopia
Harvey's house is equivalent to a fully-upgraded player house in layout, but with all the rooms taking the shape of the fully upgraded player's entrance room, and contains many furniture items the player may not yet have in their catalog. Exploring Photopia's rooms will automatically add said items to their catalog.
Furniture
Any furniture previously added to the player's catalog may be placed in Photopia and can be customized if possible. The player is not allowed to choose the color of furniture that has different variations but cannot be customized, like the humidifier or street lamp.
Posters obtained by the player may be used to create scenes, even if they cannot purchase said poster.
Villagers
Players can scan amiibo or use current player and animal villagers to pose in their scenes. Any unlocked reactions can be applied to them, as well as clothing previously added to the player's catalog.
Any villagers used as models in Photopia will take photos with Harvey after the player leaves. These can then be purchased through the Nook Stop as posters for 1,000 Bells each. Posters of villagers not on the player's island will not be added to the Nook Stop list if obtained as a gift from another player and will need to be manually searched for in the search function in order to purchase it.
Events
During the Wedding Season that takes place in June, the player is asked by Reese and Cyrus to take wedding photos in exchange for items related to the event.
Plaza
As part of the 2.0 Free Update, once the main storyline is complete, Harvey expands his island with the help of Harriet to have a plaza, featuring shops run by new and previously seen island visitors, such as Tortimer, Katrina, Cyrus and Reese, Leif, Saharah, Kicks and Redd (the latter four changing their stock weekly). With the exception of Harriet, each shop costs 100,000 Bells to set up. Once a shop is paid in full, the desired vendor NPC will become available the next day at 5 AM. The player can only open one shop at a time.
Each of the vendors of the island specialize in the following services:
Katrina can read the player's fortune or reveal their bond with a specific Villager.
Saharah sells rugs, as well as wallpaper and flooring. Unlike her visits to the Deserted island, all of her inventory is visible, can be purchased multiple times, and she does not accept or give out Saharah Tickets.
Tortimer allows the player to access their storage to store or retreve items remotely. During Autumn, Cornimer will appear in his place and he will offer free acorns to the player.
Cyrus can fully customize store-bought, readily-made furniture the player otherwise cannot customize with Customization Kits. Each item has a set fee per customization depending on its original buying price.
Leif sells starts for various vegetables and shrubs, as well as flower seeds.
Redd sells two pieces of art, in addition to hosting a raffle where the player can pay 500 Bells to win several hand-held prizes.
Kicks sells shoes, socks, and bags.
Each vendor's inventory remains static and swaps every Monday. If they visit the Deserted Island during the week, their stock will be different. An ABD appears to the right of Photopia the day after the plaza is opened, making it easier to donate to the Lloids and use the services of the vendors' facilities.
All vendors on Harv's island open at 5 AM. Their closing hours are as follows:
Depending on the weekday, either Saharah, Leif, Redd, or Kicks will not be present on Harv's island as they're visiting the player's island for that particular day. Redd will also be absent from the plaza every Sunday in August for the Fireworks Show to host a special version of his Raffle with different prizes. All vendors appear on Harv's island only when Flick, C.J., Gulliver, Gullivarrr, Label, K.K. Slider, Daisy Mae, or the holiday visitors Pavé, Zipper T. Bunny, Jack, Franklin or Jingle visit the player's island.
Gallery