This page requires additional images.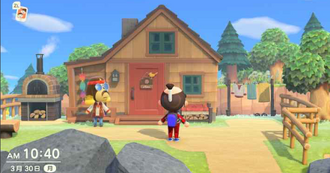 Harv's Island is the home of Harvey in New Horizons. After the Deserted Island gains its third resident, Harvey arrives to invite the player to travel to his island via Dodo Airlines. There, Harvey runs a free photography studio in his house that he calls Photopia.
First Visit
Harvey's house is equivalent to a fully-upgraded player house in layout, but with all the rooms taking the shape of the fully upgraded player's entrance room, and contains many furniture items the player may not yet have in their catalog. Exploring Photopia's rooms will automatically add said items to their catalog.
Furniture
Any furniture previously added to the player's catalog may be placed in Photopia and can be customized if possible. The player is not allowed to choose the color of furniture that has different variations but cannot be customized, like the humidifier or street lamp.
Posters obtained by the player may be used to create scenes, even if they cannot purchase said poster.
Villagers
Players can scan amiibo or use current player and animal villagers to pose in their scenes. Any unlocked reactions can be applied to them, as well as clothing previously added to the player's catalog.
Any villagers used as models in Photopia will take photos with Harvey after the player leaves. These can then be purchased through the Nook Stop as posters for 1,000 Bells each. Posters of villagers not on the player's island will not be added to the Nook Stop list if obtained as a gift from another player and will need to be manually searched for in the search function in order to purchase it.
Events
During select special events (such as Wedding Season), the player may be asked to take specific themed photos. While an event is active, unique furniture related to it will be displayed inside the cabin.
Gallery
Community content is available under
CC-BY-SA
unless otherwise noted.