No Man's Sky Update - The Loop
Play Sound
The Harvest Moon Festival, known as Autumn Moon in PAL regions, Tsukimi in Japan, and Chuseok in Korea, is a holiday celebrated in Animal Crossing, City Folk and New Leaf. It takes place in September or October. The Harvest Moon Festival, like many holidays, is absent in Wild World for Nintendo DS.
The date of this event varies each year, as it occurs on the date of the full moon that occurs closest to the Autumnal Equinox.
Events
In Animal Crossing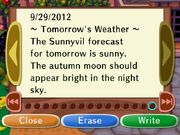 In Animal Crossing, Visit Tortimer to receive a model of the Moon. During the event the player can talk to the villagers, and stand near the pond and stare at the Moon's reflection on the water.
In City Folk
In City Folk, the Harvest Moon festival varies depending on the player's (or current host's) region. In the US and European versions of the game it is referred to as the Autumn Moon, while in a Japanese regional game the event is referred to as "Tsukimi" (Moon Viewing Festival). The celebration itself lasts from 6am until 12am.
In New Leaf
In New Leaf, Isabelle stands in the Plaza. She'll tell the player that there will be an Autumn Moon (or Harvest Moon) that night. She then gives the player a free item: In North American games, she gives a wheat bundle. In European games, she gives a veggie basket. There's also a face-cutout standee that depicts a scarecrow in a wheat field with the Autumn Moon in the background.
In the Japanese version of the game, the face-cutout standee features a table with dango, and a rolling mountain in the background, with a large moon, where the player can pose for pictures.
When the player visits Isabelle in the evening, she will tell them all sorts of facts about the Autumn Moon. As well as this, the main topic of conversation during this time between the player and the villagers usually relates the moon.
Recurrence
Recurrence
Date
September 12, 2011


September 30, 2012
September 19, 2013
September 9, 2014
September 28, 2015
September 16, 2016
October 5, 2017
September 25, 2018

Trivia