"I caught a herabuna! It's so flat!" —Animal Forest
The herabuna is a fish that only appears in Animal Forest and Animal Forest+. It can be found in the River Pool at any time of the day and year, but its peak months are March, June, and August to September. In the English-translated Animal Crossing and the subsequent Japanese Animal Forest e+, it is replaced by the brook trout.
The herabuna is a "medium" (size 3) fish, a size larger than the crucian carp but the same as the dace.
Capture quotes
「ヘラブナを つりあげた! へらべったーい!」 —Animal Forest

Further Information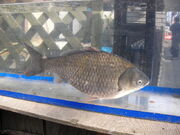 The Herabuna is a member of the carp family closely related to the crucian carp, and native to Japan. The popular name for this fish in America is "Japanese crucian carp" or "white crucian carp." Herabuna are completely endemic to large lakes. They are not commercially valuable and are purely sport-fish, not generally eaten.