The Island, also known as Animal Island, and Tortimer Island in New Leaf, is a feature in some Animal Crossing games. The island is an area that first appears in Animal Forest+, and is an off-shore location where summer can be found at any time of the year. It later reappears in the English Animal Crossing and again in Animal Forest e+ with new islanders. It is separate from the main town and must be traveled to by the aid of Kapp'n.
In Animal Forest+ and Animal Crossing, a Game Boy Advance and cable are needed to get to the island. In Dōbutsu no Mori e+, this is no longer necessary.
The island is not seen in Wild World or City Folk, but appears again in New Leaf.
Animal Island
This section is a description of the island as it appears in Animal Forest+, Animal Crossing and Animal Forest e+.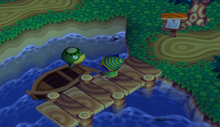 The island in the Nintendo GameCube games is a location separate from the town consisting of two acres accessed by talking to Kapp'n at the dock. Each save file will have an island-exclusive villager, who can be one of several island-type villagers complete with an island bungalow.
The bungalow contains four shirts on creation, two Blue Aloha shirts and two Red Aloha shirts. This bungalow can be customized in the same manner as the player's house, but there is no gyroid outside the bungalow, so it is not possible to save on the island.
The island is the only way to obtain coconuts in the game. In Animal Forest e+ the Birdwing Butterfly, Hercules Beetle, Puffer Fish and Blue Marlin are only available on this island. Flowers, fruit and saplings from the village can be planted here, though the latter are sometimes harder to grow.
The island can be saved to a Game Boy Advance. If the player chooses to do so, they must set up the connection to the Game Boy Advance once more. Kapp'n will save the island to the Game Boy Advance. Once this is finished, the player can continue to interact with their villager on the island, helping them catch fish, eat fruits or coconuts left on the ground, or catch flying presents. This takes place during the return voyage to the village.
The changes made to the island in the Game Boy Advance can then be uploaded back to the GameCube the next time the player goes to visit the island. This can be a useful tactic for making Bells, as the island villagers can drop slowly increasing amounts of Bells for the player's interactions. The player can also get a tan when out in the sun long enough, since it is always summer. However, this can be avoided by the use of an umbrella.
Tortimer Island
This section is a description of the island in New Leaf.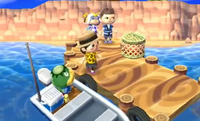 The Island returns in New Leaf, with the new name of Tortimer Island. It is not accessible at the beginning of the game. To unlock it, the player must pay their first home loan (39,800 Bells) before the option is made available. Once the player has paid off their loan, Isabelle will introduce Tortimer the next day the player starts up the game again. He will ask the player to meet him by the dock. Once at the dock, Tortimer will tell the player about the island. He will also ask the player if they would want to go to his island. If the player agrees, Tortimer will tell the player that Kapp'n will be by the docks tomorrow. The next day Kapp'n will appear with his new motorized boat by the dock, which will be ready to take the player to the island for a fee of 1,000 Bells per round-trip. If the player does not talk to Tortimer the first time he appears, they may upgrade their house; he will appear after any subsequent loans are paid until the player talks to him.
If a player wishes to travel to the island while there are other players visiting, all players need to take the trip at the same time in order to depart.
On the way there, Kapp'n will sing a song, which are also very short stories and lessons from his life. However, if the player taps one of the buttons (X, Y, A, B) or the touchscreen rapidly while he's singing, the shanty can be skipped and the player can head to the island immediately.
No islanders inhabit the island other than Kapp'n's family and Tortimer, who decided to live there upon retiring.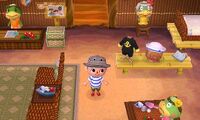 Inside the shack, the player will meet Kapp'n's family: his wife Leilani, his daughter Leila, and his mother Grams. Leilani works at the front desk, where the player can choose to take part in Tours. Medals from tours can be spent on souvenirs from Grams, which include special furniture and clothes. Leila can buy certain items from the player, but only for a small amount of Bells at 5% of the original value. She sits on the floor surrounded by toys and pretends to be a supermarket shopper, encouraging the player to sell her flowers, fruits, and fish for meager amounts of Bells.
Items can be sent home via a box near the front counter, which can contain up to 40 items. Any items not placed in the box upon leaving the island or joining a tour will be exchanged into Bells also at 5% original value. This exchange deposits the bells to the ABD account. Any clothing or accessories taken off will also be converted, so caution is advised.
While on a tour, the player can talk to Lloid to use the rental items, where they can then catch bugs, collect fruit, fish, or dive. However, on tours such as the Ore Tours, the player cannot take back ores, and bugs on bug tours, and each tour respectively. However, if the player collect items on a tour, returns to the island, and then go straight onto another tour, the items they collected will be sold and the bells put into their ABD account, so it is recommended that they deposit their collected items into the box near the entrance of the shack. Alternatively, they can also use collected fruits to restore trees on their island that they have cut down.
Certain fish and insects are only found on this island. The Ribbon Eel, Whale Shark and Giant Trevally are island-exclusive as are Spotted Garden Eel and Giant Isopod while diving.
Available collectables
Fish
Name
Location
Sale price
Time
Barred Knifejaw
Fishing
5,000
All day
Blue Marlin
Fishing
10,000
All day
Butterfly Fish
Fishing
1,000
All day
Clownfish
Fishing
650
All day
Giant Trevally
Fishing (exclusive)
4,500
All day
Hammerhead Shark
Fishing
8,000
All day
Horse Mackerel
Fishing
150
All day
Moray Eel
Fishing
2,000
All day
Napoleonfish
Fishing
10,000
All day
Ocean Sunfish
Fishing
4,000
All day
Olive Flounder
Fishing
800
All day
Pufferfish
Fishing
240
All day
Ray
Fishing
3,000
All day
Red Snapper
Fishing
2,000
All day
Ribbon Eel
Fishing (exclusive)
600
All day
Saw Shark
Fishing
12,000
All day
Sea Bass
Fishing
200
All day
Seahorse
Fishing
1,100
All day
Shark
Fishing
15,000
All day
Squid
Fishing
400
All day
Surgeonfish
Fishing
1,000
All day
Whale Shark
Fishing (exclusive)
13,000
All day
Zebra Turkeyfish
Fishing
400
All day
Bugs
Name
Location
Sale price
Time
Agrias Butterfly
Near flowers
3,000
8am - 5pm
Atlas Beetle
On palm trees
8,000
5pm - 8am
Birdwing Butterfly
Near flowers
4,000
8am - 4pm
Cyclommatus Stag
On palm trees
8,000
5pm - 8am
Emperor Butterfly
Near flowers
2,500
7pm - 8am
Fruit Beetle
On fruit trees
100
All day
Giant Beetle
On fruit trees
10,000
11pm - 8am
Golden Stag
On palm trees
12,000
5pm - 8am
Goliath Beetle
On palm trees
6,000
5pm - 8am
Grasshopper
On the ground
160
7am - 8pm
Hercules Beetle
On palm trees
12,000
5pm - 8am
Hermit Crab
On the beach
1,000
7pm - 8am
Horned Dynastid
On fruit trees
1,350
5pm - 8am
Horned Elephant
On palm trees
8,000
5pm - 8am
Jewel Beetle
On fruit trees
2,400
8am - 5pm
Lantern Fly
On fruit trees
1,800
4pm - 7pm, 11pm - 8am
Longhorn Beetle
On tree stumps
260
10am - 6pm
Long Locust
On the ground
200
8am - 7pm
Mantis
On flowers
430
8am - 5pm
Migratory Locust
On the ground
600
8am - 7pm
Miyama Stag
On fruit trees
1,000
All day
Monarch Butterfly
Near flowers
160
6am - 5pm
Orchid Mantis
On white flowers
2,400
8am - 7pm
Oak Silk Moth
On Trees
1,200
7pm - 4am
Rainbow Stag
On fruit trees
10,000
5pm - 8am
Saw Stag Beetle
On fruit trees
2,000
All day
Scarab Beetle
On fruit trees
6,000
11pm - 8am
Tiger Beetle
On the ground
1,500
8am - 5pm
Tiger Butterfly
Near red flowers
160
6am - 5pm
Walking Stick
On fruit trees
600
4am - 7pm
Wharf Roach
On the beach
200
All day
Deep-Sea Catches
Name
Location
Sale price
Time
Abalone
Diving
400
4pm - 9am
Acorn Barnacle
Diving
200
All Day
Chambered Nautilus
Diving
900
All day
Ear Shell
Diving
300
4pm - 9am
Flatworm
Diving
200
4pm - 9am
Giant Isopod
Diving (exclusive)
9,000
All day
Lobster
Diving
2,500
All day
Mantis Shrimp
Diving
1,250
4pm - 9am
Octopus
Diving
1,200
All day
Scallop
Diving
1,000
All day
Sea Anemone
Diving
100
All day
Sea Grapes
Diving
600
All day
Sea Slug
Diving
200
All day
Sea Urchin
Diving
800
All day
Seaweed
Diving
200
All day
Spotted Garden Eel
Diving (exclusive)
600
All day
Starfish
Diving
100
All day
Tiger Prawn
Diving
1,600
4pm - 9am
Club Tortimer
Club Tortimer is an online function at Tortimer Island. To join, the player must buy a form for 50 medals. This form will appear instead of one of the items when traveling alone. Club Tortimer membership allows the player to go to a random island. Meanwhile, other Club Tortimer members can arrive or leave on the same island as the player. The player has a choice of going to an island that is visited by people from all over the world, or to an island that is only visited by people from their continent. (Note: More people will go to the island that contains their continent.) The items sold at the shop in Club Tortimer refresh every time the player leaves. There will be new items when the player joins again if they join to a different "room." The player can go on tours with fellow players and earn medals.
In the Welcome Amiibo update, a set of rules, broadcast during the journey to the Club Tortimer island, were introduced. Alongside these, a new button on the touch screen was added to transport the player home immediately without 'erroring.' ('Erroring' can be done by flicking the wireless switch off at the side of the device. A cartoon picture of Resetti will pop up on the top screen with details of the 'error' on the bottom.)
On the 7th of March, 2014, a stage based on this area, called Tortimer's Island, was confirmed for the 3DS version of Super Smash Bros. 4. The stage's layout is different every time. Leila, Kapp'n and Tortimer appear in the background of the stage.
Gallery
Animal Island
Tortimer Island
Super Smash Bros. for Nintendo 3DS
Trivia
It appears that there are leftover villager huts in New Leaf[1]. These are probably from a plan for villagers to live on the island in, which probably was changed during the development process in favor for a different function for the island.
Players can take advantage of the island in New Leaf to earn exorbitant amounts of Bells in a rather short amount of time (roughly 30-45 minutes). One must go to the island between the hours of 5pm-8am (after 7pm is generally recommended due to the absence of locusts) and get a net and a fishing rod. Then one must walk around the island catching beetles off of palm trees (and some beetles off of fruit trees growing in the grassy area if they so choose), sharks, blue marlins, and Napoleonfish. It is advised to release or sell to Leila anything worth less than 8,000 Bells (see above table for prices). If beetles and sharks stop spawning, one can go into the cabin to reset island creatures. When one's inventory is full, they must drop their catches into the drop-off box, walk back outside, and repeat until the box is full. A successful trip commonly yields about 300,000-400,000 Bells, with a theoretical maximum of 720,000 being possible with the Bell Boom ordinance and a full box of nothing but Sharks (i.e. what are presumably great whites; these yield 15,000 Bells each without the ordinance). To a lesser extent, one can go to the island in the daytime, steal flowers from tours, plant them on the island, and catch butterflies to earn Bells.
References
↑ http://pastebin.com/WGHYFy88 Building IDs
Community content is available under
CC-BY-SA
unless otherwise noted.