"Trick or treat?"
― Jack, New Leaf
This article is about the pumpkin celebrated on Halloween. For the smug cat villager, see Raymond.

Jack (パンプキング, Panpukingu?, Pumpking), or the self-proclaimed Czar of Halloween, is a character from the Animal Crossing series who is a specter. He appears once a year for Halloween, from 6:00 PM until 1:00 AM the following day. He distributes spooky furniture, which can only be obtained through him. If you don't give him candy, he pulls a trick on you, which includes: taking your offered item; turning an inventory item into a Jack-in-the-Box; replacing your top with a Patched Shirt or Moldy Shirt; giving you, or replacing your hat and/or accessory with, a Pumpkin Head helmet. The latter two require an empty inventory. He wears a pumpkin on his head which, during Halloween, makes him indistinguishable from other villagers who are also dressed like that and will also ask for candy. Jack, like all other holiday-related characters, was absent from Wild World, as was Halloween and candy.
Appearance
Jack wears an orange pumpkin with hollowed out eyes, circle nose, and a jagged mouth smile, as his head. He wears a dark blue robe with lighter trim lines on his arms and the bottom of the robe. He wears black gloves on his hands and black boots on his feet.
In New Leaf, other villagers will try to dress like Jack, but he is distinguishable by his short height and has an orange pumpkin.
Purpose
In Animal Crossing

In Animal Crossing, he will be somewhere in town during Halloween. Unlike the other villagers, who wear the same clothing as him, he will not chase you. This is the same for Mayor Tortimer, who on the night will give the player a model of Katrina's tent. Upon talking to Jack, he will give the player an item of spooky furniture in exchange for candy. Doing this throughout the event will complete the set.
In Wild World
Jack does not feature in Wild World, however, it could be thought that the pumpkin that appears in the Jack-in-the-box item could be a reference to Jack.
In City Folk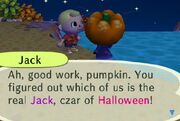 Jack returns in City Folk with Halloween and candy. He was announced on the Japanese website for City Folk, along with other characters. His role remains the same as in Animal Crossing, and he now calls himself the Czar of Halloween. He sends a letter out to players earlier in the month, warning of his arrival, and telling them to have candy ready. Nook's store starts selling candy on the 1st of October.
In New Leaf
This article requires clean-up to meet the quality standards of the Animal Crossing Wiki.
In New Leaf, Jack reprises his role from previous games. From October 1st to the 8th, Jack will roam around the town until spoken to. Once interacted with, he will ask the player if they want to be his servant. During this time, no other special characters such as Redd, except Joan, will appear and the player won't be allowed to work at The Roost. Here, he is much more identifiable, as even though he chases the player like other villagers, impostors' costumes have noticeable differences from his own (i.e. triangular eyes, pink skin, or taller bodies). He describes candy and lollipops as his favorite treats, and gives out creepy objects and spooky furniture, the latter of which is now purchasable at stores. When the player gives him lollipops, he will always reward them with a creepy object, though there is a small chance of still receiving them while giving him candy. However, if the player doesn't give him candy, he pulls a trick on them, which includes taking their items, and giving them stitched clothing.
Spooky Series
Jack gives a piece of furniture every time the player gives him candy. All the furniture pieces look like pumpkins or Jack O'Lanterns. They are orange and, like all holiday-exclusive furniture sets, score very highly with the Happy Room Academy.
Spooky Wall
Spooky Carpet
Spooky Bed
Spooky Bookcase
Spooky Clock
Spooky Lamp
Spooky Sofa
Spooky Table
Spooky Vanity
Spooky Wall Lamp
Spooky Wardrobe
Spooky Chair
Spooky Dresser
Spooky Paper
Jack O'Lanterns, Jack-in-the-Boxes, and Ragged Shirts are arguably considered part of the Spooky Series. There is also a Spooky Shirt, which is not given to the player by Jack, but by Gracie or Wisp.
e-Card
e-Card

Letter

Back

#204 Jack

Gender
Male
Type
Special
Star sign
Scorpio
Clothes
N/A
Petphrase
N/A
Password
oC9hl9VC%@iB9N
aAnoqK366BOw3T
Profile
Jack only comes around at Halloween, but, is he ever popular! Everyone in town dresses up like him, trying to imitate his very scary style. If you can find the real pumpkin deal, give him a sweat break. Chances are, he'll give you a creepy something in return.
amiibo Card
amiibo Card

Back

#117 Jack

| | |
| --- | --- |
| Type | Special |
| Star sign | Scorpio |
| Birthday | 10/31 |
| Roll value | 2 |
| Hand sign | Scissors |
| Request | I'll leave it up to you! |
Gallery
Animal Crossing
City Folk
New Leaf
Pocket Camp
Trivia
His Japanese name, Pumpking, reflects his self-given title, which is a portmanteau of "Pumpkin" and "King."
Many pumpkin characters are named "Jack" through the traditional pumpkin name "Jack O'Lantern". The name comes from an Irish folktale about a man named Stingy Jack. (see references: Here)
Jack's name could derive from the character Jack Pumpkinhead from the Oz Fantasy novels, a character with a pumpkin for a head very much like the character in this game.
Certain dialect found within Jack's dialogue may suggest a nod to Tim Burton's acclaimed character "Jack Skellington" who similarly proclaims to be a "King of Halloween". The character is the protagonist of the movie The Nightmare Before Christmas. Skellington even wears similar attire to the Jack in Animal Crossing in the opening song for the film "This is Halloween" until ingesting a lit torch and diving into a fountain.
One easy way to find Jack is to dig holes in front of everyone's house before 6:00 PM so they can't get to the player, or by wearing a matching outfit.
The townsfolk villagers will instantaneously approach the player when trying to obtain candy when they are closer to them. This action is absent when nearing Jack. Seeing if a character comes towards the player when they stand somewhat close to them is a good test to see if they have found the true Halloween king. This method cannot be used in New Leaf.
Jack and Wisp are the only non-animal characters in the game.
He has the voice of a cranky villager.
He is featured on the cover of K.K. Dirge.
In other languages
In other languages
Japanese
パンプキング Panpukingu
French
Jacqu'O
German
Jakob
Spanish
Soponcio
Italian
Fifonio
Korean
펌킹 Peomking
Community content is available under
CC-BY-SA
unless otherwise noted.