Jingle
ジングル Jinguru
Gender
Male
Species
Reindeer
Service
Presents
Birthday
December 24th
Coffee
N/A
Appearances
AF, AF+, PG, AFe+, CF, NL, HHD
Regional names
Chris
Renato
Jingle
루돌
"Happy holidays! I'm Jingle, the black-nosed reindeer! Isn't this the best time of the year, kid?"
― Jingle, New Leaf
Jingle
(
ジングル,
Jinguru
?
) is a
reindeer
character in
Animal Crossing series
. He appears once a year on the 24th of
December
for
Toy Day
, an event in the
Animal Crossing series
in place of Christmas and/or any similar celebrations.
Role
In Animal Crossing
"Happy holidays! I'm Jingle, the black-nosed reindeer!"


― Jingle, Animal Crossing
In Animal Crossing, Jingle can be found wandering around town starting at 8:00 PM on Toy Day (December 24th). He needs to be approached on five separate occasions to receive an item of his series (talking to him more than once on the same encounter does not work), also asking questions to determine what item the player receives such as flooring, wallpaper and furniture all from the Jingle Series (answering "Foldable Things" gets you the Jingle Shirt, Woven Things gets you the Jingle carpet, Printed things gets you Jingle Wallpaper, and Big Things gets you Jingle furniture). He only gives out one present per villager, but there is a way to receive more as listed below:
More Presents
To receive more presents from Jingle, the player must change their shirt each time they receive a gift, out of Jingle's sight so he does not see them. If successful, he will assume you're a different person, and the player only needs to talk to him twice (once to determine the gift, and another time to receive it). However, doing this for long enough will make him realize you're the same person, though he will not ask for the furniture back and will simply laugh.
For the list of his conversations, see Jingle Dialogue (GCN).
In City Folk
"I'm a happy little reindeer!"
― Jingle, City Folk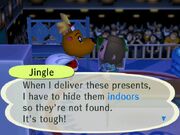 In City Folk, Jingle can be found wandering around town starting at 8 PM on Toy Day (December 24). During this time, he may also be found inside other villagers houses, but only in the ones with their lights off (which indicates that the villager is not inside). This is the only time in the game the player can visit a villager's house without them inside. In one of the homes, Jingle will be inside dropping off presents. Upon talking to him, he will offer the player a present, either one they can lean on or one they can walk on, with further options of huge things. These simply respectively mean wallpaper (lean on), carpet (walk on) and furniture (huge things), specifically furniture from the Jingle Series. Sometimes he will claim he is too tired to give you a gift. Like in Animal Crossing, he will only give one present per person, but there is a way to obtain more furniture, as mentioned below:
More Presents
To receive more presents from Jingle, the player only needs to change their face accessory or headgear (Hat) instead of a shirt to obtain more items of the Jingle Series.
In New Leaf
In New Leaf, instead of receiving presents, the player dresses up as Santa and hands out presents. The Santa outfit is sold in the month of December and is very easy to get. The outfit includes the hat, shirt, pants, beard, and boots. If you find Jingle on Toy Day, he will tell you that the villagers would enjoy getting their presents from Santa and give you a magic sack full of items. After Christmas, the magic bag will turn into a regular bag so you have to do it on Christmas Eve. Throughout the month of December, villagers will drop hints on which gifts they want, and it is your job to give them the perfect gift so they can be happy. While dressed up like Santa, the villagers will recognize you as Santa himself and not as the player. Once the bag is empty, return to Jingle and he will give you the Christmas wreath as a reward. If you deliver at least seven presents correctly, Jingle will mail you his photograph the next day. He will not give you the Jingle Series, and instead you can buy the furniture from the Nooklings' Store during the month of December.
Jingle Series
Jingle gives a complete set of furniture, which the Happy Room Academy rate very highly.
Jingle Wallpaper
Jingle Carpet
Jingle Shirt
Jingle Dresser
Jingle Piano
Jingle Bed
Jingle Table
Jingle Chair
Jingle Lamp
Jingle Wardrobe
Jingle Shelves
Jingle Sofa
Jingle Clock
All of the furniture is red, white, and green, resembling festive colors. The Jingle Shirt is not a part of the exchange in City Folk, but can be bought from the Able Sisters. It is like any other shirt, so once it is available it won't appear again for a while.
Buying a Festive hat, Jingle shirt and the King's beard will complete a (out of style) Santa Claus look.
e-Card
e-Card

Letter

Back

#066 Jingle

Gender
Male
Type
Special
Star sign
Capricorn
Clothes
N/A
Petphrase
N/A
Password
hfbrfd4ZZHtcuA
alE&zYNPGx48KJ
Profile
With bright eyes, a clean-out image, and a bag full of goodies, Jingle is always a hit, no matter where he roams. He's a nice enough guy to talk to... If you can get him to slow down long enough to chat, that's it!
amiibo Card
amiibo Card

Back

#217 Jingle

| | |
| --- | --- |
| Type | Special |
| Star sign | Capricorn |
| Birthday | 12/24 |
| Roll value | 1 |
| Hand sign | Rock |
| Request | I'll leave it up to you! |
Gallery
City Folk
New Leaf
Trivia
When you talk to Jingle on his right, he would ask you a favor to talk to him on his left as he looks best at that angle. This is because he has a side-mouth on his left.
Jingle's name remained unchanged when Animal Crossing was introduced overseas.
Jingle being male is odd, since male reindeer shed their antlers during Winter.
Jingle is revealed to have bangs when his hat is removed in Animal Crossing Happy Home Designer.
He and fellow special holiday character Zipper T. Bunny are the only characters, along with villagers Bunnie and Melba, who own K.K. Birthday. However, this is only shown in Animal Crossing: Happy Home Designer.