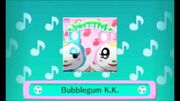 The list below has every song in New Leaf. These are also all the songs featured in Happy Home Designer and amiibo Festival (in the Quiz Show minigame). If a song's name is in bold, it is new to the game it is in. If a song's name is in italics, it must be requested from K.K. Slider to be obtained. If a song's name has both, it is both new and can only be requested. Some songs may have to be requested in one game and not in another, such as Two Days Ago.
Song List
Invalid songs (not obtainable)
Trivia
In New Leaf K.K. has three songs he will play when an invalid request is made. Following the pattern from other games, these became obtainable secret songs in the next game in the series: Animal City, Drivin' and Farewell.

Interestingly the names of these songs were known before the release of New Horizons, because they were titled so (albeit in Japanese) in the game files of New Leaf.

K.K. Etude was changed to K.K. Étude in City Folk, and must be requested with the proper accent in New Leaf.
Señor K.K. must be requested with the proper tilde.
Go K.K. Rider! must have the exclamation mark in past installments. In New Leaf, however, the "!" in Go K.K. Rider is not present.
K.K. D & B - In past installments, the tracks title did not require the spaces between the D & B. In New Leaf, however, it must be input without the spaces as: K.K. D&B.
K.K. Birthday returns from Animal Forest e+ where it was unobtainable, being excluded from Wild World and City Folk. It can only be acquired on the Saturday before the player's birthday. (The song can also be requested if the player's birthday falls on a Saturday.). If the player whose birthday falls on a Saturday approaches K.K., K.K will play the song automatically without having to specifically request it. Afterwards, the song can be found in the pocket or in a letter (If the player's inventory is full).
If the player mails a song to a villager, they will play it in their stereo.
Community content is available under
CC-BY-SA
unless otherwise noted.