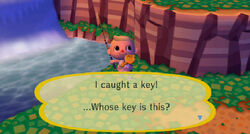 "I caught a key! ...Whose key is this?" —Animal Crossing: City Folk
The key is an item found in City Folk, and figuratively the older version of the lost item. The key is owned by a random villager.
Every so often, a villager will be seen walking only around the outside of their house rather than randomly across the town. Upon talking to them, they will say they are locked outside and have lost their house key somewhere around town. Talking to them further reveals the location, which is the river - which also includes the waterfall and river pool. The key is available to find after talking to the villager.
If the villager lives on the top half of the player's town, the key will be in the top half of the river. If the villager lives on the bottom half of the player's town, the key will be found in the bottom half on the river.
The key appears as a small fish shadow in the river, about the same size as a crucian carp. Once the player has fished it out of the river, return it to the villager and the player will receive a reward, usually furniture, a Gyroid, or 500 to 600 Bells.
If the player fails to find the key, the villager will eventually find their own way into their house. Though villagers will be satisfied with the player finding the key there is no negative effect of not finding it in time and it does not lower friendship or influence the villager to move away.
Community content is available under
CC-BY-SA
unless otherwise noted.