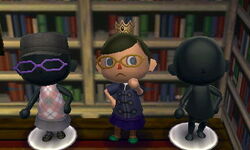 A Mannequin is a special type of furniture item introduced in New Leaf that can be dressed to display an entire set of clothing.
An outfit on a mannequin can consist of a headgear, accessory (if the headgear is not a helmet), top, bottoms, legwear, and footwear. In addition to storing an outfit, the player can quickly switch into the clothing displayed to wear it. To add or remove clothing items from the Mannequin, place it in a room and Press A while facing it. Outfits stored on the mannequin will remain on its body, even when the player places it in their pockets. Unlike other items, the player cannot drop the mannequin onto the ground, which means a mannequin cannot be traded. Mannequins cannot be placed in letters.
How to Obtain Mannequins
There are a total of four mannequins in New Leaf, and they are obtained from the three Able Sisters in their shop and Gracie.