Margie
サリー Sarī

"Keep your feet on the ground."
Birthday
January 28th (Aquarius)
Initial phrase
tootie
シャララ (sharara)
tootie
Initial clothes
Hot Spring Tee
Home request
A place full of clothes
Skill
Playing old maid
Goal
Pastry chef
Coffee
Blend,
None at all,
None at all
Style
Iconic
Favorite song
K.K. Bossa
Appearances
AF, AF+, AC, AFe+, WW, CF, HHD, PC , Dōbutsu no Mori
Regional names
Maguy
Elisa
Rita
Marianna
샐리 Sally
"Becoming a designer is my dream. I hope one day, people all over the world will be able to wear Margie original creations."
― Margie, Dōbutsu no Mori
Margie
(
サリー,
Sarī
?
, Sally) is an
elephant
villager
with a
normal
personality from the
Animal Crossing series
. As well as appearing as a
villager
in
Animal Forest e+
,
Wild World
and
City Folk
, she appears in
Dōbutsu no Mori
by the name of Sally (Japanese name), who is an aspiring fashion designer and is best friends with
Ai
. She reappeared in
New Leaf
. Her initial phrase is a reference to the sounds an elephant makes. Her Japanese name refers to the Indian dress, Sari, and there are elephants in India, which relate to her species.
Appearance
Margie is a white elephant with her hands and feet having multiple colors. From bottom to top, the colors are light pink, dark pink, white, yellow, and red. She has yellow and orange hair, which is also on the tip of her ears. She has pink blush on her cheeks and blue eyes above slightly. Margie's initial shirt is a Hot Spring Shirt which she wears when she first gets into town. She resembles a parade/carnival elephant because of her colorful headdress and elaborate eyes. She has a slight resemblance to Tia, another elephant.
Personality
Below is a brief description of the normal personality. For more information, click here.
Margie has a normal personality, and frequently acts kind towards the player. Normal villagers generally get along well with
lazy
,
peppy
,
smug
,
snooty
and other
normal
villagers. Margie may conflict with
cranky
and
uchi
villagers. As a normal villager, Margie will usually wake up at 6:00 am and is easier to befriend than most. Both normal and peppy villagers reference an unseen friend known as
Moppina
.
House
Margie has many pieces of Cabana, Classic, and Exotic Series furniture in her house. She also has one fish, the Puffer Fish. She uses the Equistique Wall and the Equistique Rug. K.K. Bossa plays on a Turntable to fit the relaxed feel of her house.
In Animal Forest e+, Margie's house is identical to Chico's, only that she has used the Equistique Wall and the Equistique Rug. K.K. Bossa is played on a Reel-to-Reel with one gyroid, the Timpanoid.
Pocket Camp
Margie's preferred theme is harmonious. Her profile says:
Margie is always the most cheerful, relaxed person. It's like she's constantly in vacation mode! ...Which probably explains why she's never actually gone on one.
Campsite Invitation Requirements
Friendship Level: 3
| Furniture/Item | Required Items | Price (Bells) | Craft Time |
| --- | --- | --- | --- |
| Bamboo Tree | 2 wood | 750 | 1 minute |
| Cabana Vanity | 3 steel, 3 wood | 730 | 1 minute |
| Flower Pop Carpet | 30 cotton | 1010 | 2 hours |
| Cabana Armchair | 3 cotton, 3 wood | 520 | 1 minutes |
| Cabana Table | 30 wood | 800 | 5 hours |
Friendship Rewards
At level 7 friendship, she will reward you with a hot spring tee and sparkle stones (x1).
At level 9, she will reward you with sparkle stones (x1).
At level 10, she will request that you craft a tile screen.
At level 20, she will reward you with pic of Margie and sparkle stones (x1).
At level 25, she will reward you with sparkle stones (x1).
At level 30, she will reward you with sparkle stones (x1).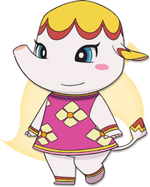 Margie appears in the movie as a friend of
Ai
, and she aspires to become a fashion designer. She later moves away. Margie appears thinner in the movie than in the game, as well as "smoother," due to animation. Also, her requesting  K.K Rhythm (
K.K. Bossa
) at
K.K. Slider's
performance could possibly be referencing how it is the song played in her house in the game series itself.
amiibo Card
amiibo Card

Back

#384 Margie

| | |
| --- | --- |
| Type | Elephant |
| Star sign | Aquarius |
| Birthday | 1/28 |
| Roll value | 4 |
| Hand sign | Rock |
| Request | A place full of clothes |
Merchandise
Trivia
Margie is on the cover of K.K. Oasis and Mountain Song.
In Animal Forest e+, Margie is listed on e-Reader card 14, close to Nobuo and Kit.
Margie appears in the trailer for Super Smash Bros. 4, sitting beneath a tree, reading a book.
Margie's request in Happy Home Designer, a room full of clothes, is likely a reference to her appearance in the movie.
Community content is available under
CC-BY-SA
unless otherwise noted.