Fire Emblem Warriors: Three Hopes - The Loop
Play Sound
"I couldn't have done it if I were you, meow."
― Meow, Animal Forest e+


Meow (ミャウ, Myau?) is a peppy cat villager from the Animal Crossing series, only appearing in Animal Forest e+. She could only move into a village if the player has her e-Card. Her name and initial phrase comes from the sound that cats make. She is very similar to Bow, both in name and appearance.
Appearance
Meow is a pink cat that initially wears the blossom shirt. She has a green face and a pink head with pink ears. She has whiskers and her paws are all pink. She has a similar appearance to Bow the dog, since they both look like they have monochrome LCD screens on their faces. Her and Bow seem to be based on the Meowlingual and Bowlingual, respectively.
Personality
Below is a brief description of the peppy personality. For more information, click here.
Peppy villagers appear to be in a good mood often and are easy to become friends with. As a peppy villager, Meow will have the tendency to over-react in conversations about trivial subjects, and will usually be over-excited to see the player or other villagers. This villager, like other peppy villagers, will rarely be discouraged from doing anything, including the usual hobbies. Peppy villagers dream of becoming famous in the future and read Ms. Nintendique, an unseen magazine read by snooty, normal, and other peppy villagers in the Animal Crossing Series. Peppy villagers will also have a very short attention span, which means they soon forget some arguments or tasks given to the player which weren't completed. Meow may easily get upset in conversation when the wrong things are said. She will get along well with other villagers, particularly lazy, normal, jock, sisterly and other peppy villagers, but she may annoy and upset cranky and snooty villagers, whose personalities differ to hers. Due to the nature of peppy villagers, she may mention how "old" or "boring" cranky villagers are compared to her opposing, upbeat personality.
House
Meow has the same house as Olive's, with the only difference being the ranch wallpaper and the lovely carpet. Her lovely stereo plays K.K. Gumbo.
E-Card
Translation of E-Card (Back)
| | |
| --- | --- |
| Clothes | Blossom Shirt |
| Star Sign | Virgo |
| Catchphrase | ミャウ (myau, meow) |
| Description | The strict Meow can see through her opponent's thoughts with a single glance. If you tell a lie, she'll know. |
| Favorite Word | Voiceprint analysis |
Trivia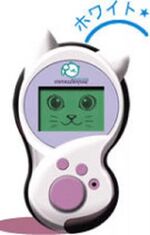 Meow is named after the Meowlingual, a computer-based cat-to-human translator made and sold in Japan in 2003. The Meowlingual was a follow-up to the BowLingual, the device which Bow was named and modeled after.
Meow along with Pierre are the only cats that hasn't made an appearance since Animal Forest e+.
This villager article is a stub. You can help the Animal Crossing Wiki by expanding it
.