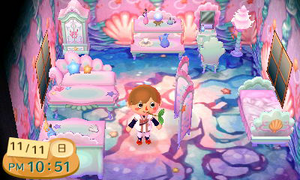 The Mermaid Series (マーメイドシリーズ, Mēmaido Shiriizu, Mermaid) is a series of furniture in New Leaf.
The series consists of classically designed furniture using marine designs. The base of each item is mostly pale blue, with pale pink bed covers, lampshades and pale pink surrounding the pale blue color. Each item also has a starfish or shell placed upon it. The matching wallpaper consists of a pink background, with purple shells and turquoise spirals resembling pillars. The matching carpet uses pale blue for a base color, with rock shapes incorporated into the design using a pink, violet, indigo and blue colors, each outlined in a darker shade.
Diana owns the mermaid lamp and screen. Rhonda has the mermaid lamp and the mermaid shelf. Nana owns the mermaid sofa and lamp. Étoile has the mermaid vanity and shelf. Chrissy has the mermaid shelf.
It should be noted that the only place where the Mermaid Series furniture is sold is on the island, available to the player after three days. The cost of each item is typically 40 medals, though there are home decor items available from Nook's for bells. The mermaid series can't be ordered again so they are rare.
Furniture Items
Name
Buy Price
Sell Price
Available From
Size (sq)
Info
Mermaid Lamp
40 Medals
-
Island
1
Lighting

Mermaid Bed 

40 Medals
-
Island
2
Bed

Mermaid Sofa

40 Medals
-
Island
2
Chair

Mermaid Chair

40 Medals
-
Island
1
Chair

Mermaid Vanity

40 Medals
-
Island
1
-

Mermaid Shelf

40 Medals
-
Island
2
Shelf

Mermaid Dresser

40 Medals
-
Island
1
Storage

Mermaid Clock

40 Medals
-
Island
1 space on the

wall.

Clock

Mermaid Screen

40 Medals
-
Island
2
-

Mermaid Closet 

40 Medals
-
Island
1
Storage

Mermaid Table

40 Medals
-
Island
2
Table
Note: All are raised to 48 Medals if the player has the Wealthy Town ordinance in effect.
Matching Wall and Floor
| Name | Buy Price | Sell Price | Available From |
| --- | --- | --- | --- |
| Mermaid Carpet | 40 Medals | - | Island |
| Mermaid Wallpaper | 40 Medals | - | Island |
Home Modifications
In addition to the furniture sold for Medals on the island, there are home modifications available from Tom Nook in exchange for bells.
Gallery
Community content is available under
CC-BY-SA
unless otherwise noted.