"I caught a mitten crab! I'm smitten, crab!" —New Leaf
The mitten crab (シャンハイガニ, Shanhaigani?) is a new fish introduced in New Leaf.
Donation to the museum
In New Leaf
After donating a mitten crab, the sign in the museum reads:
Officially known as the mitten crab, they also go by the name "shanghai crab." They are commonly used in Chinese dishes, which is how most people become familiar with them. Their breeding habits are the complete opposite of salmon in that they hatch in the ocean first. They then move up rivers when they reach adult size, returning to the ocean in order to spawn.
Encyclopedia information
New Leaf
Fish

Encyclopedia Information

"I caught a mitten crab! I'm smitten, crab!"

Size
3.35 inches
Habitat
River
Season
Fall
Gallery
Further information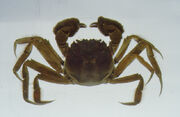 The mitten crab is a medium-sized burrowing crab, named for its furry claws that look like mittens, that is native in the coastal estuaries of eastern Asia from Korea in the north to the Fujian province of China in the south. Mitten crabs usually live in fresh water, but they return to the sea to breed. Females spend the winter in the deep ocean, before returning to more brackish water in spring to hatch their eggs. Juvenile crabs then move upstream into the fresh water of rivers.
Community content is available under
CC-BY-SA
unless otherwise noted.