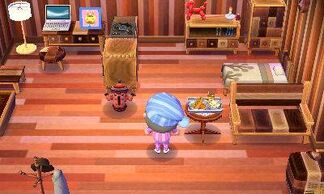 The Modern Wood Series (ミックスウッドシリーズ Mikkusu Uddo Shirīzu?, Mixed Wood) is a series of furniture in the Animal Crossing series. It first appears in New Leaf.
As the name suggests, the items of furniture appear as though they have been made using different types or, at least, colored pieces of wood. There are at least 6 different colors used for some items, with small items such as chairs consisting of fewer colors. This furniture series can be customized by Cyrus at Re-Tail.
Deirdre, Lopez, and Cally have many items of the modern wood series in their houses. Papi has the drawers, desk and lamp, Carmen has the bed, Fauna has the stool and cupboard, Tammy has the floor and bed, Hazel has the wall, Melba has the bed and shelf, and Skye has the lamp.
Furniture Items
| Item Name | Buy Price | Sell Price | Available From | Color(s) | HHA Theme(s) | Vibe | Size (sq) | Info | Display Items |
| --- | --- | --- | --- | --- | --- | --- | --- | --- | --- |
| Modern Wood Bed | 1,680 | 420 | Nooklings | Brown (x2) | Rustic | Cute | 2 | Bed | No |
| Modern Wood Chair | 1,200 | 300 | Nooklings | Beige/Brown | Rustic | Cute | 1 | Chair | No |
| Modern Wood Chest | 1,480 | 370 | Nooklings | Beige/Brown | Rustic | Cute | 1 | Storage | 1 |
| Modern Wood Clock | 1,400 | 350 | Nooklings | Beige/Brown | Rustic | Cute | 1 | Wall | No |
| Modern Wood Closet | 1,600 | 400 | Nooklings | Beige/Brown | Rustic | Cute | 1 | Storage | No |
| Modern Wood Lamp | 1,680 | 420 | Nooklings | Beige/Brown | Rustic | Cute | 1 | Light | No |
| Modern Wood Shelf | 1,840 | 460 | Nooklings | Beige/Brown | Rustic | Cute | 2 | Table | 2 |
| Modern Wood Sofa | 1,600 | 400 | Nooklings | Beige/Brown | Rustic | Cute | 2 | Chair | No |
| Modern Wood Stool | 1,480 | 370 | Nooklings | Beige/Brown | Rustic | Cute | 1 | Chair | No |
| Modern Wood Table | 1,980 | 495 | Nooklings | Beige/Brown | Rustic | Cute | 2 | Table | 2 |
| Modern Wood TV | 1,800 | 450 | Nooklings | Beige/Brown | Rustic | Cute | 2 | TV | No |
Matching Wall and Floor
| Item Name | Buy Price | Sell Price | Available From | HHA Theme(s) | Vibe |
| --- | --- | --- | --- | --- | --- |
| Modern Wood Wall | 1,480 | 370 | Nooklings | Rustic, Trendy | Modern |
| Modern Wood Flooring | 1,480 | 370 | Nooklings | Rustic | Ornate |
Gallery
Customizations
Names in other languages
Modern wood series
| Language | Name |
| --- | --- |
| Japanese | ミックスウッドシリーズ Mikkusu Uddo shirīzu, Mixed Wood series |
| Korean | 믹스 우드 시리즈 Mikseu Udeu sirijeu, Mixed Wood series |