"I caught a moth! And I had a ball doing it!" —New Horizons
The moth (ガ, Ga?) is a nocturnal bug that can be found on cloudy nights. Players seem to detest them even more than cockroaches. Moths are usually found by bright lights, but can be chased well away from lights where they will eventually disappear into the sky in some games.
Donation to the museum
In Wild World
"There are many who think that butterflies are cute while moths are repulsive... In this owl's opinion, they are both equally grotesque! Blech, I say! I suppose such revulsion is mine and mine alone, however.."
After donation, the moth can be found on or flying around one of the two lamps on the north wall of the first room of the bug area.
In City Folk
"Many people hate moths, yet love butterflies, but the truth is that both belong to the order Lepidoptera. Since both are covered in unspeakable veins and foul powder, I suggest they are equally distasteful."
In New Leaf
An information board in the bug exhibit will list information about this bug.
"Moths are related to butterflies, but they're most often active at night instead of day. They use their large antenna to sense, smell, and guide themselves in the dark. Interestingly, the number of moth species is estimated at 160,000, so "moth" is a fairly broad descriptor."
The moth can be found in the upper-left-hand corner of the bug exhibit, flying around a lamp near the bagworm. In the day time, it simply sits on the lamp.
In New Horizons
When either donating to the museum or selecting "Tell me more about this!", Blathers the curator will say (with abhorrence):
"Many think the moth is strictly a nocturnal creature. Alas, no! These frightful fluttering beasts have been known to haunt the daylight and twilight hours too. Thus, there is no time of day one might escape the moth trait I dislike most of all—those feathery antennae! The mere thought of them gives my feathers goosebumps. And I'm no goose."
Unlock with Happy Home Handbook Lesson
In Happy Home Designer
After Day 9 in-game, go to the saving place and sit down at your desk. Pick the "Study the handbook" option. You can complete "World Insects" lesson with 2 Play Coins. It adds 72 insects to your collection.
Capture quotes
"Yuck! I caught a moth! It's OK... I'm OK..." —Wild World
"I caught a moth! Not scary... NOT SCARY!" —City Folk
"I caught a moth! It finally saw the light!" —New Leaf
"I caught a moth! And I had a ball doing it!" —New Horizons
Encyclopedia information
Wild World
| | |
| --- | --- |
| Bug | Encyclopedia Information |
| | "Their antennae are large because they use their sense of smell to guide them in the dark." |
| Size | 60 mm |
| Time | Evening |
| Season | Summer |
| Icon | |
City Folk
Bug

Encyclopedia Information

"These are similar to butterflies... but for some reason, hated by many people."

Size
About 60 mm
Time
Night
Season
Summer
New Leaf
Bug

Encyclopedia Information

"I caught a moth! It finally saw the light!"

Size
55 mm
Time
Night
Season
Summer
New Horizons
Bug

Encyclopedia Information

"I caught a moth! And I had a ball doing it!"

Current Active Hours
7pm to 4am
Months active (north)
All year
Months active (south)
All year
Further information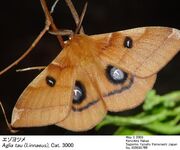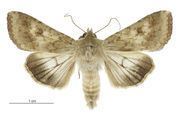 Main article: Moth on Wikipedia
Moths are a diverse group of insects in the order Lepidoptera, the same order as butterflies. The order is split into butterflies and moths, but the distinction is not taxonomically evident from this point on (though the difference between butterfly and moth is obvious). Scales on moth's wings rub off when touched, but contrary to popular belief this does not kill or harm the moth; the scales are simply coloring.
The original moth model most closely matches Aglia japonica microtau, but more recent patterns from Pocket Camp and New Horizons are based on Helicoverpa armigera.
In other languages
Moth
| Language | Name |
| --- | --- |
| Japanese | ガ Ga |
| French | Papillon de nuit |
| Spanish | Polilla |
| German | Motte |
| Italian | Falena |
| Dutch | Mot |
| Russian | Павлиноглазка Pavlinoglazka |
| Chinese | 飞蛾/飛蛾 Fēié |
| Korean | 나방 Naba |