"I caught a Napoleonfish! Vive la me!" —New Leaf
The Napoleonfish (ナポレオンフィッシュ, Naporeon fisshu?) is a large blue rare fish in the Animal Crossing series with a distinctive humped head along with small green indented eyes that look like eyelashes. It is one of the very large sized Ocean-going fish, and has an expensive price tag also. Like most other oceanic fish, the Napoleonfish appears in the back tank when placed in the museum. In New Leaf, this fish can be found on the island throughout the year.
Donation to the museum
In City Folk
"Hoo, my good gracious! What size! What majesty! What impact this fish has! When fully grown, the body of this fish can reach a length of over 80 inches, eh wot? The beady eyes and pouty mouth make it appear a bit dull witted...which I find rather charming!"
The Napoleonfish can be found lazing around near the bottom of the ocean fish tank at the back of the fish exhibit.
In New Leaf
In New Leaf an information board in the aquarium will list information about this fish.
"Called Napoleonfish, these fish also have the more accurate name of humphead wrasse. The true name comes from the distinctive humps on their heads. But "Napoleonfish" is more popular. When small, all Napoleonfish are females, but some become males as they age and their humps grow. Their bodies also turn a bluer shade as they mature and become males, making identification simple. Their bulky bodies, which can get to about six feet long, still glide easily through warm tropical seas. Finding these fish is a real treat for divers, as they're stunning to see - and it's a great story to tell."
Capture quotes
"I caught a Napoleonfish! Look at the hat on this guy!" —City Folk
Encyclopedia information
City Folk
Fish

Encyclopedia Information

"The humps on the heads of these fish get bigger as they age."

Size
About 80 inches
Habitat
Ocean
Season
Summer
New Leaf
Fish

Encyclopedia Information

"I caught a Napoleonfish! Vive la me!"

Size
About 80 inches
Habitat
Ocean
Season
Summer
Gallery
Further information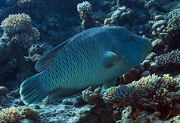 The Napoleonfish is the largest wrasse species (family Labridae), and one of the largest coral reef fish. Today, this specific creature is better known as the humphead wrasse, but in a few places, it is called the Napoleon or Māori wrasse. Males may reach up to 6 feet/2 meters in length, while females are half the size. Humphead wrasse have become endangered due to overfishing, where juveniles are captured and raised until they reach a larger size, where they are sold. While it can live for up to 30 years (25 for males), its slow breeding rate puts it in danger if its numbers decline too greatly. Like its relatives, it is born female and may change gender around a decade old.
Trivia
The player's punchline for the Napoleonfish in New Leaf is in the French language which translates into "Long live me."

Community content is available under
CC-BY-SA
unless otherwise noted.