History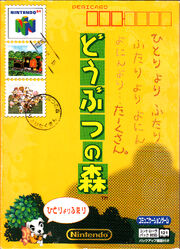 The Nintendo 64 (N64 for short) Codename Project Reality and Nintendo Ultra 64 was a home video game console made by Nintendo, released in 1996 in the United States, Japan, and Europe; prior to the discontinuation of the Super Nintendo Entertainment System. During the long wait for the N64, a failed console known as the "Virtual Boy" had kept people waiting, but only shortly, due to vision impairments caused by the viewing styles of the games. Animal Forest was originally released only in Japan for the Nintendo 64 in 2001, but by that time the Nintendo GameCube was already out, so the game did not sell very well until being re-released as Animal Forest+ on the Nintendo GameCube. Named after the amount of bits it has, 64, the console revolutionized gaming with three-dimensional games. The N64 became a hit with its launch title, Super Mario 64; the very first 3D platform game in the franchise. (In an unrelated event, the game was remade in 2004 as Super Mario 64 DS ) Other games included Kirby 64: the Crystal Shards, Star Fox 64, Yoshi's Story , and The Legend of Zelda: Ocarina of Time. The Nintendo 64 owes its existence to Silicon Graphics (SGI) and MIPS Technologies, who were responsible for the R4300i microprocessor and the 3D graphics hardware used in the N64.
Criticism of the N64
People soon began to notice graphical errors on the N64, such as short firing range in some N64 games, seen in Star Wars: Battle for Naboo, poor draw distance (infamous in some games such as Super Mario 64 and The Legend of Zelda: Majora's Mask), Gourard Shading in most games, most notably on Mario in the aforementioned Super Mario 64, and other various problems.
The N64 was also hindered by its use of cartridges as a storage medium for games instead of the CDs used by the competing Sega Saturn and Sony Playstation. Because cartridges were more expensive to manufacture and held significantly less memory than CDs, this caused many of the third-party titles that helped contribute to Nintendo's success, such as Squaresoft and Konami, to defect to the Playstation (despite the Sega Saturn also using CDs, it was harder to manufacture and harder to work with due to its complex motherboard and severe graphical limitations in comparison to its competitors). All of this persuaded Nintendo to try creating newer technology.
The N64 was discontinued on November 30, 2003, following the releases of the Nintendo GameCube and the Nintendo DS family.