Fire Emblem Warriors: Three Hopes - The Loop
Play Sound
The Nintendo GameCube (codename Project Dolphin and N2000) is Nintendo's fourth home video game console. It is the successor to the Nintendo 64 and predecessor to the Wii. The Animal Crossing series games on the system included Animal Forest+, Animal Crossing, Animal Crossing 2 (cancelled), and Animal Forest e+. The Nintendo GameCube is the first Nintendo console to use optical discs as its game type (mini CDs, 8 cm in diameter), and the first Nintendo console to use a PowerPC chip. It also enabled connectivity to the Game Boy Advance to access exclusive features in the GameCube Animal Crossing games.
Release Dates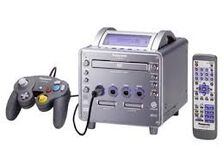 The Nintendo GameCube was released on September 14, 2001 in Japan, November 18, 2001 in North America, May 3, 2002 in Europe, and May 17, 2002 in Australia. The GameCube sold 21.74 million units worldwide. A Japan only hybrid version of a GameCube and a CD/DVD player called the Panasonic Q also known as the GameQ, was launched on December 13, 2001 and was discontinued on December 18, 2003. Nintendo discontinued the Nintendo GameCube on February 22, 2007; at the end of its lifespan, after the release of the Wii. Its games were discontinued in 2008
The GameCube's games are also backwards-compatible with its successor, the Wii.
Game Boy Advance link cable
The Game Boy Advance link cable is a cable manufactured by Nintendo that allows connection between the Nintendo GameCube and Game Boy Advance. It is used in Animal Crossing to allow access to the island. The player can also play NES games on the GBA with it. With the cable, the player can also get designs for free, and design patterns at their house.
Gallery
Trivia
The Nintendo GameCube has made a cameo in City Folk. It appears in the Pink Box item sold in Tom Nook's store. Another one is the G box item, which is the GameCube logo. It is also available to be downloaded via Wi-Fi within the game as a special item from Nintendo, serving as a storage device. Its successor (or rather, its successor's controller) is also downloadable and serves the same purpose.