This page is currently under construction. Please help us expand this article by editing it.
The NookPhone is a smartphone in New Horizons. It is included in the initial Deserted Island Getaway Package from Tom Nook of Nook Inc. Tom Nook gives the player the Nook Phone on the day after the island orientation party, after discussing the fees the player has to pay. The NookPhone can be accessed by pressing the ZL button on the Switch controller, or SL when playing with a single JoyCon.
In the 1.5.0 update there's a newly added app through Nooklink where the player can access their Reactions.
Apps
The initial apps on the phone include:
Customization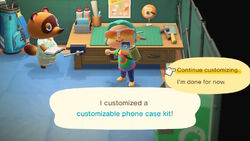 The NookPhone is able to be customized using a customizable phone case kit bought from the Nook Miles Redemption service within the
Nook Stop
for 1,800
Nook Miles
. It is purchasable after the player learns how to customize from
Tom Nook
 and allows the phone case to be customized either with a pre-made design or a player's Custom
Designs
.
Gallery
Trivia
The NookPhone may be the successor to the user interface of Pocket Camp, which also is like a smartphone.
The player will occasionally see villagers using their own NookPhones.
Villagers seemingly have their own unique NookPhone designs.
Community content is available under
CC-BY-SA
unless otherwise noted.