Nook 'n' Go
Opening hours
7:00am-11:00pmAC
8:00am-11:00pmWW
7:00am-1:00amCF
Stock
15 items
16 AFe+ items
Upgrade cost
65,000 Bells
Upgrade time
15
Appearances
AF, AF+, AC, AFe+, WW, CF
Regional names
Supernook

Nook 'n' Go (Japanese: コンビニーたぬきち Tanukichi Convenience Store) is the second of Tom Nook's shops in the Animal Crossing series. The design is based on a typical convenience store that has a sign pole. This shop is also the one that is open the most hours.
In Animal Crossing it is open from 7:00 am - 11:00 pm and in City Folk from 7:00 am to 1:00 am. In Wild World, the store opens and closes at the same time as the other stores.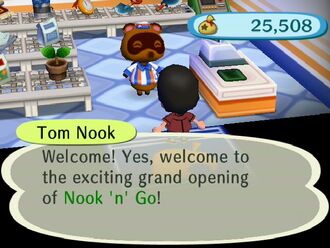 Upgrading
For Tom Nook to expand to this shop, the player will need to buy/sell 25,000 Bells worth of stock at Nook's Cranny and have played the game for at least 8 days. 
To upgrade to Nookway in City Folk, the player must buy/sell a total of 80,000 bells and the store must be Nook 'n' Go for at least fifteen days. To upgrade to Nookway in the later games, the player must only buy/sell 65,000 bells worth of stock at Nook 'n' Go.
Design
Exterior
| | | | |
| --- | --- | --- | --- |
| Animal Forest & Animal Forest+ | Animal Crossing & Animal Forest e+ | Wild World | 'City Folk' |
| | | | |
Interior
In Animal Crossing, Nook 'N' Go has a green floor with orange, blue, and white walls, but in Wild World and City Folk/ Let's Go to the City, the floor is blue with orange, blue and white walls.
Trivia
Nook 'n' Go resembles a typical gas station convenience store, as well as having opening and closing hours that would be expected from a convenience store.