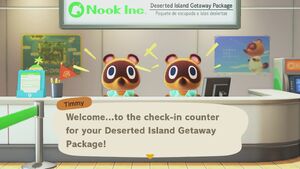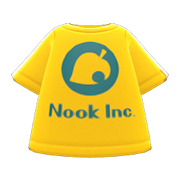 Nook Inc. is a development company that first appears in New Horizons. It is owned by Tom Nook and provides travel services such as the Deserted Island Getaway Package. Timmy and Tommy introduce the player to their vacation island and will later provide the player the ability to sell items for bells and give helpful advice. The player will receive help from Tom Nook, who will provide them with a crafting table, where furniture, tools, and more can be crafted for use, DIY recipes, and other services such as building bridges and ramps. Through this corporation, Nook and his nephews help the player in establishing a settlement, learning to interact with the world around them, and ultimately transform the aforementioned vacation island into a thriving town. During this process, Nook Inc. supplies the player a NookPhone to help reach this goal, through which Tom Nook can reward the player with a currency used exclusively by Nook Inc., Nook Miles. It also has many services and other in-game applications to improve quality of life on the island. Nook Stop in the Resident Services building can be used to buy Nook Inc. related merchandise with Nook Miles, as well as DIY recipes and furniture. As the game progresses, the player will have the ability to go on Mystery tours with Nook Miles Tickets, where the player may meet villagers and invite them to live on their island.
After finishing the "main story" of the game, Tom Nook will give the player the ability to landscape the island through the Island Designer app on their NookPhone, giving the player even more freedom in customization of their island. Additionally, the player will have the option to upgrade and customize their home after moving out from their tent.
Trivia
The font used by the Nook Inc. logo is the same one used in the official Nintendo logo. More specifically, the typeface is "Nu Hanafudaya".