New Pokemon Games - The Loop
Play Sound
This page requires additional images.

The Nook Miles Ticket is a reward obtained from the Nook Stop for 2,000 Miles. It allows the player to visit other deserted islands on mystery tours. The islands provide excellent sources of crafting materials, opportunities to obtain new and unique flora, encounters with far flung villagers who can be asked back to the player's island, and a weather condition that may be different from that back home. There won't be any villagers if you haven't reserved a plot, nor if your island has the max amount of villagers (10 NPC Villagers).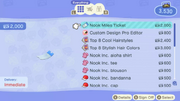 At least two free Nook Miles Tickets can be obtained. One is given by Tom Nook as a reward for upgrading from a tent to a house, and is held by Orville at the airport. Another is sent by mail as compensation for Resident Services being inaccessible for a day after it is upgraded from a tent to a building .
Tips
You can earn Nook Miles by doing basic island tasks. You can do what you regularly do or:
Use your Nook Phone to see your Nook Miles+ Quest. Keep note that one of your Nook Miles+ Quests will be worth 5x the Miles. This will happen randomly so take advantage of that!
Watering and planting Flowers is also a quick and easy way of earning Miles.
The player can obtain the Nook Miles Ticket (NMT) at the Nook Stop.