| | |
| --- | --- |
| | The title of this article is conjectural. An official name for the article's subject has not been found, so it has been given a fitting title by editors. If there is an official name, it is requested that Parents be moved to the correct name. |
See here for an incomplete list of letters.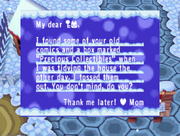 In
Animal Crossing series
, the
player's
parents
, referred to as
Mom
and
Dad
, occasionally write letters to them. Mom will write more often than Dad, who only writes on
Father's Day
, although more often in
New Leaf
. Mom will write a letter on
Mother's Day
also. While they are never seen, it can be assumed that they are
humans
, making them the only NPC humans in the entire series.
Mom
"It's the start of softball season! I accidentally hit (random villager) with the ball when I was pitching. Oops. (villager gender) was really mad! ♥ Mom."
― Mom, Wild World
In all four
Animal Crossing series
games, the
player
will frequently receive in-game letters from
Mom
, purportedly the character's mother. Letters from Mom usually contain a small anecdote about life in the character's home prior to moving into the
town
; these anecdotes usually concern certain memories of the player that she has, a tale relating to "Dad", or some words of wisdom or guidance.
Mom will also occasionally send gifts in the mail, on the player's birthday, Toy Day, and on New Year's Day. Mom also sends Bells, non-native fruit, acorns, and mushrooms in the mail. Mom is never actually seen, nor is it known how/why the player came to move away from home in the first place. Outside of the letters, the player's mother is never brought up in conversation by any of the animals. It is also not possible to send letters back to Mom.
Mom will give the player a pink carnation on Mother's Day.
Trivia
In Animal Forest e+, Mom will send the player a letter talking about a Bean Throwing Festival on February 3rd. Later, on July 7th, she will tell the player about the Festival of the Weaver.
Dad
Dad is the father of the player in Animal Crossing series. He writes only on Father's Day, usually saying something like "See? Your Mom isn't the only writer in the family". Like Mom, he can't be seen and is merely a tiny part of the player's current life. In City Folk and New Leaf, he gives the player a red carnation during Father's Day and that is the only way to obtain the special flower. He is never mentioned in the game except during those times. In New Leaf, he will write a bit more often, sometimes including random furniture or stationery. Unlike the mother of the player, he will not send clothing.