This article requires clean-up to meet the quality standards of the Animal Crossing Wiki.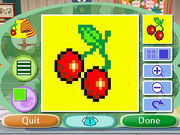 A pattern is a customizable material found in the Animal Crossing series. A pattern can be applied to shirts, hats, and umbrellas and can be placed on the ground or used as a wallpaper or carpet. Furthermore, a pattern can be used as the town flag or displayed in a room on an easel.
Types of Patterns
Patterns can be split into Standard Designs and Pro Designs. In Animal Crossing and Wild World, only standard patterns can be made.
Standard Patterns
Standard Patterns can be redesigned for free but the design is not suitable for shirts as the design will be repeated on the front, back and sleeves which may be undesirable.
Upon starting the game, the player will have eight default designs (ten in New Leaf) that they may redesign at will. They will also get four shirt and four umbrella designs in the Able Sisters which are made by the generic "Someone from Anytown". The player or other animals in the town may wear the designs as well as comment on their clothing and the creator. The player may redesign these default patterns and place them on sale at the Able Sisters. Visitors can also buy the designs from the tailors.
Pro Designs
Pro Designs can be created at Able Sisters for a cost of 350 Bells in City Folk and 500 Bells in New Leaf. These patterns can have a different design on each part of clothing, (front, back, right, and left sleeves) something which is not customizable on the standard patterns and is therefore more suitable for designing shirts.
Designing a Pattern
Designing a pattern is relatively simple. The player is given twelve palettes of fifteen colors to choose from as a guide. Though they may use any color they want in their pattern, they have a maximum of fifteen different colors.
As well as the palettes, the player is also given several tools to aid the designing process. As well as pens of different sizes to allow for larger fill or more precision, the player may use tools to draw straight lines, circles, squares, hearts and stars. The player may also change the whole pattern to a single color, useful for removing a pattern to start over; or may add stripes or dots to the pattern in any color.
The player also receives a grid which can turned on and off to help with accurate drawings and precision. The ability to zoom in and out on the pattern can also help with this.
The pattern can also be displayed on a shirt, hat, umbrella or easel, depending on what the desire of the player may be.
In
New Leaf
, the player can share designs by using QR Codes, thus allowing many people to use them if shared online. The player can now design dresses, shirts, and
hats
. Shirts and Dresses have 3 different sleeve options: long, short, or sleeveless.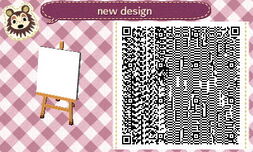 Community content is available under
CC-BY-SA
unless otherwise noted.