Peacock butterfly
カラスアゲハ Karasuageha

| | | | | | | |
| --- | --- | --- | --- | --- | --- | --- |
| AF | AF+ | AC | e+ | WW | CF | NL |
| – | – | – | – | #4 | #4 | #4 |

Location
Price
Near purple, black, and blue flowers
220 Bells
10 Bells (PC)
Size
Available in rain
105 mm
No
Time of year
Time of day
March to September
4am to 7pm
(City Folk- March to May)
4am to 5pm (City Folk- July)
8am to 5pm
(Wild World, August- City Folk)
8am to 4pm (September- City Folk)
Scientific name
Papilio bianor
Family
Papilionidae
Appearances
WW, CF, NL, HHD, PC
Rarity
Uncommon (★★★)
Regional names
Papillon paon
Papilio bianor (NL, PC)
Pfaufalter
Mariposa bianor
Farfalla vanessa io
제비나비
"I caught a peacock butterfly! Is it a bird or a bug?" —New Leaf
The peacock butterfly (カラスアゲハ, Karasuageha?) is an uncommon bug found from Wild World and beyond. It only appears in areas near flowers colored purple, black, or blue. While it is often thought of as rare, its rarity is similar to the tiger butterfly. Despite its elusive tendencies, it has a low selling price.
Donation to the museum
In Wild World
Upon donating a peacock butterfly to the museum in Wild World, Blathers will comment as below:
"The peacock butterfly gets its name from its coloring, as one would expect. If you ask me, I think it's a bit too ostentatious... But that's just me..."
In City Folk
Blathers, the museum curator, will accept peacock butterflies for donation to the bug wing:
"I trust you've seen a bunch of butterflies fluttering about a puddle before, have you not...? Hoo, yes, there would be peacock butterflies, then. They don't just sip nectar... The beasts drink water, too. And in great, wretched groups, no less! Utterly repugnant!"
Peacock butterflies appear with the rest of the butterflies in the flower beds on the lower terrace of the bug room after donation.
In New Leaf
In New Leaf an information board in the bug exhibit will list information about this bug:
"The back of the wings of a peacock butterfly is black, while the front is blue or green. The males have black, velvet hair on their forewings and are easy to spot because of their beauty. Sometimes you may see a group of male peacock butterflies drinking water together."
Unlock with Happy Home Handbook Lesson
In Happy Home Designer
After Day 9 in game, go to the saving place and sit down at your desk. Pick the "Study the handbook" option, you can complete "World Insects" lesson with 2 play coins. It adds 72 insects to your collection.
Capture quotes
"I caught a peacock butterfly! These colors! Beautiful!" —Wild World
"I caught a peacock butterfly! How dark and pretty!" —City Folk
Encyclopedia information
Wild World
| | |
| --- | --- |
| Bug | Encyclopedia Information |
| | "Their wings resemble peacock feathers." |
| Size | 105mm |
| Time | Unknown |
| Season | Spring |
| Icon | |
City Folk
Bug

Encyclopedia Information

"These got their names because their wings look like peacock feathers."

Size
About 105mm
Time
Unknown
Season
Spring
New Leaf
Bug

Encyclopedia Information

"I caught a peacock butterfly! Is it a bird or a bug?"

Size
140 mm
Time
Morning-Evening
Season
Spring-Summer
Gallery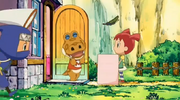 In the film, Yu's first appearance is during a chase with a peacock butterfly outside Alfonso's house. As soon as Alfonso sees the butterfly he dashes inside, grabs his on net, and runs after, leaving Ai on his doorstep with the door wide open. Ai, puzzled, decides simply to leave her delivery inside his house.
Further information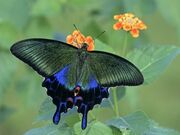 Papilio bianor, the Chinese peacock, is a species of butterfly that is native to much of east Asia. It grows to a maximum wingspan of around 8cm, and feeds on plants such as the Japanese prickly ash. It is usually found in forests, and does not tend to stray into urban areas, as there is little in the way of food plants there.
Community content is available under
CC-BY-SA
unless otherwise noted.