GTA: The Criminal Enterprises - The Loop
Play Sound
"Now, the great thing about pinwheels is that the faster you run, the faster they spin! Give it a try!"
― Phineas, City Folk

Phineas (パロンチーノ Paronchīno?, Palloncino) is a sea lion who was first introduced in City Folk. He can be found in the city at between 9 A.M. and 7 P.M. in reasonable weather conditions (sunny or overcast/cloudy). He gives the player special hand-held items that the player cannot get anywhere else except wi-fi gameplay, for no purpose other than for joy and for free. He has been known to appear in a player's city for days in a row, or not at all for weeks.
In New Leaf, Phineas is now a scout master, and will appear in the player's town if they have fulfilled the criteria for one or more badges, which he will hand out when asked. Sometimes the player can talk to him again later and he will give another badge depending on the player's achievements. If the player has a pending medal to be received, he will always be present in the player's home town between around 9 A.M. to around 10 P.M, provided reasonable weather conditions as aforementioned.
As it says in the City Folk game guide, this is Phineas' description:
Hitch a ride to the city on sunny days for a chance to meet Phineas out in the plaza. This happy-go-lucky character lives to spread cheer and will give you a balloon, pinwheel, or bubble wand for just talking to him. Limit one goodie per visit!
Appearance
Phineas is a brown sea lion who wears small, black eyeglasses, a tan hat with a brown feather and a tan scout uniform with a brown belt, yellow ribbon and badges, showing that he is a Scout Master. He has white, bushy eyebrows and three whiskers on each side of his olive colored muzzle. The insides of his ears are orange and he has a black nose.
Gifts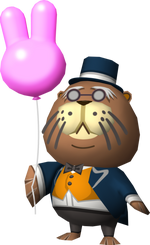 He gives out a variety of film gifts:
The player can only receive one gift per day. The balloons, bunny balloons, and pinwheels come in a variety of colors, such as orange, blue, green, red, pink, yellow, and purple. Balloons will fly away if the player trips and falls or if player gets stung by a bee.
Badges
Main article: Badges
In New Leaf, Phineas wanders the town on days with clear weather when he has badges to give the player for meeting certain goals. When he is spoken to, he may tell the player a little bit about their milestone(s) in the game and award the appropriate badge. Multiple badges can be received from Phineas on a single visit, and there are 24 badge types in total.
There are three ranks for each achievement. The first rank is bronze, the second is silver, and the final rank is a golden, colored version of the badge.
amiibo Card
amiibo Card[1]

Back

#304 Phineas

| | |
| --- | --- |
| Type | Special |
| Star sign | Gemini |
| Birthday | 6/20 |
| Roll value | 3 |
| Hand sign | Paper |
| Request | I'll leave it up to you! |
Trivia
In City Folk, some cranky villagers believe Phineas is K.K. Slider's day job.
In City Folk, if the player brings a pinwheel into the Town Hall, occasionally when Phyllis is working, it will disappear from the player's pockets and Phyllis will be using it in the back of the room.
In City Folk, as the player gets closer to Phineas's cart, an accompaniment to the City Theme played by his street organ can be heard. It will also change with the theme depending on the time of day. Although Phineas will not appear at night or early in the morning, the sound of his music cart is still present in the game's audio files of these times' themes, and can be heard if the player waits next to him in the plaza.
If a player time travels, Phineas may not appear for a while.
Phineas's appearance and scout uniform in New Leaf may be a reference to Theodore Roosevelt, an avid Boy Scout enthusiast and former US president with whom he shares a similar appearance.
In New Leaf, Phineas has the deepest voice of all the characters.
In New Leaf, Wendell has the same voice as Phineas.
In Happy Home Designer, scanning his card and later visiting his house, shows him wearing the suit he wore in City Folk, and he admits that on gloomy days he has an urge to hand out balloons instead of badges.
His Japanese name is パロンチーノ, Paronchīno, which in Italian means balloon (palloncino).
Phineas shares his birthday with Graham. They both have birthday on June 20th.
In other languages
Phineas
| Language | Name |
| --- | --- |
| Japanese | パロンチーノ Paronchīno, Palloncino |
| French | Hélium |
| Spanish | Elio |
| German | Helios |
| Italian | Elio |
| Korean | 파론티노 |
References